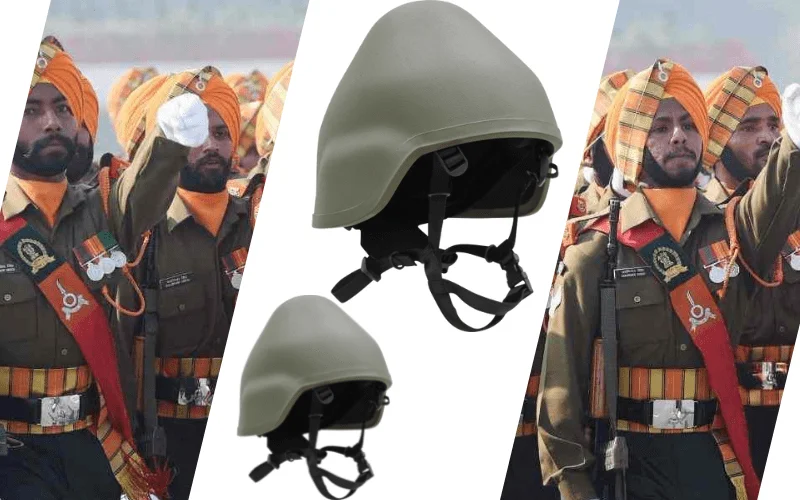 For the first time in India, a Combat Helmet has been built specifically for Sikh warriors and dedicated to them. This newly developed helmet by Kanpur-based Global Defense and Homeland Security Company MKU will be easy for a Sikh soldier to wear over their under-turban cloth without difficulty and comfortably.
The company claims that this helmet can provide all-around ballistic protection against bullets and fragments up to Level IIIA.
More about the new 'Veer' helmet.
According to MKU Ltd, the 'Veer' helmet, like all other Kavro ballistic helmets, is compatible with MACS (Modular Accessory Connector System). MACS is a first-of-its-kind multi-accessory mounting system that allows current warfare equipment such as night vision goggles, helmet cameras, and communication systems to be put on the head.
Not only is this helmet light, but it's also anti-fungal and anti-allergic. This helmet is flame resistant, chemical safe, and weatherproof, with great shock absorption.
This newly designed helmet (Model: KAVRO SCH 111 T) is devoted to the spirit of courage that Sikh troops have exemplified for years – not just in India, but also abroad. The Kanpur-based firm has completed one of the largest helmet contracts for India's Ministry of Defence, totaling 1.59 lakh ballistic helmets.
Sikh youngsters have typically enlisted in large numbers in the armed forces, central police, and paramilitary forces. And, according to publicly accessible information, the Indian Army has the biggest number of Sikh personnel in uniform.
Are there special helmets for Sikhs in India's and other countries' armed forces?
So far, the answer is no. This meant that a Sikh soldier couldn't wear a helmet that fit comfortably over the under-turban material. As a result, they were exposed to injuries, which in some cases resulted in death.
So, how will the new helmet assist?
"The turban for a Sikh is his pride," says MKU Managing Director Neeraj Gupta. Our company's 'Veer' helmet allows valiant Sikh soldiers to protect their bodies and lives while continuing to wear their under-turban material."
The business was able to design a one-of-a-kind ballistic helmet specifically for Sikh soldiers.
What did MKU's Chairman remark, in line with the company's core theme, "Empowering Heroes"?
"We saw a need for better head protection for our Sikh warriors," MKU Chairman Manoj Gupta said. The heroes we support protect our freedom, security, and way of life. And who better than our Sikh soldiers to represent this attitude of heroism?"
MKU Ltd is a significant exporter.
MKU is one of the few Indian firms that has provided superior optronic and ballistic protection systems for soldiers and platforms for military, paramilitary, homeland security, police, and Special Forces in over 100 nations, as previously reported.
They have bases in India and Germany, and have protected over 3 million soldiers and 3000+ platforms across 230 armies to date. Their R&D House is recognised by the Indian government, and they own around ten patents in India and internationally.
Facebook Comments