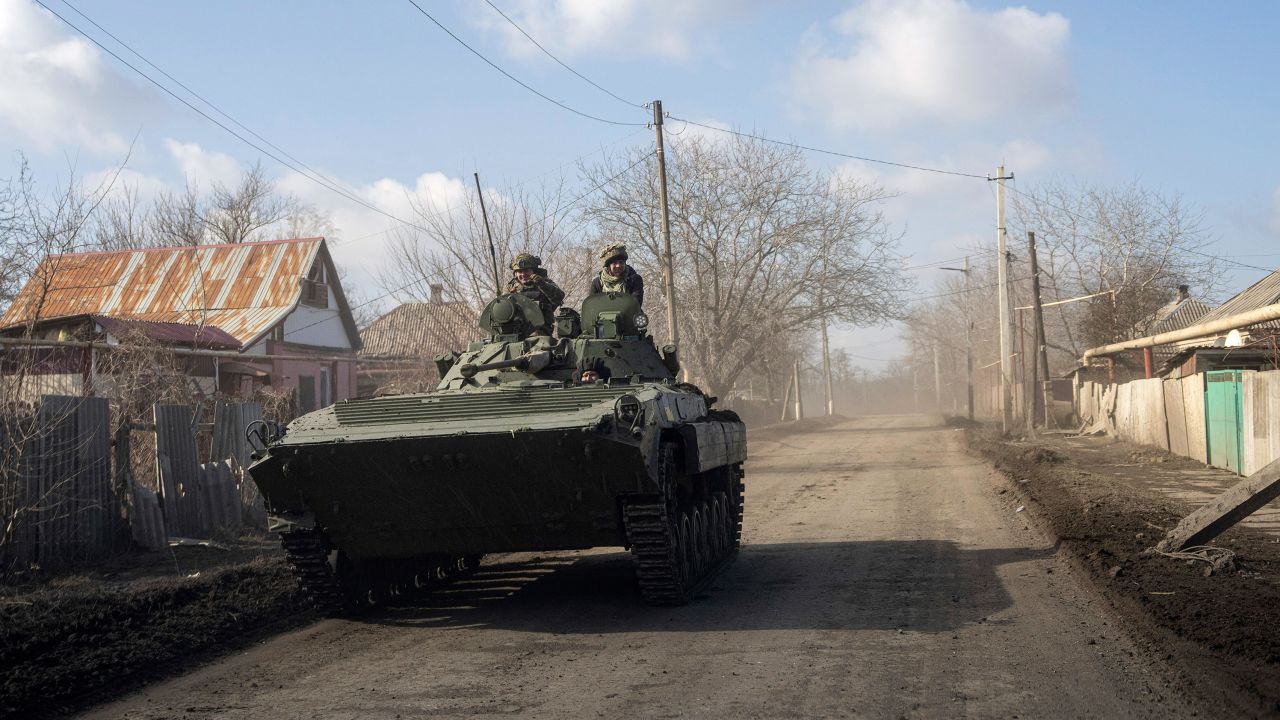 Ukraine has asked for a lot of guided artillery and rockets, so the Pentagon has had to find cheap and abundant parts to make do.
Budanov, who is Skibitsky's boss and is said to be the only high-ranking Ukrainian official to have predicted the Russian invasion last year
During the last week of February and the first week of March, Ukrainian troops slowly left their most dangerous defences in Bakhmut, but they did not give up the eastern city to Russian forces.
The Ukraine's plan was likely to keep its losses to a minimum while drawing more Russian troops into what is now the longest and hardest-fought battle of the war.
One of Vladimir Putin's goals is to take over the eastern provinces of Luhansk and Donetsk, which together are called the Donbas region. Bakhmut, which is in Donetsk, is a key part of this plan.
"We know that they could go further after Bakhmut," Ukrainian President Volodymyr Zelenskyy told CNN. "They might want to go to Kramatorsk. They might want to go to Sloviansk. After Bakhmut, the Russians would have free access to other Ukrainian towns in the direction of Donetsk."
Ukraine made a strategic decision to keep Bakhmut for as long as possible. On Sunday, as Russian forces from the Wagner mercenary group moved into the city's northern suburbs, it sent in elite units to help defend it.
Zelenskyy said that his top commanders wanted to "continue the defence operation and further strengthen our positions in Bakhmut," a city that had about 70,000 people living in it before the war.
He didn't say why, but the Institute for the Study of War said that Bakhmut has been a meat grinder for Russian forces, taking them away from other parts of the 800 km (497 miles) long front.
In a war assessment, a think tank in the United States said, "The Ukrainian defence of Bakhmut remains strategically sound as long as Ukrainian forces don't lose too many people and don't lose too much equipment."
"Russian forces are unlikely to make significant territorial gains quickly through urban warfare, which usually favours the defender and can let Ukrainian forces cause high casualties to advancing Russian units, even as Ukrainian forces are actively pulling back," it said.
Oleksiy Danilov, the secretary of Ukraine's National Security and Defense Council, has put a number on this idea by saying that Ukrainian forces have lost one soldier for every seven Russians in Bakhmut.
US White House officials said on February 17 that the Wagner Group, which has mostly fought in the Bakhmut area, has lost 30,000 people in one year of war, including about 9,000 deaths.
Russia started its invasion on February 24, 2022, with about 190,000 soldiers. Since then, it has added another 316,000. Ukraine has said that it thinks more than 150,000 Russian soldiers have died.
Al Jazeera could not check the numbers on its own.
Kyrylo Budanov, who is in charge of military intelligence in Ukraine, told USA Today that Russia will not be able to launch a major offensive after this spring because of its losses.
"Russia has wasted a lot of people, weapons, and other resources," he told the newspaper. "Its economy and production aren't strong enough to make up for these losses…. If Russia's military doesn't reach its goals this spring, it won't have any more weapons.
A controlled withdrawal
On February 28, a presidential adviser named Alexander Rodnyansky said that a tactical withdrawal from parts of Bakhmut was not out of the question. This was the first sign that Ukraine was getting ready to leave Bakhmut.
Rodnyansky said, "So far, [our troops] have held the city, but if they have to, they will pull back strategically because we won't lose all of our people for nothing."
Serhiy Rakhmanin, a member of the Ukrainian parliament, said on Ukrainian NV radio the next day, "I think we will probably have to leave Bakhmut at some point." "There's no reason to hold on to it no matter what."
"But for now, Bakhmut will be defended with several goals in mind," he said. "The first is to cause as many losses as possible to the Russians and force them to use their weapons and resources."
Blowing the bridges
On March 1, the general staff of the Ukrainian army said that Russian troops were trying to move towards Bakhmut "without stopping," but Zelenskyy said that his forces were "in control of each sector of the front."
Two days later, when Ukrainian forces started blowing up bridges in and around Bakhmut, the picture changed. This was a sign that they were thinking about making some limited withdrawals.
The city was split in half by the Bakhmutka River, which was crossed by one bridge. On the way to Khromove, the other bridge was just west of Bakhmut. The moves showed that Ukrainian forces were trying to slow down the Russians as they moved through the city and stop them from moving quickly to the west if Bakhmut fell.
"Units of the private military company Wagner have pretty much surrounded Bakhmut," Wagner boss Yevgeny Prigozhin said in a video posted on Telegram.
"There's only one way out," he said. "The two ends are coming together."
Prigozhin had his own problems, though. He complained on social media that the Russian Ministry of Defense wasn't giving him enough bullets to finish the job.
Prigozhin said he wrote a letter to the commander of Russia's military campaign in Ukraine, probably Chief of General Staff Valery Gerasimov, "about the urgent need to allocate ammunition. At 8 a.m. on March 6, my representative at the headquarters had his pass taken away and was not allowed to go to the headquarters of the group.
The Russian Defense Ministry has been wary of Prigozhin because he has bragged about how skilled his group is and hinted that Russian regulars are not well trained or are not good at their jobs.
Prigozhin said on Wednesday that Wagner was in charge of half of Bakhmut. His claim that Ukrainian defenders had been pushed to the west side of the Bakhmutka River was backed up by geolocated video.
But if Ukraine thinks that Russia's focus on Bakhmut gives it an advantage, why does Russia stick to this strategy?
"Putin probably figures that time is on his side and that dragging out the war may be his best way to protect Russia's strategic interests in Ukraine, even if it takes years," US Director of National Intelligence Avril Haines told the Senate Intelligence Committee at an annual hearing on global threats on Wednesday.
But Haines, like other Western observers, thinks Putin doesn't have the money or power to carry out this plan.
"If Russia doesn't make mobilisation mandatory and find large amounts of ammunition from third parties, it will become harder for them to keep up even the current level of offensive operations," Haines said. "We don't think the Russian military will improve enough this year to make big gains in territory…. They may decide to do nothing but hold and defend the territory they already control.
In an interview with Voice of America, Budanov agreed.
"Russia is not ready for long-term hostilities," he said, putting an end to the idea of a war that would last for years. "In every way, they show that they are ready for a "war of decades" there. But in reality, they don't have a lot of time or money to help them. And they are well aware of it."
Ukraine coils itself to strike
In the meantime, Ukraine keeps adding Western-donated weapons to its arsenal in preparation for a big spring counteroffensive.
This month, Germany and Poland said they would send 28 Leopard tanks, and Canada doubled the four tanks it had said it would send. There are now 227 allied battle tanks on their way to Ukraine.
The US also announced a new $2 billion military aid package that includes tactical bridges for the first time. In offensives with battle tanks and armoured fighting vehicles, these are driven into place and spread out to cross rivers.
Ukraine has asked for a lot of guided artillery and rockets, so the Pentagon has had to find cheap and abundant parts to make do. Ground-launched small-diameter bombs, which combine artillery shells and rocket motors, are one answer.
In a similar way, the head of NATO's Allied Air Command said on Monday that the US had given Ukraine kits that turn unguided artillery shells into precision-guided munitions with a range of 72 km (45 miles).
Vadym Skibitsky, the deputy head of military intelligence for Ukraine, told the German media group Funke that one strategic goal will be to try to "drive a wedge into the Russian front in the south, between Crimea and the Russian mainland."
Budanov, who is Skibitsky's boss and is said to be the only high-ranking Ukrainian official to have predicted the Russian invasion last year, said that Ukraine will fight "a decisive battle this spring, and this battle will be the last one before this war ends."
Facebook Comments