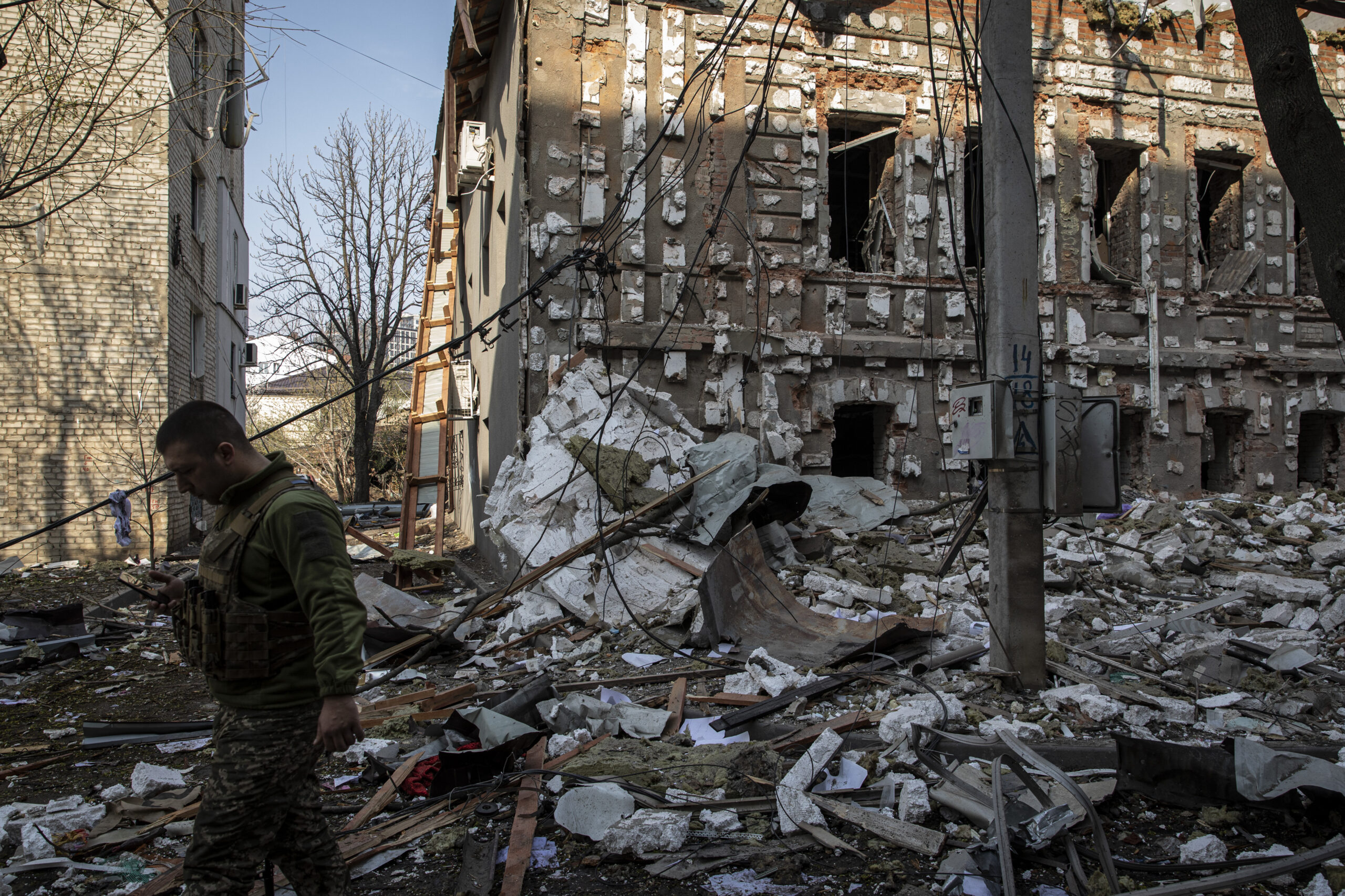 "The Russians never run out of bullets, equipment, or people to use as cannon fodder in their attempts to take over cities."
Pavlo Kyrylenko, the governor of Donetsk, said that a cold spell has made things worse for the people there.
NATO Secretary-General Jens Stoltenberg said on Monday that Ukraine's Western allies have sent the country 70 billion euros ($85 billion) in military aid to help stop Russia's full-scale invasion. If peace talks don't happen soon, the alliance is getting ready to send more.
"We can't let Russia keep eroding European security, Stoltenberg said at a news conference in Brussels. "There are no signs that (Russian President Vladimir) Putin is getting ready for peace," he added. He's getting ready for more war."
Stoltenberg said that on Tuesday, NATO's foreign ministers will meet in Brussels to talk about "how we can step up our support, including by continuing to build up Ukraine's armed forces." "We're here for the long haul."
Analysts think Putin plans to dig in and hold out against a possible Ukraine counteroffensive in the coming months, hoping that the West's expensive support for Kyiv will fall apart.
Putin's invasion in February 2022 went wrong in a number of important ways. It caused NATO to send more troops and weapons to the countries where its members lived in Eastern Europe. It also convinced Sweden and Finland to stop being neutral and join NATO.
Stoltenberg said that Finland will become a full member of the alliance on Tuesday.
The war has also made the ties between foreign leaders that Putin sees as enemies stronger.
On Wednesday, Ukrainian President Volodymyr Zelenskyy will go to Warsaw to meet with Polish President Andrzej Duda. This is another sign of how close Ukraine is getting to its neighbors. The Ukrainian leader's travel plans were made public by the Polish government on Monday, which was unusually early.
Russia's other neighbors are worried about the Kremlin's goals, so the leaders of Germany, Romania, and Moldova were supposed to meet on Monday to talk about ways to strengthen defenses along NATO's eastern flank.
Olaf Scholz, the German chancellor, met with Romanian President Klaus Iohannis and Moldovan President Maia Sandu in Bucharest. Security, the economy, and getting enough energy were expected to be the main topics of their talks.
Robert Habeck, the German vice chancellor, is also the economy minister and is in charge of energy. On Monday, he showed up in Kyiv without warning. He went with a business group that included the head of the Federation of German Industries, which is Germany's largest business lobbying group.
Habeck said that the trip was meant to send a clear message that "we believe they will win, that they will be rebuilt, and that Europe wants Ukraine to be a strong economic partner in the future, not just in an emergency."
Zelenskyy and Habeck went to Yahidne, a village about 87 miles (140 kilometers) north of Kyiv. Zelenskyy stopped at the Yahidne secondary school. In March of last year, Russian occupiers held 367 Ukrainian civilians against their will in the basement of this school for 27 days. In the dark, crowded basement, eleven people died.
Behind the front lines, there were still rumors of sabotage and killings. The Moscow-appointed regional administration said that a Moscow-appointed official was seriously hurt when his car blew up early Monday in the Russia-controlled southern city of Melitopol. Maxim Zubarev, who used to run the village of Antonovka, was taken to the hospital in a very bad state.
Also, Ukraine's presidential office said that six civilians were killed when a Russian rocket hit the town of Kostiantynivka in the eastern Donetsk region, where most of the fighting has been going on in the past few months.
In the northern Chernihiv region, four more civilians were killed when their vehicles hit land mines. This shows how dangerous it is to live in a war zone.
Pavlo Kyrylenko, the governor of Donetsk, said that a cold spell has made things worse for the people there.
"The cold and snow make it impossible for civilians to live. They have to live in damp basements without electricity or phones, and they can only get out to warm up around a campfire once in a while "Kyrylenko said in televised remarks.
"The Russians never run out of bullets, equipment, or people to use as cannon fodder in their attempts to take over cities."
Facebook Comments