Global News
As Finland Joins NATO, Russia Says It Will Strengthen Northwest Military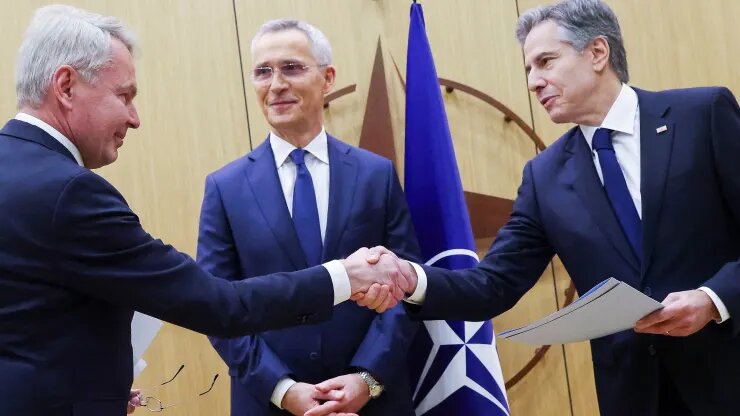 Turkey is against Sweden joining NATO because it says Sweden is hiding members of the PKK, or Kurdistan Workers' Party.
Stoltenberg of NATO said on Tuesday that he is in close contact with Ankara and Turkish President Recep Tayyip Erdogan.
The decision by Russian President Vladimir Putin to invade Ukraine last year led to Finland becoming an official member of NATO on Tuesday.
The Nordic country is the 31st country to join the alliance. The alliance's treaty says that an attack on one of its members is an attack on all of them. It's a historic moment for Finland, which has been neutral for a long time.
"No one is being hurt by Finland's membership. "It also doesn't change the foundations or goals of Finland's foreign and security policy," President Sauli Niinisto said in a written statement on Tuesday.
His comments came soon after the country's foreign minister, Pekka Haavisto, gave all the documents for joining to NATO's secretary-general, Jens Stoltenberg, and U.S. State Secretary Antony Blinken at NATO's headquarters in Brussels.
Stoltenberg told the Finnish people who were there at the ceremony, "Welcome to the alliance."
After Russia's full-scale invasion of Ukraine in February 2022, officials in Helsinki decided that the country was no longer safe on its own. A few months later, they asked to join the alliance. Finland's border with Russia is the longest of any EU country at 832 miles. After Finland joins, NATO's border with Russia will be about twice as long.
Reuters reports that Dmitry Peskov, a spokesman for the Kremlin, said on Tuesday that Russia would keep a close eye on any NATO deployments in Finland and that his country would take "counter-measures" to this.
What about Sweden?
Finland and Sweden both wanted to join NATO at the same time. But it is still not clear what Stockholm's future will be like.
Its decision to join the alliance was also a turning point in the country's history. For more than 200 years, the country had its own military policy.
Hungary and Turkey, which are both part of NATO, have not yet given their approval for Sweden to join the military alliance.
An official in Stockholm told CNBC on March 20 that they are still working under the assumption that Sweden will be an official member of NATO by July, when the heads of state of the alliance get together for a meeting. The official spoke on the condition of anonymity because the subject is sensitive.
Turkey is against Sweden joining NATO because it says Sweden is hiding members of the PKK, or Kurdistan Workers' Party. The PKK is a Kurdish Marxist separatist group that has been fighting Turkish forces on and off since the 1980s. It does most of its work in the southeast of Turkey and in some parts of northern Iraq. Turkey says that Sweden has helped and protected people who are in the PKK. Sweden says this isn't true and that it helps Kurds who aren't in the PKK. But the details aren't that simple.
In January, far-right protesters in Stockholm burned a Quran and shouted anti-Muslim slogans while standing in front of the Turkish Embassy. Right away, Ankara spoke out against the act and the fact that Sweden gave the right-wing group permission to hold the demonstration.
In June of last year, at a NATO meeting in Madrid, Sweden, Finland, and Turkey signed an agreement outlining a way to reach a compromise, with Ankara asking for more guarantees against terrorism.
Sweden's foreign affairs minister, Tobias Billstrom, February that his country had done what it had to do to keep the agreement.
Stoltenberg of NATO said on Tuesday that he is in close contact with Ankara and Turkish President Recep Tayyip Erdogan. "Both Finland and Sweden have kept their promises," he said, adding that he hoped Stockholm would join "as soon as possible."
Facebook Comments