Industry News
News
Why IAF 'betting Big' On LCA Tejas Despite Powerful Fleet Of Rafale & Sukhoi Fighters?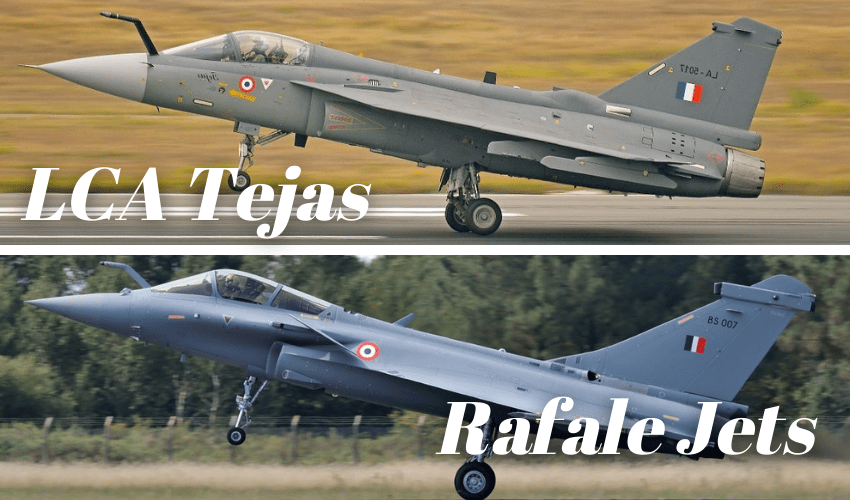 Despite the high popularity of top-of-the-line fighter jets like the F-35, F-15EX, Su-35, Su-57, Eurofighter Typhoons, Rafale, and Gripen jets, demand for small combat aircraft looks to be expanding.
For example, despite having a fleet of capable fighter planes such as Mirage 2000s, Jaguars, Sukhoi-30MKIs, and the French Rafale, a large country like India has produced an LCA – Tejas — indigenously. The country is also working on its own futuristic combat aircraft, known as the AMCA.
Similarly, despite campaigning hard for the American F-35, Turkey is developing its own LCA Hurjet, a deal it lost because to its acquisition of the Russian S-400 air defence system. Ankara is also developing its own fifth-generation fighter jet, the TF-X, in the same way as India is.
Another powerful country, China, has the L-15 jet, a training plane, and the JF-17 fighter jet, which it developed alongside Pakistan. China has some of the most powerful aircraft in its inventory, with the J-20 stealth fighter fully operating and the J-31 on the way, but it still bets big on light combat jets, which it is also aiming to export.
Light Combat Fighters Are in High Demand
A lightweight combat jet is a fighter that falls within the weight, cost, and complexity ranges that are practical for fighters. The lightweight fighter maintains carefully selected competitive attributes in order to deliver cost-effective design and performance.
Air-to-ground attack aircraft that can be converted to trainer jets are referred to as "light fighters" by some manufacturers.
Despite the fact that the LCA has dominated the headlines in recent years, their combat effectiveness stretches back to World War II. During WWII, fighters in the light to middleweight weight classes proved to be the most effective.
These aircraft could even outperform heavy fighters in combat due to their increased surprise factor and mobility. They were also less expensive, allowing for large-scale deployment. In terms of range, single-engine fighters like the P-51 Mustang and the A6M Zero can match or even outperform their hefty twin-engine rivals.
Modern light fighters are built with powerful weapons that fits the primary criteria for air-to-air combat effectiveness while lowering maintenance and operational costs.
Because of its compact size, a lightweight fighter has a low radar signature. These fighter jets are difficult to detect with radar, making target acquisition difficult. Due to these features, the light fighter pilot has a much better chance of seeing the heavy aircraft first and firing the critical first shot.
Light fighters are classified by a variety of criteria, the most common of which are single-engine, low operational cost, short range, and low weapon package. The classification, however, is not restricted to these factors.
The rise in their demand would be worth investigating in the present strategic context.
According to former Vice Chief of Air Staff Air Marshal (retd) Pranab Kumar Barbora, "Countries normally look at three categories of fighter planes when building an aircraft or making a purchase – the light, medium, and heavyweight fighter." A lightweight fighter is a multi-role light fighter that is designed primarily for air defence but also has ground attack capability.
"LCA might be highly valuable for a small country with a limited sphere of influence and security issues." It is unquestionably less expensive, easier to maintain, and has a quick takeoff and landing time – all of which are essential for an air defence aircraft.
Most LCAs are capable of air-to-air refuelling, allowing them to cover longer distances than heavier fighters, which have more fuel due to their larger size. So even a light fighter's endurance may be handled," Barbora remarked.
"The Indian Tejas, for example, is a capable aircraft. There have been no crashes, and it has superb fly-by-wire capability, weaponry, and a nice radar. Because these aircraft would best serve the function of air defence and limited offensive missions, India is promoting the LCA to Southeast Asian countries like Malaysia and smaller Gulf countries," he noted.
"LCAs remain important despite the availability of more competent medium and light fighters," said Squadron Leader Vijainder K Thakur (retd), a military analyst and former IAF Jaguar pilot. Light fighters have resurged in popularity among smaller nations with limited finances. Their restricted range and weapon loads limit them. They are unsuited for air domination due to their limited endurance.
"They do, however, have a few advantages over heavyweight boxers. They can add a lot of heft to strike packages if they have decent radar and BVR air-to-air missiles. Light fighters' reduced cost allows them to be purchased in bigger numbers for a given budget.
When hostile boundaries are spread out across a broad area, as they are in India, higher numbers matter because they allow for effective border coverage with no gaps. It would be too costly to cover the full length of India's hostile frontiers with with medium and heavy fighters.
"When deployed purely for air defence by a relatively smaller nation with limited airspace, light fighters can be more cost-effective than medium or heavyweight fighters," Thakur noted.
"If we look around the world, most nations' airpower requirements are not concentrated around the pricey fifth or 4.5-generation fighters like the F-35 Lightning, the French Rafale, or the Eurofighter Typhoon," he said.
"Instead, their requirements span from counterinsurgency operations to monitoring to avoid smuggling, poaching, and environmental disasters. As a result, the Italian Air Force is now tracking illegal immigration, while Norwegian oil installations in the North Sea are being closely monitored to guarantee that they can trace a potential oil spill.
"Nigeria discovered that its Jaguar fast jets were ineffective in combating Boko Haram, so it purchased the Brazilian Super Tucano, which allowed it to loiter over the battlefield for longer periods of time to hit insurgent positions." Brazil continues to face environmental degradation in the Amazon, which the excellent Gripen fighter cannot address."
All of these data suggest that light combat aircraft are here to stay, and that governments with limited military expenditures will use them for air defence, if not air supremacy. which don't want to be in charge of the air in the first place. Light combat fighters could also be game-changers for countries confronting minor military threats.
Facebook Comments