National
On Republic Day, The Navy's Tableau To Showcase India's First Passenger Drone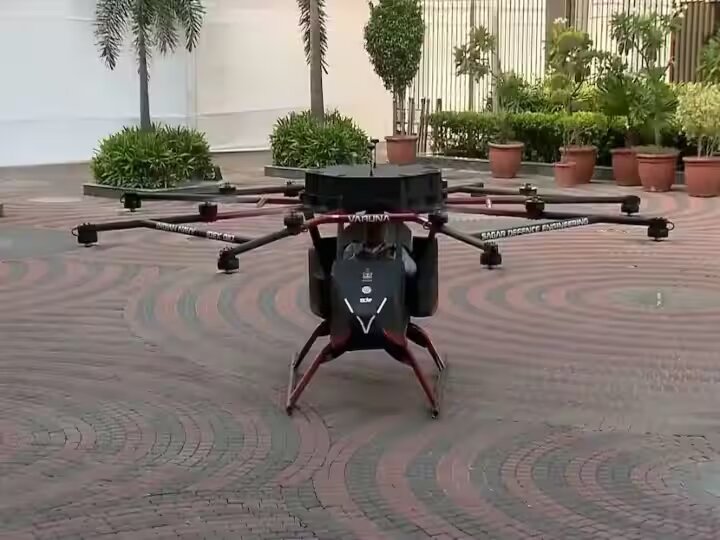 The main goal of making Varuna for the Navy is to move sailors or cargo between two warships that are sailing together on the high seas at a constant speed in case of an emergency
The drone uses artificial intelligence and has four brains. If one brain stops working, the commands that were sent to it are sent to the other brain automatically
India's first passenger drone, Varuna, was made by a defence company in Pune. It will be shown at the Republic Day parade on Kartavya Path on Thursday as part of the Navy tableau. The main part of the tableau focuses on the Navy's "Make in India" activities, and Varuna talks about how important the "Atmanirbhar Bharat" mission is.
Sagar Defence Engineering in Pune made the drone for the Navy. It can be used for medical evacuation, moving cargo between ships, and last-mile delivery on land and at sea. Varuna can also be used for land operations and sending troops to the front lines.
Captain Nikunj Parashar, co-founder and MD, is leading the drone programme along with co-founder and vice-president (business development) Mridul Babbar and director Lakshay Dang.
Captain Nikunj Parashar was very happy when he said, "It is a proud moment for us to have Varuna be a part of the Republic Day parade as part of the Navy's "Make in India" initiatives and also to address the IDEX Sprint Challenge."
Mridul Babbar, one of the co-founders of the company, "It took us over three years to make this passenger drone. Varuna can carry a person weighing up to 130 kg for up to 25–33 minutes over a distance of 25 km. It can be guided or controlled from a distance by sending commands to its system.
This drone has already been tested on land." He said, "The Navy has already given us orders for more than ten of them. Once domestic demand is met, we will plan its exports because we get a lot of requests from both domestic and foreign buyers."
On June 18, 2016, company representatives showed Prime Minister Narendra Modi, Defense Minister Rajnath Singh, and Navy Chief Admiral R Hari Kumar how "Varuna" worked. "The PM was very impressed with it, and he asked us, 'When are you going to start exporting it?'" said one of the co-founders.
"Our core women team members worked on the lead software architecture for Varuna," Mridul said, giving credit to "Nari Shakti" for the drone's development. He said, "The main goal of making Varuna for the Navy is to move sailors or cargo between two warships that are sailing together on the high seas at a constant speed in case of an emergency."
People and things are usually moved between two moving ships on the high seas using ropes or helicopters. This is a very difficult task. But Varuna will make it easy to move these things.
Mridul said this about the drone's safety system: "The drone uses artificial intelligence and has four brains. If one brain stops working, the commands that were sent to it are sent to the other brain automatically.
If all four brains stop working while it's in the air, the ballistic parachute will open and save the person on board. He said the company has applied for a patent and is getting a lot of interest from private and foreign companies.
Facebook Comments