Industry News
News
Su-57 Stealth Fighter Jets Spotted Over Northern Ukraine Ahead Of Important Peace Talks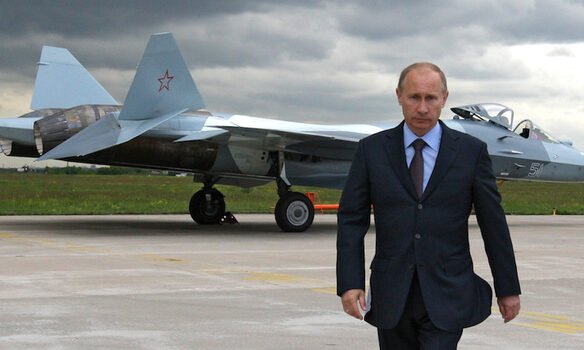 As Turkey prepares to mediate peace negotiations between Moscow and Kiev, a video circulating on social media purports to show Russia's most advanced stealth aircraft, the Sukhoi-57, flying over Ukraine's northern area.
Ukraine and Russia's foreign ministers arrived in Turkey on March 10 for the first face-to-face encounter since the two countries went to war two weeks ago. The meeting follows many rounds of talks between the two sides in Belarus.
The Su-57 'Felon,' a fifth-generation fighter, is a heavyweight fighter. There is conjecture that the plane was sent to Ukraine by Russia's Southern Military District.
A Su-57-like fighter was observed in Ukraine's Zhytomyr region just hours before the two foreign ministers arrived in Turkey. The footage was purportedly shot in Zhytomyr's Berdichev district. It appears to depict a fighter aircraft carrying out a strike, likely on the Berdychiv bridge over the Teterev river. Local residents said that the aircraft made an unusual sound and resembled the fifth-generation Su-57 in appearance.
The Russian Ministry of Defense has not yet publicly announced that this combat aircraft will be used in Ukraine.
The First Combat Deployment? 
If confirmed, this would be the first time the Russian stealth fighter has been used in a combat mission. A prototype of this jet was sent to Syria's Khmeimim Airbase in 2018 and 2019. During one of these experiments, the Su-57 launched a cruise missile, most likely a Kh-59MK2, and flew ten times.
Military analysts, on the other hand, anticipate that Russian aerial warfare in Ukraine will utilise Su-35s rather than Su-57s.
Sukhoi's Su-57 is a single-seat, twin-engine multi-role fighter. It is intended for use in aerial combat as well as ground and sea strikes. It is intended to replace older generations of Russian military aircraft such as the MiG-29 and Su-27.
The Su-57's radar cross-section (RCS) area is said to be thirty times less than that of the Su-27.
Unlike American stealth designs such as the F-22 Raptors or F-35, the RCS lowering features are more visible in the forward section of the aircraft, most likely due to cost-cutting. It could possibly be related to the Russian doctrine of flying under the protection of friendly integrated air defence systems.
The Su-57 is built for long endurance and manoeuvrability in all aircraft axes. It is outfitted with highly integrated modern sensor systems that allow it to track up to 60 objects at the same time using six radars aboard.
The fighter is equipped with four medium-range K-77M air-to-air missiles with AESA sensors for beyond visual range (BVR) warfare as its primary armament, as well as two short-range infrared homing K-74M2 missiles.
The aircraft can also be outfitted with a variety of precision-guided bombs, air-to-ground missiles, anti-ship missiles, anti-radiation missiles, and cruise missiles.
The fighter jet is equipped with a 30 mm autocannon with 150 rounds with an effective range of 800 metres against aerial targets and 1800 metres against surface targets.
Analysts are sceptical 
In December 2020, the first Su-57 entered service with the Russian Aerospace Forces (VKS). So far, four aircraft have been manufactured, the first of which crashed in 2019, before being transferred to the military, and the third and fourth of which were delivered to the VKS during the fourth quarter of 2021.
This indicates that, excluding prototypes, Russia's Su-57 fleet currently consists of only three aircraft. Given this, it appears doubtful that Moscow would send this high-end fighter plane to Ukraine, as it lacks operational readiness for high or medium-intensity combat.
Furthermore, using this aircraft in a genuine battle at this time would be an extremely dangerous venture — both politically for Moscow and commercially for Su-57's potential exports.
The Su-57's effectiveness is already a mystery, as India, Russia's trusted security partner, walked out of a co-development arrangement for this aircraft in 2018 after the Indian Air Force criticised the fighter jet's radar deficiencies and poor stealth capabilities.
Facebook Comments