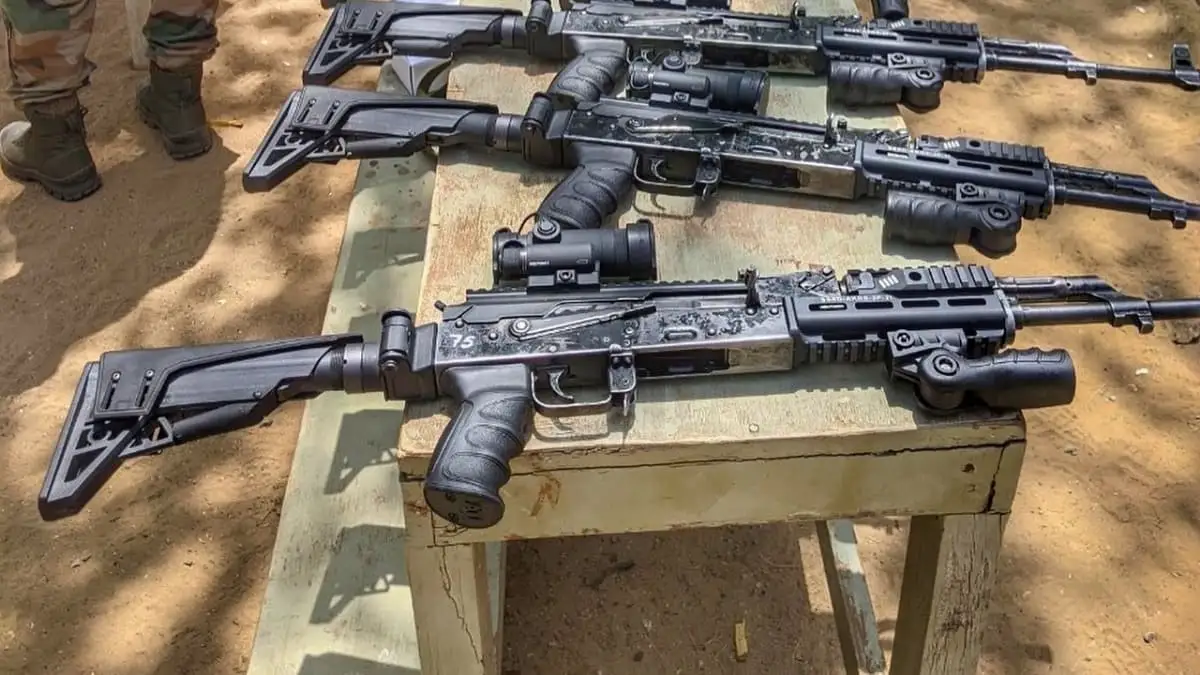 SSS Defence, based in Bengaluru, recently secured a contract to improve AK 47 rifles for the Indian Army's Para Special Forces regiment, and has delivered its proprietary upgrade kits.
SSS Defence has for the first time replaced an existing Israeli supplier – FAB Defence – as a result of the supply closure. With the ongoing Russia-Ukraine situation, SSS Defence is expecting to receive a larger contract to upgrade the massive number of Kalashnikov weapons currently in service.
Since India continues to be one of the top importers of infantry systems, industry watchers expect that the success of local tech will only encourage more startups and established OEMs (Original Equipment Manufacturers) to enter the market.
The SOPMOD (Special Operations Peculiar Modification) package from SSS Defence was used to improve these Russian AK-47 assault weapons, which had undergone tests with the Indian Army Para Special Forces. The Indian firm was pitted against the Israeli FAB Defense Company.
The modification kit included a robust dust cover, a new gas tube, a quad rail fore-end, and a flash suppressor, according to the business. An optic can be placed along the full length rail, and an under-barrel grenade launcher (UBGL) can be put on the bottom rail, thanks to the flash suppressor. There was also a new tactical butt stock included in the kit, and there was no need for an external locking mechanism.
According to publicly available information, the Indian Army's Special Forces employ a combination of frontline assault weapons, including M4A1s, TAR-21s, and other rifles.
Indigenization in the Indian Army
The Indian army and paramilitary have been working to modernise their arsenal, and numerous plans are now being implemented. Close Quarter Battle (CQB) carbines, long-range sniper rifles, a portfolio of Special Forces weapons, and a variety of ammunition calibres are all needed by the Indian army.
Modern submachine guns, pistols, sniper rifles, and carbines are being sought by the military and state police forces. Having indigenous products to meet these needs is a significant benefit because it ensures that technical advances and geopolitical developments do not disrupt the training and operations that our soldiers must carry out.
Global arms lobbies will inevitably exploit a country that does not have its own proprietary products in bread and butter weapons and ammunition, according to subject matter specialists. The supply disruptions that have become the norm as a result of the war in the Russia-Ukraine theatre are an example.
According to sources, there is a major scarcity of raw materials, components, and finished goods, which is cause for concern given that our own neighbourhood has fault lines and China is rapidly militarising with a massive scale of arms production.
Indigenization in the Indian armed forces has become a watchword among Ministry of Defence officials, OEMs – both conventional and new generation, and defence fans.
"Though progress has been achieved in recent years," a senior officer stated on condition of anonymity, "as a nation, we need to possess intellectual property in many systems."
"The INSAS rifle has been a mainstay of the armed services for several decades, but it has been plagued by inefficiency, manufacturing quality difficulties, and limited updates."
Efforts have been taken to allow industry to make up for lost time, with the MoD encouraging private business to enter the field and the issuance of industrial licences to several enterprises in recent years."
Which firearms manufacturers are taking part in the indigenization process?
PLR/Adani, SSS Defence, and Jindal Defence are among the companies that have expressed interest in this field.
PLR/Adani is a joint venture with Israel's IWI, which has been using Transfer of Technology to manufacture several specialised systems. The Tavor assault rifle and the Galil, a certified marksman weapon, are both in service and manufactured by IWI.
Jindal Defence has a joint venture with Taurus Arms of Brazil and plans to start production soon with ToT. The JV is dedicated to producing high-quality handguns, such as pistols and revolvers.
SSS Defence, situated in Bengaluru, is a 100 percent Indian-owned company that has taken a different path than its competitors, as previously reported. In this arena, the firm has been working on developing its own Intellectual Property.
The company has its own line of sniper rifles, assault weapons, carbines, and heritage modifications, all of which are designed and manufactured in India.
Facebook Comments