Defence Industry
Strengthening Bonds: India-Australia Ties In 'T-20 Mode' Now, Says PM Modi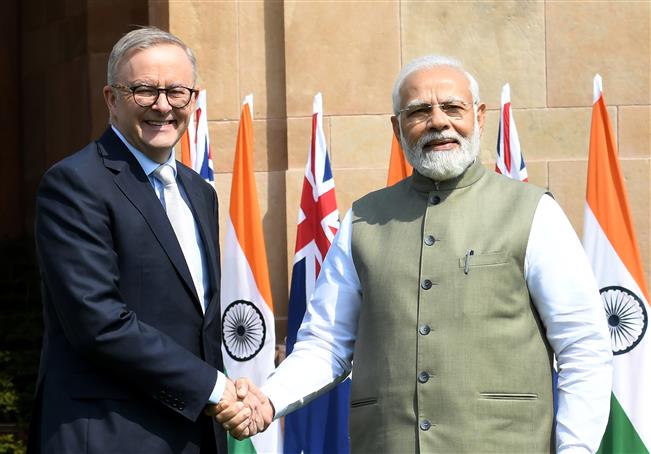 The Mutual Logistics Support Agreement (MLSA) lets the two countries' armies use each other's bases to fix things and get more supplies.
The Indian-Australian community has helped make Australia a better place, and we want to see more ties between our two countries
On Wednesday, Prime Minister Narendra Modi used a cricket comparison to talk about how quickly relations between India and Australia have been getting better. He said that relations between the two countries have entered "T-20 mode."
Modi said these things after he and his Australian counterpart, Anthony Albanese, had a wide-ranging conversation about how to make the strategic relationship between the two countries even stronger.
The prime minister also asked cricket fans from New Zealand and Australia to come to India for the Cricket World Cup, which will be held there later this year.
"I'm going to Australia two months before my friend, Prime Minister Albanese, goes to India. This is the sixth time we've gotten together in the last year. This shows how close we are, how similar our ideas are, and how old our relationship is," Modi said in a speech to the press.
In Albanese's company, he said, "If I may use cricket terminology, our ties have entered the T-20 mode."
Albanese went to India in March to take part in the yearly meeting between India and Australia.
"I want to ask Prime Minister Albanese and all Australian cricket fans to come to India this year for the Cricket World Cup. "At that time, you'll be able to watch both cricket and a big Diwali party," he said.
Modi also talked about how important the relationship between India and Australia is for the area.
"Relations between India and Australia are not just between our two countries. It is also linked to peace, security, and the well-being of the whole world," he said.
"A few days ago, at the Quad Summit in Hiroshima, where I was with Prime Minister Albanese, we also talked about the Indo-Pacific. Modi said that partnership between India and Australia could also help the Global South make progress.
He said, "Vasudhaiva Kutumbakam, which sees the whole world as one family, is the central theme of India's G-20 Presidency." The talk between the prime minister and Albanese was called "constructive" by him.
In the last few years, relations between the two countries have grown quickly.
The Economic Cooperation Trade Agreement (ECTA) between India and Australia was finalized and went into effect in December of last year. The Comprehensive Economic Cooperation Agreement (CECA) is what the two sides are working on right now.
In June 2020, India and Australia took their relationship to the next level by signing a deal that gave both countries access to each other's military bases for supply support.
The Mutual Logistics Support Agreement (MLSA) lets the two countries' armies use each other's bases to fix things and get more supplies. It also makes it easier for the two countries to work together on defense in general.
The Australian prime minister also talked about different parts of how New Delhi and Canberra work together.
"I have met with Prime Minister Modi six times in my first year as Prime Minister. This shows how important it is to us to strengthen ties between our countries," he said.
"The Indian-Australian community has helped make Australia a better place, and we want to see more ties between our two countries," he said.
Modi's three-country tour came to an end on Monday, when he arrived in Sydney. Before going to Australia, he went to Japan and Papua New Guinea.
Facebook Comments