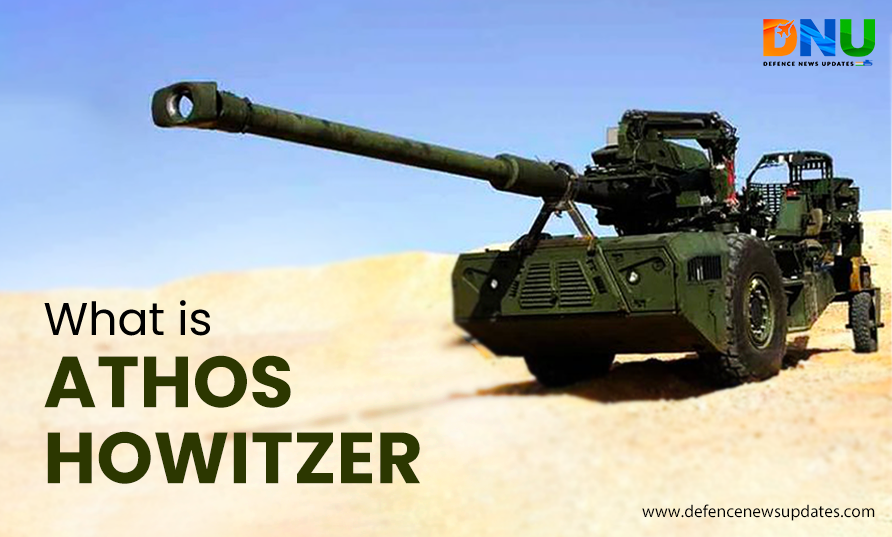 The Autonomous Towed Howitzer Ordnance System (ATHOS) made by Elbit Systems is a 155mm/52 calibre gun with a long range. The ATHOS is the next generation of Elbit Systems' towed-independent guns.
It gives armies all over the world a solution for field artillery that is very flexible and easy to move. The ATHOS has been tested in the field for accuracy, stability, and dependability during moving and ring manoeuvres. It is made up of systems and parts that are already in use.
ATHOS is an automated, self-propelled artillery system that provides high shot capacity and accuracy in long-range missions.
It can fire up to 8 rounds per minute and has a range of 30 km, making it suitable for engaging targets at long distances.
ATHOS is also equipped with an advanced navigation and control system, which allows it to accurately hit targets with minimal environmental impact.
The ATHOS is designed to be a self-sustaining, modular system that is easy to maintain and operate. Its unique design makes it a cost-effective solution for militaries looking to increase their artillery capabilities.
In addition, the ATHOS is compatible with a wide range of ammunition types, making it a versatile and powerful weapon system. With its advanced features, the ATHOS is an ideal choice for both short- and long-range missions.
Overall, Elbit Systems' ATHOS is a powerful and reliable artillery system that offers enhanced accuracy and high capacity in a cost-effective package. Its advanced features make it a great choice for militaries looking to increase their artillery capabilities.
With its advanced capabilities and modular design, the ATHOS is an effective tool for engaging targets at long ranges.
Key Features of ATHOS (Autonomous Towed Gun 155mm/52 Caliber with Automated Ammunition Loading System)
Fully autonomous and maneuverable system – The ATHOS has a range of more than 40 kilometers and uses a self-propelled propelling capability and automated laying mode. It works in conjunction with fully automated systems to achieve autonomous control, precise navigation, and target acquisition. When deployed, the ATHOS can navigate itself in the battlefield using its own diesel engine and unique hydraulic-driven road wheels, which are also perfect for shoot-and-scoot positions. The hydraulic technology allows a team of seven or fewer crew members to deploy the ATHOS in minutes.
Advanced weapon system for effective firepower – As part of its autonomous capabilities, the ATHOS employs inertial navigation and targeting technologies, including a GPS and an onboard ring computer. The INS is used to place the gun with no external reference point. To accomplish automated laying, the laying system can be slaved to the computer.
Robust solution for enhanced combat operation – The ATHOS is built to withstand extreme climatic conditions and can fire any 155mm ammunition currently in use throughout the world. The ATHOS is outfitted with an ammo loader that significantly decreases the physical effort required to operate the gun, easing the crew's burden and improving gun performance.
Ammunition Loading Mechanism- A loading tray, a ramming mechanism, and a crane with a projectile carrier make up the ATHOS automated ammunition loading system. A variety of ring rates are supported by the system:Burst rate 3 rounds in 30 seconds
Intense rate 12 rounds in 3 minutes
Sustained rate 42 rounds in 60 minutes
Electronic System – Control, computation, navigation, and aiming are all part of the ATHOS electronic system. It includes inertial navigation and aiming systems, an onboard ring computer, a laying system, optical backup sights, and other control units.
Carriage Assembly – The carriage is the primary support for the weapon during combat and transit. The carriage is made up of a central gun-level and upward construction with a primary bearing, trails, and road wheels. The carriage transports all auxiliary propulsion unit components, as well as the driver's cabin. The Auxiliary Propulsion Unit (APU) provides continuous power to the automotive, hydraulic, and electric systems, allowing for autonomous system operation and rapid entry and exit from the action.
Operational Features
Direct fire
Indirect fire
With HE standard ammunition > 30km (ERFB-BT)
With assisted HE (ERFB-BB Base > 40km Bleed) ammunition
Minimum range < 5km
Facebook Comments