Defence Industry
US Intelligence Sharing With India In Border Clash With China Essential To Partnership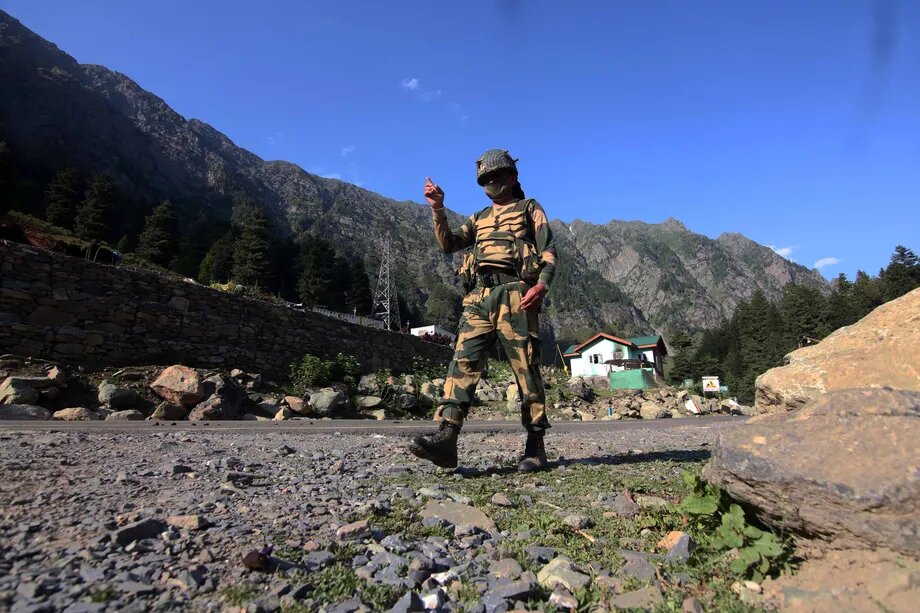 India's army chief recently said that relations between China and India are "influenced by the great power rivalry between China and the US that is going on right now.
Taiwan has become a source of tension between the US and China because the US is selling more weapons and getting more involved in high-level politics.
As tensions between China and India rise in the harsh Himalayas and some experts warn that future clashes could lead to a full-fledged war between the nuclear-armed giants, the US is refocusing on the decades-old border dispute, including taking a more active role in sharing intelligence, as part of its Indo-Pacific strategy to limit Chinese activity in the region.
A story from March said that the US gave India real-time information about Chinese positions along the 2,000-mile (3,200km) border, which helped India successfully stop a possible Chinese military "incursion" last year.
US News & World Report, citing anonymous officials with knowledge of the situation, said that the act "caught Chinese armed forces off guard" and "enraged" Beijing. It also kept the problem from getting worse.
The report said that the information gave India "actionable satellite imagery" and that it was "more detailed and sent more quickly."
The tip helped the troops better deal with China's "probing and testing phase" to see "how the Indians can and will respond and what the Indians can detect." It also forced the Chinese to retreat, the report said.
The story says that this was the first time that Washington shared important information about Chinese strength along the Line of Actual Control (LAC), which is the name for the border between China and India.
Hundreds of Indian and Chinese soldiers fought in the Tawang sector of Arunachal Pradesh on December 9 with spiked clubs and tasers. Arunachal Pradesh is a state in India's northeast that Beijing claims as Zangnan, or south of Tibet.
On April 4, India said no to China's plans to change the names of 11 places in the area. This was right after the US Senate passed a bipartisan motion to "reaffirm" that Arunachal Pradesh is "an integral part of India."
Sunday, Indian Home Minister Amit Shah gave a speech in the disputed state and said, "Nobody can take even a pin's tip worth of our land."
The Chinese foreign ministry said that his visit "violated China's territorial integrity" and "was not good for peace and quiet in the border areas."
It was said that the war of words happened at the same time that US and Indian Special Forces were doing war games together in India. The exercises, which were set to start on Monday, would "focus on supporting fighter aircraft operations in forward areas."
The fight happened in December of last year, right after joint military exercises between the US and India finished near the border between China and India.
It was also a sad reminder of the fight in the Galwan Valley in the tense Kashmir region in 2020 that killed at least 20 Indian troops and 4 Chinese soldiers.
According to the US News & World Report story, the new intelligence exchange in December was based on a geospatial intelligence agreement made between Washington and New Delhi a few months after the fighting in Galwan. The story has not been confirmed by either Washington or New Delhi.
The most controversial part of China and India's relationship is still the border that was set up by the British.
Decades after the 1962 Sino-Indian war, there was a tense peace along the LAC. While Washington continued to do business with China and focused on the Middle East, Moscow helped India build up its military.
But after years of hesitating, China's growing military power and economic impact have forced Washington and New Delhi to get closer together.
General Charles Flynn, who is in charge of the US Army Pacific, said on March 30 that "activities of what is called the Western Theatre Army in and along that area have been concerning for a number of months." He was talking about the Chinese buildup along the border.
"Nations in that part of South Asia have also expressed similar worries," he said.
Lisa Curtis of the Center for a New American Security and Derek Grossman of the RAND Corporation wrote a report on March 31 called "India-China Border Tension and US Strategy in the Indo-Pacific." They said that Washington should do a joint intelligence assessment of Chinese plans and "enhance coordination with Indian officials on contingency planning in case of a future India-China conflict."
Washington and New Delhi started a strategic partnership in space, defense, semiconductors, and cutting-edge technology in January. This was done to help India become less reliant on Russian weapons and fight with China.
Analysts in India and the US praised the latest information sharing as the start of a new era in the relationship between the two countries. Analysts in Beijing, on the other hand, blamed Washington for being greedy.
Elizabeth Threlkeld of the Stimson Centre, a think tank in Washington, called a real-time exchange about Chinese positions along the border a "milestone in the US-India partnership." She said it shows "how the two sides can effectively push back against Chinese aggression."
Rajiv Dogra, a former Indian ambassador who worked in Pakistan, Italy, and Romania, said this showed that India and the US have "built enough trust to talk about technology transfers and intelligence-sharing, which is only possible between the closest strategic partners."
It would be wrong, said Jabin Jacob of India's Shiv Nadar University's department of international relations and governance studies, to think that Galwan would be the last physical clash between forces that "will turn violent or lead to deaths."
"To stop these kinds of things from happening, everyone needs to be more careful," he said. "If Indo-US intelligence cooperation can help make that happen, that's a good thing."
China still doesn't want the U.S. to get involved in its border disputes with India, which it sees as an internal problem. It also sees cooperation between the US and India in the same way it sees every other alliance that US President Joe Biden's government has pushed to "contain" China.
In its annual China Military Power Report, which came out in November, the Pentagon said that after the violence in 2020 Galwan, Chinese officials told their US colleagues not to mess with China's relationship with India.
Soon after the deadly fight, the US moved quickly to send India supplies, such as cold weather gear, weapons, and monitoring drones. And just a few months after that, the armed forces of Washington and New Delhi decided to share intelligence.
India is also a part of Quad, a defense group led by the US and made up of Japan, Australia, and India.
The Biden government says that the group's goal is to "keep peace and stability" in the Indo-Pacific area. China has called it a "small clique" that is "determined to start a fight."
India is the only country in the Quad that borders China on land.
In the National Defense Strategy, which was released in October by the Biden administration, it said that the US would help allies and partners who were facing "acute forms of gray zone coercion from the PRC's campaigns to establish control over the East China Sea, Taiwan Strait, South China Sea, and disputed land borders with India, for example."
The next month, the Quad countries did their annual naval practice together off the coast of Japan.
Dogra, a former ambassador, said that the US and India had "moved past the ifs and buts" stage because their views of the world were becoming more similar.
"The free and open Indo-Pacific is a good example. This is important for the US economy to grow and for the rules-based world order to stay in place, he said.
India's army chief recently said that relations between China and India are "influenced by the great power rivalry between China and the US that is going on right now." He also said that China's "transgressions" could cause things to get worse, but that Indian troops were ready for anything.
Even though India has kept quiet for decades about Taiwan, a self-governed island that Beijing considers a rebellious province, some experts think that "a Taiwan contingency could also be an Indian contingency."
Washington does not recognize Taiwan as a separate country, but it is required by law to help Taiwan protect itself.
And since he became president in 2021, Biden has said more than once that he would step in with the military if China used force against the island. This is despite the fact that the United States has had a long-standing policy of strategic uncertainty.
Taiwan has become a source of tension between the US and China because the US is selling more weapons and getting more involved in high-level politics.
India, like the US, doesn't recognize Taiwan, but it has kept unofficial links with Taiwan since the mid-1990s. The term "one China" has not been used publicly by New Delhi since 2008.
Officials have had different ideas about what is going on along the line.
Even though China and India have had 17 rounds of diplomatic and military talks in the past two years, India's foreign affairs minister, Subrahmanyam Jaishankar, said on March 19 that the situation was "very fragile" and "quite dangerous."
The next week, however, the minister adviser of the Chinese embassy in India, Chen Jianjun, said that things were "overall stable," which was not what the Chinese side had said.
India has been able to keep a good balance in its foreign policy. Even though relations between China and the US are getting worse because of Taiwan and what is seen as Beijing's tacit backing for Russia in its war against Ukraine, India has good relationships with both Washington and Moscow.
Late in March, while Indian Prime Minister Narendra Modi spoke by video at the second Summit for Democracy in Washington, his national security adviser Ajit Doval hosted a meeting of the Shanghai Cooperation Organization (SCO), a regional intergovernmental forum. Pakistan and China joined virtually.
A few hours later, the India-Russia Business Forum took place in New Delhi. At the forum, experts called for India and Russia to get closer to each other.
Reports say that China and India are looking into having their defense ministers meet this month, when China's General Li Shangfu is expected to go to New Delhi for the SCO defense ministers' gathering. For the SCO summit in July, President Xi Jinping is also expected to go to India.
Daniel Markey, a senior adviser on South Asia at the United States Institute of Peace, said that the real-time exchange between Washington and New Delhi in December was "a significant new step" since the US gave India actionable intelligence.
"The US will have shown that closer ties are very useful from a strategic point of view on an issue that is very important to New Delhi," he said, adding that the Biden administration has said many times that it wants to "get India to stop being so dependent on Russia, especially when it comes to defense trade."
Facebook Comments