Defence Industry
News
Successful Testing Of Advanced Artillery Gun System (ATAGS) Built In India Conducted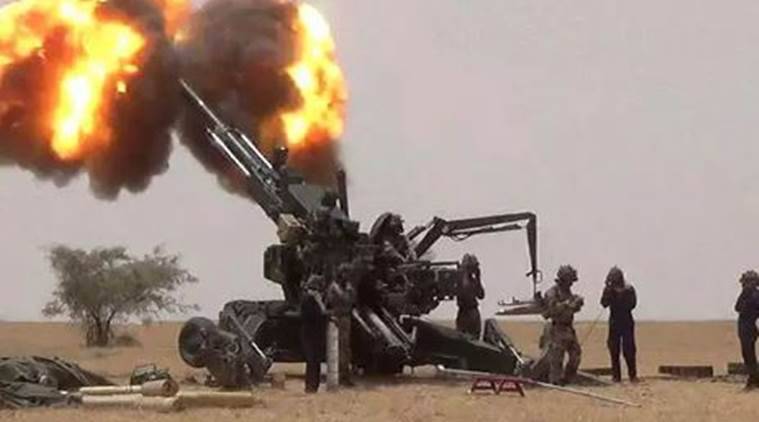 ATAGS is a mission-mode project by DRDO to develop a fully indigenous towed artillery gun system
It's a prime example of public-private collaboration that resulted in a world-class armament system designed and developed entirely in India
Between April 26 and May 2, trials of the made-in-India Advanced Towed Artillery Gun System (ATAGS) were successfully conducted at the Pokhran Field Firing Range (PFFR), according to officials from the Defence Research and Development Organisation (DRDO).
ATAGS is a mission-mode project by DRDO to develop a fully indigenous towed artillery gun system as part of the Indian Army's artillery modernisation programme.
The DRDO developed the Advanced Towed Artillery Gun System (ATAGS), which is manufactured by Bharat Forge and Tata Advanced Systems Limited. It's a prime example of public-private collaboration that resulted in a world-class armament system designed and developed entirely in India. For India, such a weapon system is extremely important.
The cannon is planned to represent the backbone of the Indian Army's tower howitzer fleet, possibly replacing the Bofors howitzers.
About 155 mm x 52 Cal Advanced Towed Artillery Gun System (ATAGS)
ATGAS is a large calibre Gun system with the capability to program and fire future Long Range Guided Munitions (LRGM) to achieve precision and deep strike. The system is configured with an all- electric drive that will ensure maintenance free and reliable operation over longer periods of time. The system is currently in the advanced stage of development.
Specifications of Advanced Towed Artillery Gun System
Type
Towed Howitzer
Place of origin
India
Service history
Used by
Indian Army
Production history
Designer
Armament Research and Development Establishment
Designed
2013-2017
Manufacturer
Bharat Forge Limited

Ordnance Factory Board
Tata Power Strategic Engineering Division

Produced
2019
No. built
10 (prototypes)
Specifications
Mass
18 tonnes (18 long tons; 20 short tons)
Barrel length
8060 mm
Crew
6-8

---

Caliber
155 mm x 52 Cal
Breech
Screw type
Recoil
Electro-rheological/Magneto-rheological
Elevation
-3 to +75 degree
Traverse
+/-25
Rate of fire
Burst: 5 rounds in 60 sec Intense: 10 rounds in 2 1/2 min Sustained: 60 rounds in 60 min
Effective firing range
48.074 km
Maximum firing range
52.074 km (Using HE-BB or High Explosive Base Bleed ammunitions)
Sights
Thermal sight. Gunners display
TRIALS
DRDO conducted the proof firing of armament for the 155/52 calibre Advanced Towed Artillery Gun System on 14 July 2016. The test was successful.
Fully integrated, 155-millimeter artillery gun fired its first rounds of live ammunition at the Proof and
Experimental Establishment (PXE) in Balasore, Odisha on 14 December 2016.
During trials in 2017, ATAGS broke the then world record for 155 mm gun by firing the round to a distance of 47.2 kilometres.
It again registered a maximum distance of 48.074 kilometres with high explosive–base bleed (HE–BB) ammunition, surpassing the maximum ranges fired by any artillery gun system in this category. This has since been surpassed by M777 and M1299 under US ERCA program
The gun successfully completed trials and the manufacturing of first lot of 40 guns is to start soon.
The gun underwent user trials in September 2020 and suffered a major setback with a barrel burst injuring four personnel. Investigations are on to ascertain and solve the problem[21][22][23] and in November 2020, after an investigation, the gun was cleared for further trials
In June 2021, ATAGS successfully completed trials at 15,000 feet (4,600 m) altitude.
Facebook Comments