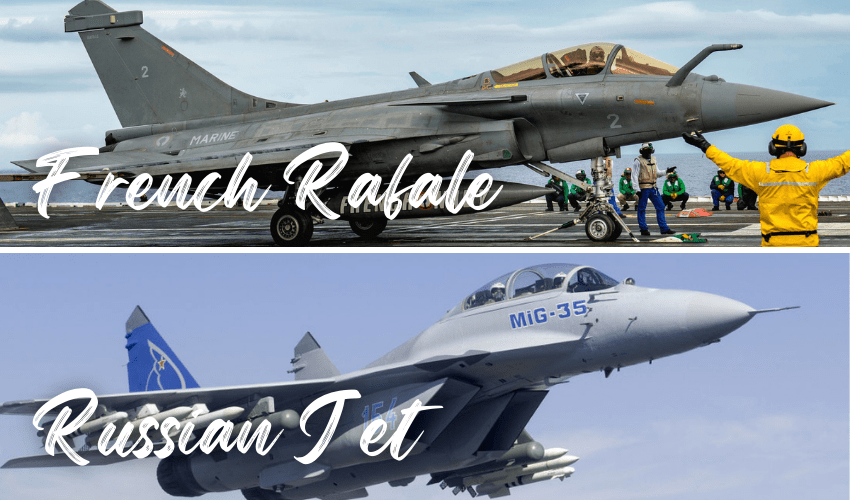 Serbia has traditionally relied on Russian military aircraft and equipment, but Vucic declared on his website that the government may acquire up to 24 Dassault Aviation SA Rafales.
"We've been talking to them about buying 12 new Rafales for a year, and we're also talking to another country about buying 12 old Rafales," Vucic said. The remarks came during a meeting with top commanders in central Serbia following a military drill.
Belgrade will be able to modernise its MiG-21 and MiG-29 fleets, as well as 30 ex-Yugoslav Soko J-22 Orao and Soko G-4 Super Galeb aeroplanes, if procurement plans go according to plan. In November 2021, when Croatia purchased 12 old Rafale fighters from France, Vucic stated that Serbia will also purchase the French fighter jet. In a December interview with private Serbian broadcaster TV Prva, Vucic said, "The Rafale is a great plane; I would enjoy it if we could buy new ones."
According to the French newspaper La Tribune, Aleksandar Vucic's reelection as president on April 3 is likely to speed up the procurement process. Serbia could become the third European government to purchase the French Rafale fighter jet, albeit the transaction will take some time to finalise. Croatia has decided to purchase 12 used Rafale fighter jets, while Greece has agreed to purchase 12 new Rafale fighter jets.
Vucic is striving to find a compromise between Serbia's desire to join the European Union and the country's desire to preserve friendly relations with Russia. The Russian-Serbian connection touches on a variety of topics. The Balkan nation receives natural gas, geopolitical support, and certain defence supplies from Moscow.
Even after Russia's continued invasion of Ukraine, the country strove to strike a careful equilibrium. Serbia, for example, has not ratified European Union sanctions on Russia for its invasion of Ukraine, despite voting against Moscow in UN resolutions condemning the conflict.
Sidestepping Russian Jet For French Rafale?
With this action, the country joins a growing list of countries rejecting Russian fighter jets in favour of the French fighter plane Rafale. Indonesia's government previously decided against purchasing Su-35 fighter jets, instead choosing for a $8.1 billion contract with France to purchase 42 Rafale fighter jets.
Egypt purchased a fleet of Su-35 fighter jets for $2 billion in 2018. The plan to purchase at least two dozen Flanker-Es was later reversed, according to reports. The country committed to buy 30 extra Rafales to bolster its air force last year. A deal reached in 2015 resulted in the purchase of two dozen Rafales, raising the Egyptian Air Force's total number of Dassault Rafales to 54.
Fear of US sanctions under the Countering America's Adversaries Through Sanctions Act (CAATSA), which necessitates the implementation of US sanctions on any country that makes significant military acquisitions from Russian defence industry, is claimed to be influencing the Su-35 decision.
Furthermore, any government would find it difficult to avoid the recent US-backed sanctions on Moscow for its aggression in Ukraine, which may crush any country's economy. Despite the fact that Serbia has not announced any new fighter jet orders from Russia, sanctions may have influenced the country's decision.
Serbian President Aleksandar Vucic has expressed an interest in Turkish drones. Vucic added that at their meeting last week, he proposed that President Recep Tayyip Erdogan provide Serbia with Bayraktar TB2 unmanned aerial vehicles (UAVs), which have had a strong presence in several conflicts and have produced beneficial results.
"I told President Erdogan two days ago that we want to buy Bayraktar from Turkey, and he guaranteed me that we would be able to get them," the president added.
Drones from Turkey have also been spotted in Ukraine, wreaking havoc on Russian troops. Kyiv has purchased a number of Bayraktar TB2s from Ankara. Drones had previously proven their worth in wars such as Libya, Syria, and the Nagorno-Karabakh conflict.
Serbia first expressed interest in purchasing drones manufactured by Turkish drone magnate Baykar in late 2020. Vucic praised the Bayraktar TB2 systems, stating that Serbia is interested in purchasing them in the future.
"We'll see if we can work out a deal with the Turkish side." These are excellent drones in any circumstances. On Oct. 6, 2020, in Belgrade, Vucic was quoted as saying to reporters, "I have to pay the Turkish producers their due."
The TB2 has been used by Qatar, Azerbaijan, and Poland, with Poland being the first European Union and NATO member state to purchase drones from Turkey in May of last year. A number of other countries have expressed interest in purchasing the UAVs.
Belgrade is also in talks with three other countries about establishing a separate squadron of fighter-bomber jets.
Facebook Comments