Global News
News
Russia Adds More Heavyweight Su-35 Fighters To Its Army; Kiev Critiques The Warplane For Poor Survivability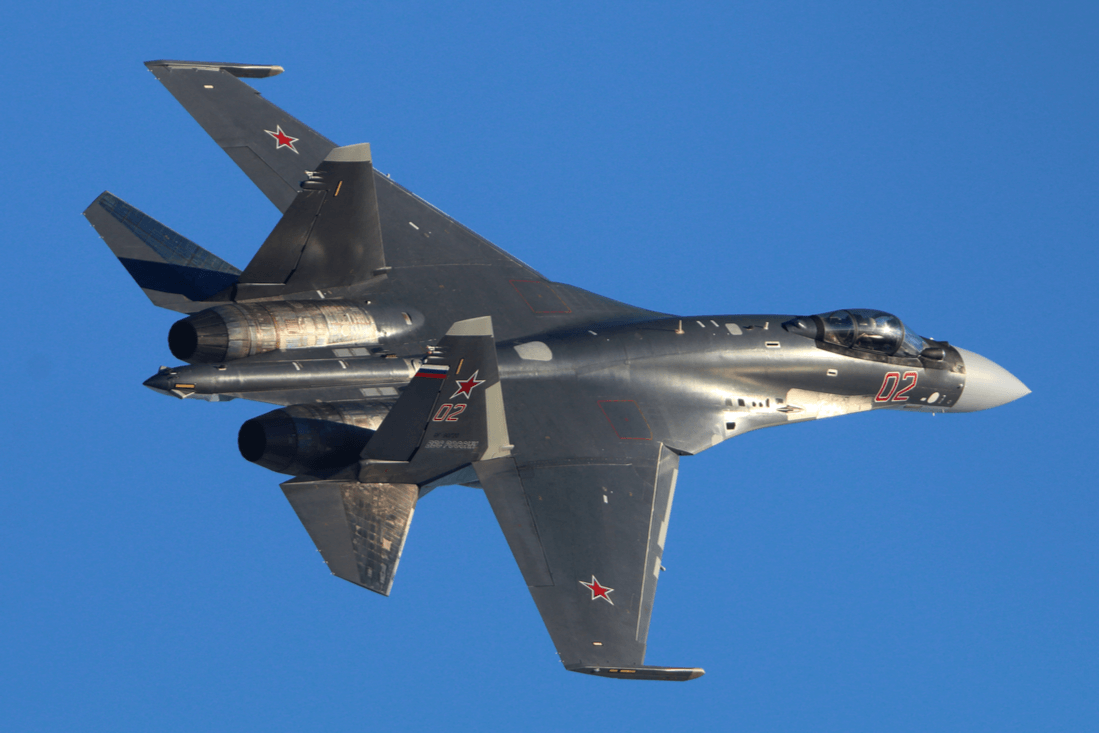 The Su-35's design is based on the best engineering ideas that have been tried and tested on the Su-27/Su-30 family of planes.
China started doing extensive patrols inside Taiwan's ADIZ with Su-35s and locally made J-11 and J-16 Flanker-based planes.
On September 10, Rostec, a Russian state-owned defence company, said that United Aircraft Corporation had sent the Russian Air Force a new batch of Su-35S heavyweight fighters. The Komsomolsk-on-Amur aircraft plant (KnAAZ) in Russia's Far East is where these planes were made.
The new planes are part of the third contract for 30 planes signed between the Russian Ministry of Defense and UAC. The delivery should be done by the end of 2024.
"The Su-35S is our most important item right now. One of the best planes in the world is this one. "It has a lot of potential, and we will keep building it at our plant in the future," said the director of the plant.
In the press release, it was said that the latest series of Su-35S had been approved by the technical staff and had finished factory tests at the Komsomolsk-on-Amur Aviation Plant. Each plane went through a series of tests while in the air.
Despite this, the country is having trouble selling these planes to other countries. Because of the US sanctions against Russia, many people who wanted to buy this heavy aircraft have already changed their minds.
Indonesia already cancelled its order for the Su-35, and Egypt is likely to do the same. The orders of other interested parties have not been carried out. So, the only way to keep the Su-35 production lines running is to get orders from within the country.
China bought 24 Su-35s from Moscow, making it the largest buyer of the plane. But the success of its fifth-generation J-20 and Su-27-based J-16 fighter jets made by its own defence industry makes it unlikely that it will buy any more Su-35 fighters.
But the Iranian Air Force has recently shown interest in the planes, which could help relieve some of the pressure and free up more production capacity for export. We still don't know if the deal will go through.
More than 100 Su-35 planes have already been given to the Russian Air Force. The state-run company also said that the Russian Air Force will continue to get Su-57 fighter planes from the fifth generation.
At first, it was thought that 50 fighters would be in use by 2020 and 200 would be in use by 2025. But right now, only a few units are in use, and the fleet is only expected to grow to 22 by 2024 and 76 by 2028.
Critics Of Su-35 Fighters
Brig. Gen. Oleksiy Gromov, deputy chief of the Ukrainian General Staff, gave a briefing to the Ukrainian Media Center on August 11 about the Russian aviation sector.
He said that Russia had to use old, retired Sukhoi Su-24M bombers because modern planes had been lost in battle.
Gromov kept criticising Sukhoi, the company that made the Su-35S twin-engine fighter jets, by saying that only nine of the 24 Su-35S planes that China bought for $2.5 billion in 2015 were delivered working because of problems with their "onboard systems," or avionics.
The deputy said that during battle, Ukrainian forces had shot down 24 Su-35s. This number is disputed, though, because as of the middle of August, only one or two Su-35s had been lost over Ukraine, according to visual media.
Still, it's important to keep in mind that Ukraine's claims could just be part of a war of words. But Gromov's accusations bring up other things that are worrying about the Su-35, which has already had a number of export deals cancelled.
Some countries may have gotten rid of the Su-35s because of the Countering America's Adversaries Through Sanctions Act (CAATSA). This law says that the US must put sanctions on any country that buys a lot of weapons from Russian defence companies.
Reasons That Could Explain Its Poor Survivability
The Sukhoi Su-35 is a heavily improved version of the Sukhoi Su-27 fighter jet. It is much better at fighting threats from the air, the ground, and the surface of the water. The Su-35's design is based on the best engineering ideas that have been tried and tested on the Su-27/Su-30 family of planes.
The Su-35 has features that make it both a good tactical plane and a modern fighter. This includes super-maneuverability, excellent active and passive acquisition aids, high supersonic speed and a long range, the ability to control the actions of a battle group, an advanced electronic system, and a smaller radar signature.
But after Ukraine's accusations, the plane's systems have been looked at closely, calling into question some of its most praised abilities.
One important feature that many experts have pointed out is missing from the Su-35 fighter jet could hurt its performance in a big way. The Su-35's big flaw is that it doesn't have a radar with an active electronically scanned array.
Since the 2000s, these radars have become more common, though Russia, Europe, and the US have been slower to use them than China, Japan, and the US.
In a similar way, aviation writer Dario Leone has said that the Su-35 has the least capable avionics suite compared to its competitors, even though it is called a 4++ gen. It is the only big fourth-generation plane that doesn't have an AESA radar or a way to combine sensors.
"The Irbis-E is advertised as having a range of 350 kilometres against three m2 targets, but that's only true in cued-search with a very small field of view (FOV). "What's rarely said is that in a normal volume search, that range shrinks to 200 kilometres," he said.
Even though the Irbis-E can find stealth aircraft at less than 50 kilometres, which gives it an advantage over older fourth-generation fighters, it also makes the Su-35 very visible to enemies when it is running at full power.
The Su-35 is also advertised as having better visual performance. But its R-73M/R-74 seeker can only go 60° off-boresight, while its Western competitors (AIM-9x, ASRAAM, and Python-4) can go >90° off-boresight and have much better IRCMs and clutter rejection.
China's Su-35 Fighter Jets
In his article, defence expert Sebastian Roblin argues that China and Ukraine have strong ties in the defence industry. This is shown by the fact that China used hardware from Ukraine to build its first aircraft carrier and its J-15 Flying Shark carrier-based plane.
So, it's likely that Ukraine's industry used these links to get some inside information about the Su-35's condition.
China's 24 Su-35s are run by the 6th Aviation Brigade of the PLA Air Force at Suixi Airbase in Guangdong Province (southeastern China).
China wanted to buy just a few Su-35s at first, but Moscow insisted on a minimum order of 24. This is likely because China has a history of reverse-engineering older Flanker planes.
So, most people think that Beijing was mostly interested in the Su-35 to look at its technology, especially its thrust-vector control engines.
The Flanker-E, on the other hand, has a long range and powerful sensors that make it good for patrols over the South China Sea and around Taiwan. In May 2022, China started doing extensive patrols inside Taiwan's ADIZ with Su-35s and locally made J-11 and J-16 Flanker-based planes.
Facebook Comments