Defence
Pro-Khalistan Protesters Barricaded Off Outside India House In London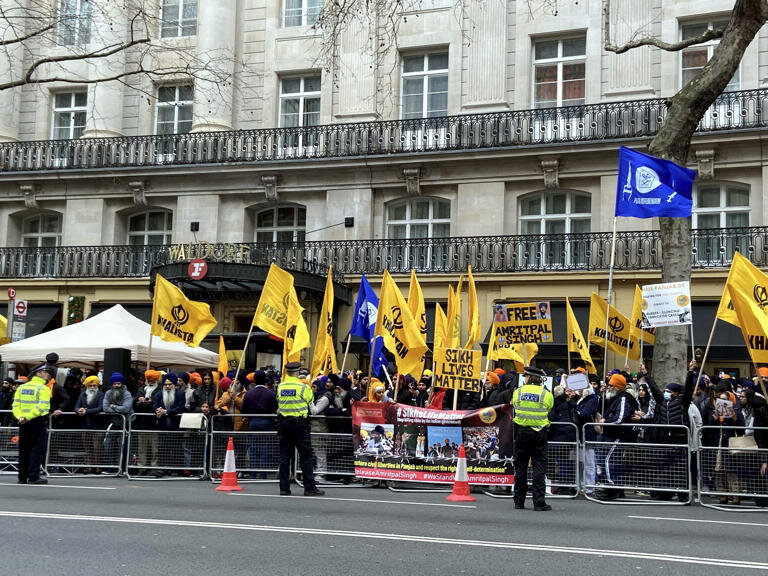 "Enquiries continue," and one person who was arrested on suspicion of causing a violent disturbance has been released on bail and is due in court in the middle of June
As a show of solidarity after the vandalism, several diaspora groups got together in London on Tuesday for a party called "We Stand By High Commission of India."
Around 2,000 protesters carrying Khalistan flags showed up at the Indian High Commission here on Wednesday for a planned demonstration. They threw things and chanted slogans while security was tightened and barricades were put up.
The Indian High Commission responded by putting up an even bigger tricolour flag on the roof of its building. This seemed to anger the protesters even more, who then threw coloured flares and water bottles at the mission building and at police officers and reporters covering the protest.
In response, Scotland Yard put up more barriers around the area outside India House and sent more uniformed and mounted officers to the area right away.
On Sunday, when India House was attacked, there was a lot of chaos, but the protesters were barricaded across the road, and officers in uniform stood guard and walked around the area the whole time. The protesters, some of whom wore turbans and included women and children, came from all over the UK on buses and chanted pro-Khalistan slogans.
The organisers used microphones to make speeches against India and attack the Punjab Police for what they said were violations of human rights. The speeches switched between English and Punjabi to say that the Indian media was biassed when it called them "fringe elements" and said that they were supported by Pakistan's ISI spy agency.
Banners for the so-called "National Protest," which was organised by the Federation of Sikh Organizations (FSO) and Sikh Youth Jathebandia, have been going around on social media since before a protest on Sunday, which ended in violence at India House.
The Indian government was very upset that its diplomatic mission didn't have enough security, which led to Khalistan flag-waving protesters breaking the windows of the Indian High Commission and trying to take down the Tricolor.
Since the weekend, several uniformed officers have been walking around the Aldwych area, and Metropolitan Police vans have been parked at India Place.
The planned protest on Wednesday is supposed to be a response to what people say are unfair actions by the police in Punjab.
The Indian High Commission in London has been trying to stop the spread of false information about what's going on in Punjab and the actions being taken against the separatist group "Waris Punjab De."
Indian High Commissioner Vikram Doraiswami said in a video posted on Twitter, "Let me assure all our friends here in the UK, especially brothers and sisters with relatives in Punjab, that the sensationalist lies being spread on social media are not true."
"The news doesn't tell the truth about what's going on in the land of your ancestors. The state's elected leader and the local police have released a lot of information, including interviews on TV. Please watch these. "Don't believe the few people who are spreading lies and false information," he said.
Doraiswami gave an update on the enforcement actions since March 18. He said that the Punjab Police started an operation against members of "Waris Punjab De" who have been charged with crimes, especially Amritpal Singh, who is the leader of this group. He also said that everyone who is arrested will have their constitutional right to a legal defence upheld, and he said again that all communication services, including cell phone networks and the internet, are up and running in the state.
British Sikh MPs Tanmanjeet Singh and Preet Kaur Gill, both from the Labour Party, were among those who said they were worried about their UK constituents who have family in Punjab.
"Keeping an eye on what happens in the Punjab. Because of the internet blackout, so many of my constituents are worried about their loved ones. "Ministers should talk to Indian authorities so that UK families who can't get in touch with their relatives can do so as soon as possible," Gill tweeted on Sunday.
When she heard about the violent protest at the High Commission, she said, "No one should resort to attacks like that." This is not okay."
Extremists tried to take down the Indian tricolour flag that flies at the Indian High Commission. An official stopped them, and now there is a bigger Tiranga on the main facade.
As a show of solidarity after the vandalism, several diaspora groups got together in London on Tuesday for a party called "We Stand By High Commission of India."
The Metropolitan Police said, "Enquiries continue," and one person who was arrested on suspicion of causing a violent disturbance has been released on bail and is due in court in the middle of June
Facebook Comments