Industry News
News
PAF's Upgraded JF-17 Still Has No Chance Against the IAF's S-400 and Rafale Strike Power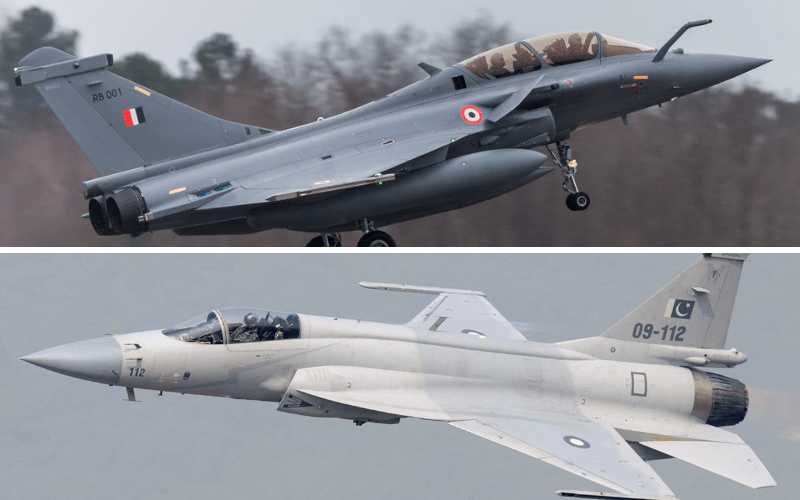 After Pakistani PM Imran Khan returned from China, Islamabad's acquisition of 50 JF17 Block III fighters was initiated to tackle India's S400 air defense system due to its stealth characteristics. This is nothing but domestic chauvinism on the part of Pakistan totally devoid of facts.
The airframe of the JF 17 Block III single-engine fighter would be constructed of composite material to impart its stealth characteristics needed to evade the adversary's air defense system and target high-value assets. The indigenous Tejas fighter also has 45% composite materials, but does that mean it can support two S400 systems that the Chinese PLA has deployed in Ladakh and Arunachal Pradesh respectively?
The JF17 is powered by the same Russian RD 33 engine used by the Indian MiG-29 air defense fighters and often suffers from maintenance/spare parts issues.
The S400 system is not only intended to fire at enemy aircraft from the sky. He denies the PAF's cross-border visibility by pushing back its AWACS and strategic reconnaissance systems (F 16 with DB 110 Recce Pod). This means the Pakistani Air Force cannot fly its early warning systems and deep penetration radar as the S400 missiles will shoot them down in hostility.
As a result, Pakistani JF 17 fighters will fight without the support of outdated Chinese AWACS and radars. The only exception to this scenario is the high mountain terrain which is present only in the union territories of Jammu and Kashmir and Ladakh. The Indian Air Force has a multi-level defense network and is not based solely on the S400 system.
It has front-line fighters such as Rafale, which have high-end AESA radar and are armed with the deadliest Meteor range of 140-160 km beyond the visual range of air-to-air missiles, which means that the JF17 will not even know when it has cleared the sky.
The IAF has a medium-range surface-to-air missile (MRSAM) with a range of 70 km, the Pechora and Akash digital surface-to-air missiles to deal with the enemy. , the S400 system is still complemented by short-range weapon systems (CIWS) such as the Russian Pantsir or the American Phalanx to deal with autonomous missiles launched against the air defense network. Finally, the S400 is not a static system but a dynamic weapon system that can be repositioned.
However, the decisive factor is the very fact that the Pakistani Air Force itself is not very confident about the JF17 fighter compared to the American F16. Not a single JF17 crossed the Line of Control (LoC) or even dropped a weapon during the unsuccessful Pakistani raid in the Rajouri-Mendhar sector on February 27, 2019, the day after the army's terrorist training camp ended. Indian Air Force did airstrike Jaish-e-Mohammed in Balakot in retaliation for the Pulwama terrorist attack.
Facebook Comments