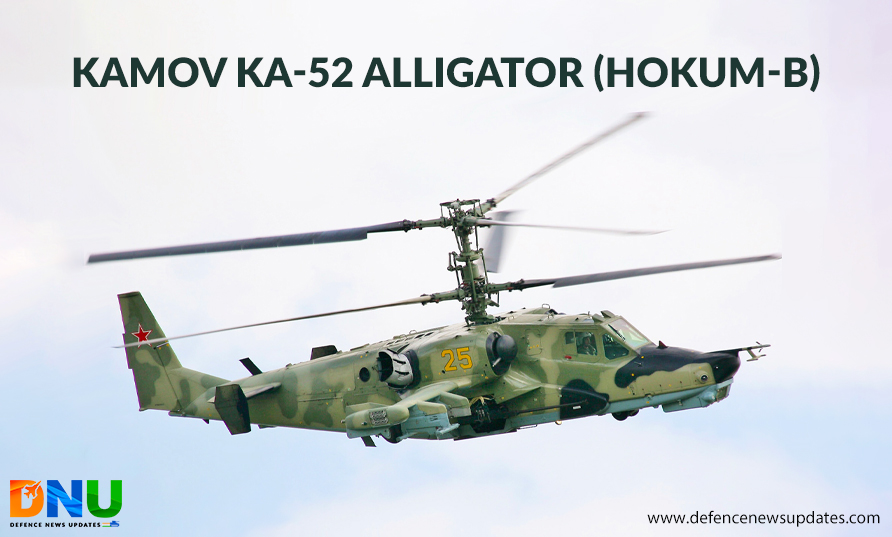 "The first Ka-52 helicopter was rolled out in December 1996. The helicopter completed its first flight in June 1997."
"The Ka-52 will replace the Ka-50 Black Shark fleet that is in service with the Russian Air Force."
The Russian Air Force's Ka-52 Alligator is an attack helicopter that can fly in any weather. The Ka-52 is a two-seat version of the Ka-50 attack helicopter. It was made by the Kamov Design Bureau, which is part of Russian Helicopters.
The Ka-52 helicopter can destroy enemy armoured and unarmored ground targets, low-speed air targets, and people on the front line and in tactical depth. It is also used to keep an eye on things and give orders to a group of attack helicopters.
In December 1996, the first Ka-52 helicopter was rolled out. In June of 1997, the first flight of the helicopter was made. In 2008, the Progress Arsenyev Aviation plant in the Russian region of Primorye began making Ka-52 planes in large numbers.
Russia plans to put Ka-52K helicopters on the Mistral Class ships it wants to build. The Ka-52K is a type of Ka-52 Alligator that is used by the navy.
Orders and deliveries of the Russian helicopter
In December 2010, the 334th Tactical Deployment Center of the Russian Air Force in Torzhok got three Ka-52s. The Ka-52 will be used by the air force for special missions. It has two seats.
In April 2011, the Ka-52 helicopters were put into service by the Russian Air Force. The Russian Air Force's fleet of Ka-50 Black Sharks will be replaced by the Ka-52.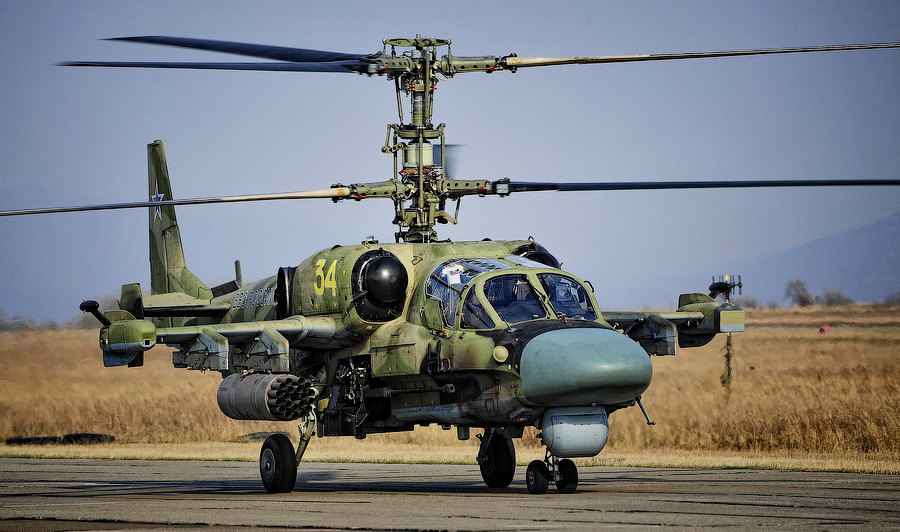 Ka-52 design, cockpit and avionics
The Ka-52 is based on the design of the Ka-50 helicopter, which has been slightly changed. Because it has two seats in the cockpit, the helicopter has a wider nose and a longer body. About 85% of the airframe, parts, and systems of the two types are the same.
The helicopter is 16 metres long, 4.9 metres tall, and its main rotor is 14.5 metres in diameter. The most weight that the Ka-52 can take off with is 10,800kg.
Two crew members can sit side by side in the cockpit, which has two seats. Both members of the crew are sitting in the same K-37-800M ejection seats. A head-up display (HUD), four SMD 66 multifunction displays, a helmet-mounted sight display, image intensifiers, and a GPS receiver are all part of the modern glass cockpit. The helicopter also has an FAZOTRON cabin desk radio-locator and a helicopter navigation and attack system (NASH).
In September 2012, Russian Helicopters, a subsidiary of Oboronprom, signed a long-term contract with Ramenskoye Design Company (RDC) for the delivery of avionics equipment. As part of the contract, RDC is responsible for supplying avionics packages for the Ka-52 attack helicopter and the Ka-52K advanced ship-based variant between 2013 and 2020.
Armaments on the attack helicopter
On the starboard side of the fuselage, a 2A42 30mm automatic gun is mounted on an NPPU-80 gun mount that can be moved. Different kinds of weapons can be attached to the six external hardpoints on the wings.
The hardpoints can hold VIKHR anti-tank guided missiles (ATGM), ATAKA laser-guided missiles, and B8V-20 rocket launchers for 80mm S-8 rockets that don't need to be guided. The range of a VIKHR anti-tank missile is between 8 and 10 km. Anti-aircraft missiles called IGLA-V can also be put on the Ka-52s.
Sensors, radars and countermeasures
The Ka-52 helicopter has a Phazotron FH-01 Millimeter Wave Radar (MMW) radar with two antennas that can track both air and ground targets. This radar is housed in a radome on a mast.
Active IR and electronic jammers, a laser detection system, an IR missile approach warning sensor, and UV-26 flare/chaff dispensers in the wingtip fairings all help with the countermeasures.
Engines and performance of Russia's Ka-52
The Ka-52 Alligator is driven by two Klimov VK-2500 turboshaft engines that turn two main rotors that are coaxial and turn in opposite directions. Each engine can put out up to 2,400hp of power at takeoff. A new full authority digital control system is built into each engine (FADEC).
The highest that the Ka-52 helicopter can fly is 5,500m. The helicopter can go 300 km/h at its fastest and 260 km/h when it is moving slowly. The helicopter can go up 12 metres per second. The Ka-52 can fly 460 km in real life, but it can fly 1,110 km on a ferry flight.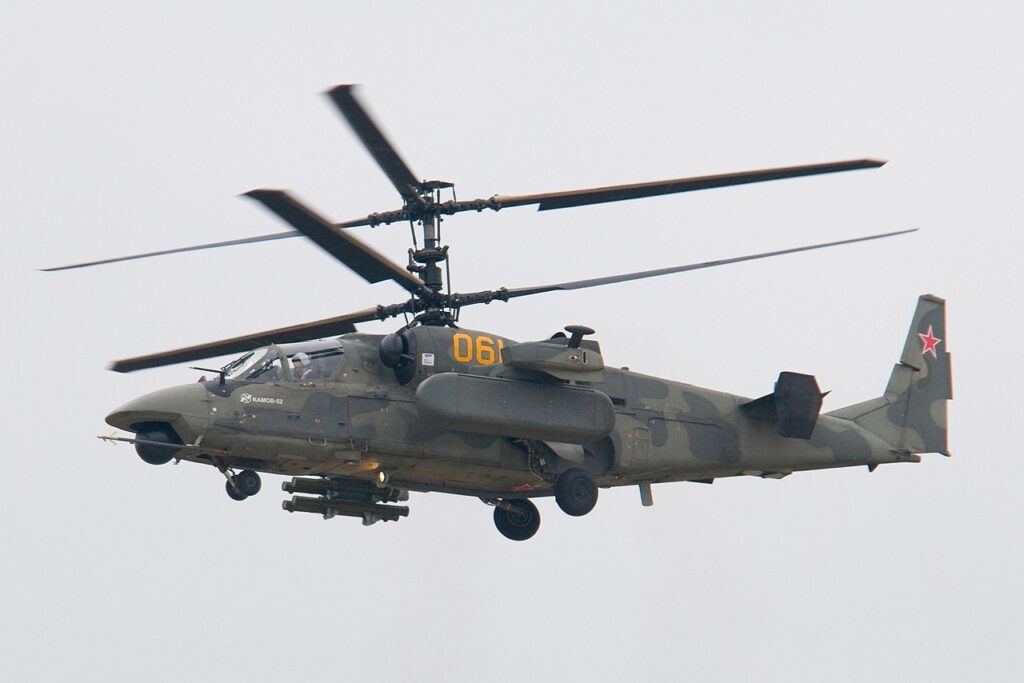 This project is part of our recent analysis and forecasts of the global military rotorcraft market, which you can find on our business information platform Strategic Defence Intelligence. For more info, click here or get in touch with us: EMEA: +44 20 7936 6783; Americas: +1 415 439 4914; Asia Pacific: +61 2 9947 9709 or via email.
The Kamov Ka-52 Alligator, both called the Hokum-B by the NATO, has two seats instead of one. It is a multipurpose attack helicopter that can fly during the day and at night. Development began in 1994, and the first flight of this type was in 1997.
The Russians have asked for the Ka-52, and small-scale production of the plane began in 2008. But because of limited funds, this helicopter is only used in small numbers. Only 30 helicopters had been sent out by 2012. By 2017, it was said that the Russian military had 90 of these helicopters. In 2020, there were 127 of these.
This Russian attack helicopter can also be bought by people outside of Russia. The Ka-52K, a naval version of this helicopter, was sent to Egypt in 2017. Egypt asked for 46 helicopters in total. By 2021, 30 of them had been sent out. It is said that Algeria bought 12 of these helicopters. Deliveries were planned to begin in 2019. During the Russian invasion of Ukraine, both the Ka-52 and its rival, the Mil Mi-28, were used a lot.
The Ka-52 has 85% of the same parts, components, and systems as the original Ka-50, which only had one seat.
The cockpit was where most of the changes were made. The Ka-52 is different from the Ka-50 because its nose is wider and its cockpit has two seats. Seats are next to each other.
Both pilots can do anything they want with the helicopter. This makes it easier to control the helicopter during battle. It also means that the helicopter can be used as a training tool. There is no need for a version just for training.
The Kamov Ka-52 Alligator has turboshaft engines called TV3-117VMA that have been upgraded. The Hokum-B can move in a unique way because its two main rotors are coaxial and turn in opposite directions. It is one of the helicopters that can move around the most.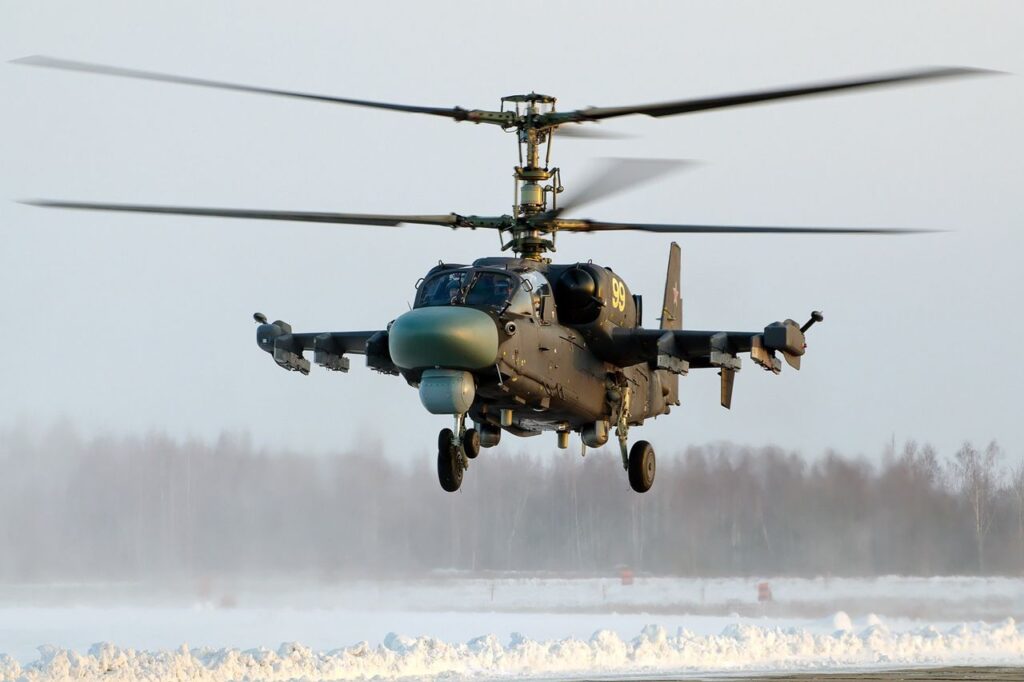 23 mm projectiles can't hurt the armour of the Alligator. Ejection seats are where pilots sit. Even if one engine is turned off, the helicopter can still fly. In Ukraine, several Ka-52 helicopters were shot down. Still, it turned out to be a very strong machine.
There were several times when a missile hit the Ka-52, but it still managed to land in a safe way. This is because it is made with rotors that turn in opposite directions. Other helicopters lose control when the tail rotor breaks, but the Ka-52 doesn't have a tail rotor, so this doesn't happen. The information is secret, but Ukrainian claims and pictures of shot-down Ka-52 helicopters suggest that many Russian pilots made it out alive after their Ka-52 was shot down.
The Hokum-B has a system for running the battlefield. It can share information with other helicopters of the same type or with other types of helicopters, as well as with third-party sources. This helicopter is also meant to be a command centre for a group of other helicopters. It helps find the targets and organises the attacks.
The Ka-52 has the same fighting skills as its predecessor, the Ka-50. It has a 30 mm cannon on the side of it. There are six external hardpoints for different types of weapons, such as anti-tank missiles (Vikhr, Vikhr-M), air-to-air missiles (Igla-V), pods with unguided rockets, and bombs. For missions against armour, it can carry up to 12 Vikhr ATGMs. These have a range of up to 10,000 m and can go through up to 1,000 mm of steel armour behind explosive reactive armour. So, even the best-protected main battle tanks can't stop the Vikhr missiles.
During the invasion of Ukraine in 2022, the Russians used a lot of Ka-52 helicopters. During the first eight months of the war, 23 Ka-52s were lost for sure.
The Ka-52 costs about $16 million per unit.
Country of origin
Russia
Entered service
2008
Crew
2 men
                                                Dimensions and weight
Length
13.53 m
Main rotor diameter
14.5 m
Height
4.95 m
Weight (empty)
~ 8 t
Weight (maximum take off)
10.8 t
                                             Engines and performance
Engines
2 x TV3-117VMA turboshafts
Engine power
2 x 2 200 shp
Maximum speed
310 km/h
Service ceiling
5.5 km
Range (max payload)
520 km
Ferry range
1 200 km
Combat radius
?
Endurance
1 hour 40 minutes
                                                  Armament
Cannon
1 x 30 mm cannon (460 rounds)
Missiles
12 x Vikhr (AT-9 Spiral) anti-tank missiles / 4 x Igla-V air-to-air missiles
Other
rocket pods or bombs
Variants
Ka-52K Katran, which can be carried on ships. It was made to work from amphibious assault ships of the Mistral class. In 2014, a prototype was finished so that it could be tested and judged. It flew for the first time in 2015. This helicopter has shorter wings with a folding system for the rotor blades.
Also, some changes were made to this helicopter to make it work better in a naval setting. This helicopter can carry anti-ship missiles like the Kh-31 and the Kh-35. The Russian Ministry of Defense ordered 32 of these helicopters in 2014. In 2015, they planned to send the first 12 helicopters. But because of Russia's military actions in Ukraine, the Mistral deal was cancelled, and in 2015, two Mistral-class ships built in France under a contract with Russia were instead sold to Egypt. In the end, Egypt ordered 46 Ka-52K helicopters that were not as good. In 2017, Egypt got its first batch of six helicopters.
Facebook Comments