Indian Navy
National
Indian Navy Commander Reflects On Bastille Day Parade With Pride For Armed Forces And People Of India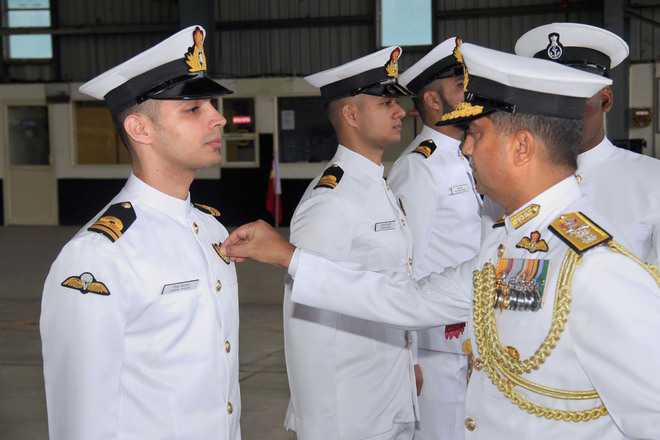 The 25th anniversary of the "strategic partnership" between France and India will happen at the same time as PM Modi's trip to France.
This historic visit of PM Modi will also lead to joint initiatives to address the most pressing issues of our time, such as climate change
The three Indian services are ready to take part in the Bastille Day parade in France. Indian Navy Commander Prateek Kumar said on Wednesday that it feels great to be a part of the event.
On July 14, France will celebrate Bastille Day, and Prime Minister Narendra Modi will be the guest of honor. Commander Kumar, who is part of the Indian armed forces here, said that the Navy's own destroyer, INS Chennai, which was part of the bilateral navy drill "Exercise Varuna," is also taking part in the parade.
He said that besides the tri-service group, the parade will also have a band.
"This is a great feeling for everyone in India, not just the armed forces. We're glad to be here as part of a group from the Army, the Navy, and the Air Force, he said.
The general said that the two countries' armies have worked together in the past.
"We were involved in both World Wars I and II, and we were the hub of activity in Europe. The Punjab Regiment also fought in World War I. "At that time, our troops were here to help them get their independence," he said.
"Since the first day we came here, our morals and our friendship have been getting stronger. And it's great to see how well we work together," he said.
Indian Air Force Rafale attack jets, which were bought from France, will also take part in the flypast.
Commander Kumar said that having PM Modi as the guest of honor at the parade is a great honor.
Before the Bastille Day parade, the Indian Tri-services group practiced marching to the tune of "Sare Jahan Se Achha Hindustan Humara."
On July 14, which is Bastille Day, the French military parade is held in Paris. The 25th anniversary of the "strategic partnership" between France and India will happen at the same time as PM Modi's trip to France.
A statement from the Indian Embassy in France says that Prime Minister's visit will mark the beginning of the next phase of the India-France Strategic Partnership by setting new and ambitious goals for strategic, cultural, scientific, academic, and economic cooperation, including in a wide range of fields.
"This historic visit of PM Modi will also lead to joint initiatives to address the most pressing issues of our time, such as climate change, biodiversity loss, and the achievement of the Sustainable Development Goals. It will also give India and France a chance to reaffirm their commitment to multilateralism, even as India holds the G20 Presidency," the statement said.
Facebook Comments