Defence
India's Defence Attache To Sudan Returnees: Trust Me, All Of You Will Reach Home Safely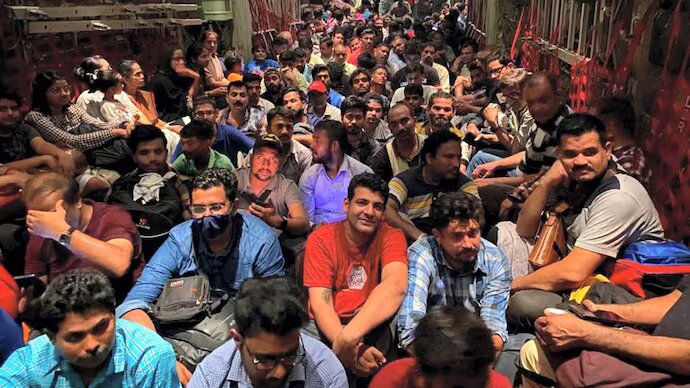 India's Defence Attache to Sudan, Colonel Rakesh Kumar, has assured Indian nationals stranded in the country that they will be safely repatriated to India.
Colonel Kumar's message of reassurance comes in the wake of reports of violence and unrest in Sudan.
Col. GS Grewal, who is in charge of India's defense in Saudi Arabia, told Indians who were being removed from Sudan that they would be taken back to India safely. On a video that has gone popular on social media, he says the same thing and asks people to help with the evacuation.
India's Defense Attache in Saudi Arabia can be seen telling his countrymen to trust the agencies helping with the evacuation and "work as a team with the agencies."
#WATCH | India's Defence Attaché to Saudi Arabia Col GS Grewal assures Indian nationals being evacuated from Sudan through Saudi Arabia that they will be safely taken back to India. In this viral video, he can be seen asking people to cooperate with agencies in the evacuation… pic.twitter.com/JvSqAdzB52

— ANI (@ANI) April 26, 2023
"We got here in one piece. We went through a very hard time. Everyone is safe and sound here with their families. Trust me, everyone will get home safely from here on out. That's what we do. I'll also need your help with this. Everyone will get out in one piece. Even after everyone else leaves, we will still be here. Don't be afraid. "There are ships and planes waiting," Col. GS Grewal told his fellow Indians who were being taken out of Sudan in the popular video.
"Don't worry, let's just make a list of who needs help first, starting with sick women and children. You might not have enough food and drink. You can be sure that all of your worries will be answered and that everything will be taken care of. Everything will be taken care of by us. Here we are. I'm going to show up. We'd like to get you back to India as soon as possible. This is what we want to do," Col. GS Grewal said.
People who had to leave their homes were seen giving him thanks and singing "Vande Mataram" and "Bharat Mata Ki Jai."
#WATCH | "Another IAF C-130J flight under #OperationKaveri arrived at Jeddah with 128 Indians, the fourth aircraft from Sudan. Efforts are on to ensure that all Indians, who arrived in Jeddah will be sent to India at the earliest," tweets MoS MEA V Muraleedharan pic.twitter.com/SFYLKJCzg7

— ANI (@ANI) April 27, 2023
India's Saryu-class military vessel, INS Sumedha, brought 278 stranded people from Port Sudan to the Saudi Arabian city of Jeddah as part of the first part of Operation Kaveri, which began on Tuesday afternoon. This was the first group of people to be rescued.
Early Wednesday morning, another group of 121 Indians was saved from Port Sudan. So, the IAF also saved the third group, which included 135 more people.
"INS Teg departs from Port Sudan with 297 passengers. This is the fifth batch of stranded Indians enroute to Jeddah," tweets MEA spokesperson Arindam Bagchi#OperationKaveri pic.twitter.com/K3L3dRrhtP

— ANI (@ANI) April 26, 2023
The MoS MEA V Muraleedharan tweeted that 128 Indians landed in Jeddah early on Thursday on the fourth plane from Sudan.
On Thursday, the INS Teg left Port Sudan with 297 people on board. This is the fifth group of Indian people who got stuck on their way to Jeddah.
The Indian Navy's cruiser INS Teg, which is the fourth frigate in the Talwar-class, also joined the operation to help speed up the evacuation.
Facebook Comments