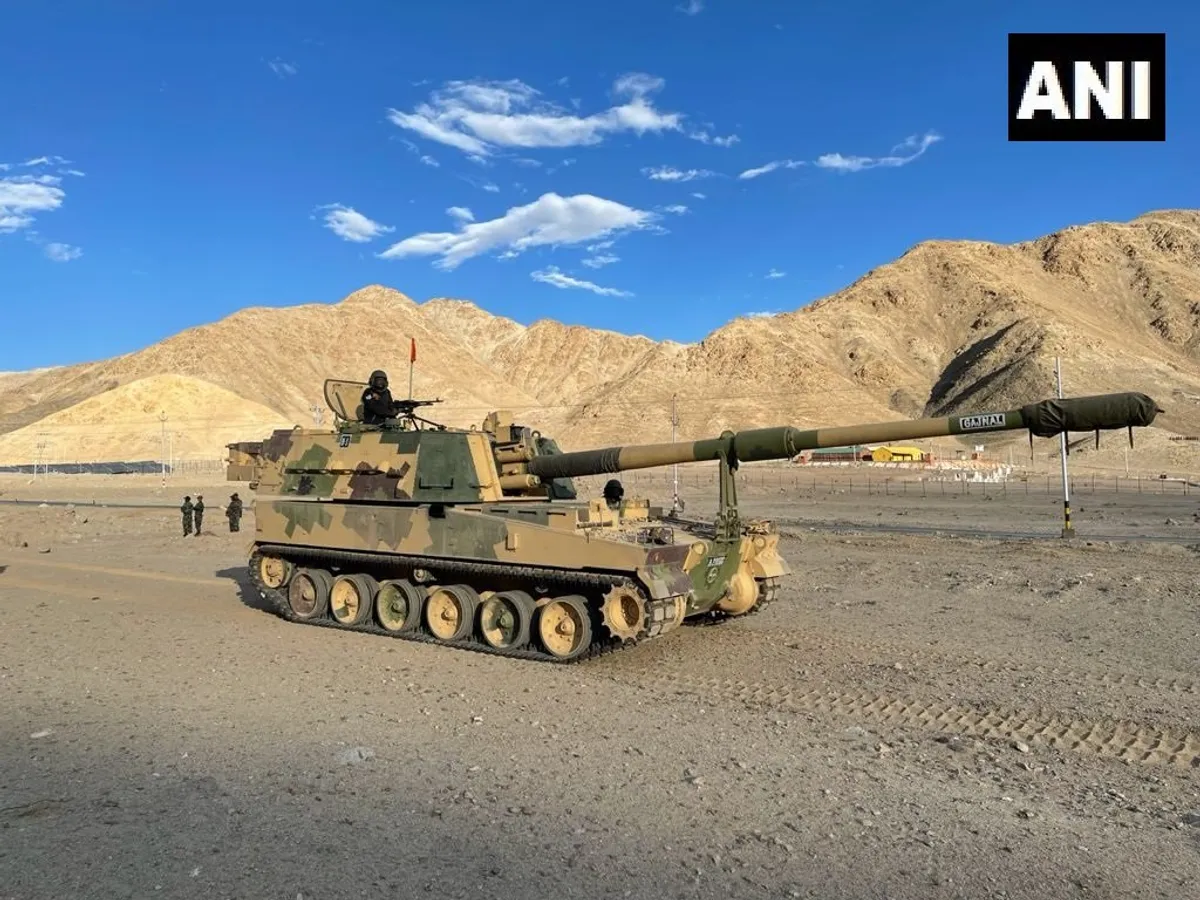 Indian Army may soon put a repeat order for the K-9 Vajra 155mm/52 calibre tracked self-propelled howitzers. According to the source, the Ministry of Defence "has begun moving paperwork" for the purchase of 200 howitzers, and a deal with Larsen & Toubro (L&T) might be completed at Defexpo 2022, which will be held in Gujarat's Gandhinagar between 10 and 13 March.
The deal, valued over Rs 10,000 crore, will be the highest in the defence sector for an Indian company, according to the article. L&T provided 100 K9s to the Indian Army as part of a deal struck in 2017. The howitzers arrived ahead of time, with the final one being delivered to the Army in February 2021.
L&T built the guns in Hazira, Gujarat, employing technology from South Korean defence company Hanwha Defense.
The K9s can fire three rounds in 30 seconds in 'burst' mode, 15 rounds in three minutes in 'intense' mode, and 60 rounds in 60 minutes in'sustained' mode, with a maximum range of 28-38 kilometres (up to 50 kilometres according to some reports).
The Indian Army currently has five K9 Vajra regiments. Each regiment is equipped with 18 cannons and two reserve troops. The guns received by the Army under the initial contract were intended for use in Punjab's plains and Rajasthan's semi-desert terrain along the Pakistani border.
However, to supply firepower in eastern Ladakh, where India and China have been involved in a tense military stalemate since May 2020, the Indian Army deployed a regiment of K9 Vajra self-propelled howitzers last year.
"You will fall short all along the border if you don't have at least 10 more regiments of self-propelled artillery," argues Lieutenant-General P Ravi Shankar, former Director-General of Artillery.
The Indian Army has transferred three units to eastern Ladakh to examine their feasibility and efficacy for deployment in the high-altitude area where temperatures can drop well below minus 30 degrees Celsius before deploying the weapons in large numbers.
"These cannons can even be used at great altitudes." The field trials were a huge success. Army Chief General Manoj Mukund Naravane said at the time, "We have now added an entire regiment, and this will be very beneficial."
Engineers from L&T Defence upgraded the guns in the field to make them suited for operations in Ladakh. Due to the high altitude, special kits were added to allow operation in cold temperatures, and the range tables and software that guided these guns had to be changed.
"The cannons moved up from Leh to the forward areas of eastern Ladakh on their own power (rather than being transported by tank transporter-trailer), displaying their capacity to operate independently," according to an India Today story.
In 1999, India's Field Artillery Rationalisation Plan called for the acquisition of 3,000 155 mm self-propelled, tracked (mounted on a tank chassis), wheeled (on a wheeled armoured vehicle), towed (pulled by a truck), ultra-light (air-dropped by helicopters), and a Mounted Gun System (fitted on a 4×4 or 6×6 vehicle) pieces of artillery.
The Army may have cancelled the last category to create room for more K9 howitzers, according to the article, which also claims that it has "cannibalised the necessity for nine regiments of wheeled howitzers."
If a deal is struck at the Defence Expo later this year, the first guns may be delivered by 2023 from the L&T site in Hazira, Gujarat, and all deliveries might be completed by 2028.
Facebook Comments