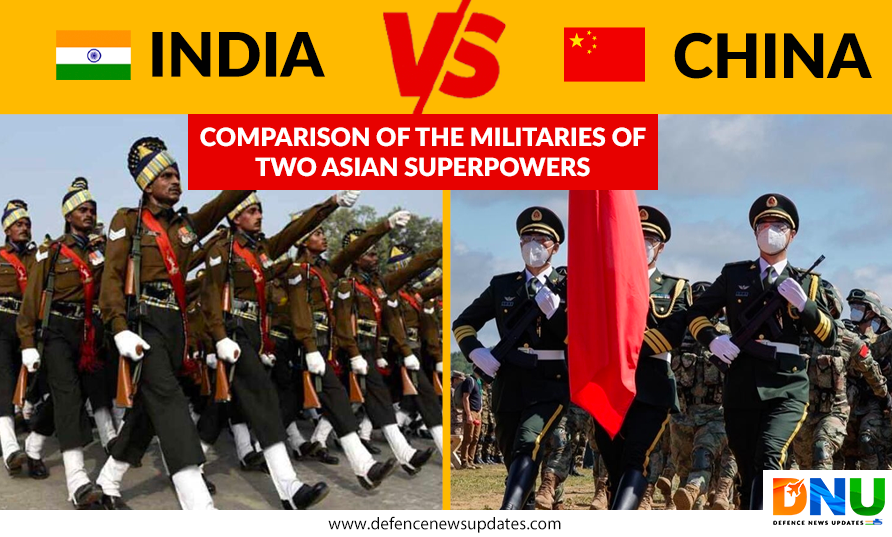 India and China Both are considered as the largest superpower of the Asian continent. Both nations are vying to be Asia's undisputed superpower, and they are suspicious about each other's intentions.
On paper, the Chinese military has a clear advantage over India but amid the evolving Asian balance of power, India's strength lies in its strategic location.
India and China exchanged opinions on the current state of affairs along the Line of Actual Control (LAC) in eastern Ladakh as the Working Mechanism for Consultation and Coordination on India-China Border Affairs (WMCC) met for the 24th time on June 1, 2022. To achieve the goal of complete disengagement from all sources of friction along the LAC, the two nations have decided to hold the 16th Senior Commanders Meeting as soon as possible. In spite of the Aksai Chin conflict, China reportedly asserted that it remains India's top trading partner. We shall compare the two nuclear-armed nations' defence capacities in this post.
Defence
On February 1, 2022, Finance Minister Nirmala Sitharaman announced an increase in funding for the Ministry of Defence (MoD) of 9.8% to Rs 5.25 trillion ($ 70.6 billion) during the presentation of the Union Budget 2022–23 in Parliament. The Chinese government, on the other hand, announced a 2022 defence budget of 1.45 trillion Chinese Yuan Renminbi ($229. 5 billion).
The Stockholm International Peace Research Institute (SIPRI) estimates that India spent the third most on its military in 2021. It's interesting to know that India spent $76.6 billion on its military in 2021. The number increased by 0.9% from 2020.
Army
| | | |
| --- | --- | --- |
| Country Name | India | China |
| Number of tanks | 4,614 | 5,250 |
| Number of armored vehicles | 12,000 | 35,000 |
| Number of self-propelled artillery | 100 | 4,120 |
| Number of artillery | 3,311 | 1,734 |
| Number of mobile rocket projectors | 1,338 | 3,160 |
| Para military forces | 2,527,000 | 624,000 |
Naval power
Defence Minister Rajnath Singh inaugurated two made-in-India warships, INS Surat and Udaygiri, at the Mazagon Docks in Mumbai in May 2022 in an effort to increase manufacturing and keep up with China's expanding maritime capabilities and rate of shipbuilding.
The second-largest business centre in western India is honoured with the name of the fourth destroyer in Project 15B, the INS Surat.
The third ship of the Project 17A Frigates is called INS Udaygiri, after a mountain range in Andhra Pradesh. A follow-up to the P17 Frigates (Shivalik Class), the INS Udaygiri has better stealth features, cutting-edge weapons and sensors, and platform management systems.
It's interesting to note that India only has one aircraft carrier, seventeen submarines, ten destroyers, thirteen frigates, and twenty-two corvettes, with no mine warfare capabilities. China, in contrast, is home to two aircraft carriers, 79 submarines, 41 destroyers, 49 frigates, 70 corvettes, and 36 mine warfare ships.
| | | |
| --- | --- | --- |
| Country Name | India | China |
| Aircraft carriers | 1 | 2 |
| Submarines | 17 | 79 |
| Destroyers | 10 | 41 |
| Frigates | 13 | 49 |
| Corvettes | 22 | 70 |
| Mine warfare | 0 | 36 |
| Roadways | 68,525 km | 131,000 km |
Comparison between India and China in terms of population and area
| | | |
| --- | --- | --- |
| Country Name | India | China |
| Capital | New Delhi | Beijing |
| Population | 1,339,330,514 | 1,397,897,720 |
| Square Land Area | 3,287,263 km | 9,596,961 km |
Data Source: globalfirepower.com
What is Line of Actual Control or LAC?
The hypothetical demarcation line that divides Chinese-controlled territory from Indian-controlled area in the Sino-Indian border dispute is known as the Line of Actual Control, or LAC.
In the Sino-Indian boundary dispute, the LAC designates the line drawn following the 1962 Sino-Indian War. It should be noted that Hotan County, Hotan Prefecture, Xinjiang[1], and Rutog County, Ngari Prefecture, Tibet, are the two areas of China that manage Aksai Chin. India, on the other hand, asserts that it is a part of its Leh District, Ladakh Union Territory.
Nuclear weapons
India
The Nuclear Non-Proliferation Treaty does not include India as a party. India upholds a nuclear "no first use" policy.
Regarding the extent of its nuclear arsenal, India has not made any official declarations. India was estimated to have 150 or so warheads as of January 2020.
China
The last of the NPT's five nuclear-weapon states, with a total of about 280 nuclear warheads at this time. However, it is unclear how many bombs have been dropped. In 1964, the first test that was deemed successful took place. Building a deterrent against the Soviet Union and the United States, two significant nuclear powers, was China's primary objective. The country made the decision to use Lop Nur, a dry lake, as its nuclear site. Although China didn't create and test its first atomic device until 1964, it took them just 32 months to test their first hydrogen bomb. They can therefore claim to have developed fission and fusion technology in the shortest amount of time.
China was able to perform 45 nuclear bomb tests. The information on the stockpile of accumulating warheads is still unreliable. The quantity of deployed warheads is the same. It's all a result of how little information the nation offers. Keep in mind that they are the only one of the five nuclear-armed states party to the NPT that does not provide a guarantee of security.
Facebook Comments