Defence
India To Spend $100 Billion To Modernize Its Military; See At 100% Indigenization Of LCA Tejas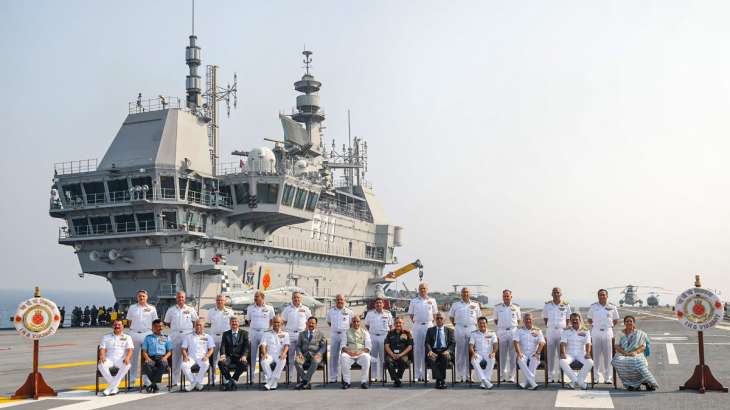 According to information from the Indian Ministry of Defense, about 2,700 of these items have already been made in India.
India also wants to join the small group of aviation powerhouses that have mastered aero-engine technology.
The defence minister said these things on March 6 at the Naval Commanders' Conference, which was held on INS Vikrant, India's first aircraft carrier that it made itself.
In his speech to the Commanders, Singh said that economic growth and security go hand in hand. He also said that the defence sector has become a major driver of demand, which helps the economy and ensures the country's growth.
Singh said, "In the next 5–10 years, orders worth more than $100 billion are expected to be placed in the defence sector, and it will become a major contributor to the country's economic growth."
"Today, our defence industry is ready to take off. As soon as it gets going, it will change the economy of the country. Singh said, "If we want India to be one of the top economic powers in the world by the end of 'Amrit Kaal,' we must take bold steps to become a defence superpower."
Singh didn't say what kinds of weapons or products will be bought with these "orders worth over $100 billion," but the Modi government has been putting out "Negative Lists" of defence equipment that bans imports and encourages domestic production.
India's Defense Indigenization Plans
Four of these lists were made public in August 2020, May 2021, April 2022, and October 2022. They are part of a plan to ban the import of weapons that are meant to be made locally over the next five to six years.
These four lists include 411 types of weapons and platforms. There are thousands of weapon subsystems and parts in fighter planes, aircraft, helicopters, submarines, tanks, infantry combat vehicles, electronic warfare systems, missiles, smart ammunition, rockets, and bombs.
According to information from the Indian Ministry of Defense, about 2,700 of these items have already been made in India. The remaining items will be made in India in stages between December 2022 and December 2028. (MoD).
Reports say that the third list will be the hardest for the U.S. defence industry to make because it includes complex primary weapons and equipment like light tanks, naval utility helicopters, missiles, and artillery gun systems.
Over the last three years, the Modi government has increased the amount of the Indian military's budget that goes towards buying things made in India.
In 2020-21, 54 percent of the total budget (51,000 crores) was set aside for local defence. In 2021-22, it was 64 percent (70,221 crores), and in 2022-23, it was 68 percent (84,598 crores).
In this year's budget, the Modi government made this trend even stronger by giving 75 percent (about 1,000,000 crore) of the budget for buying defence capital to domestic companies.
Since 2020, the Indian government has set aside more than 3,000,000 crores for the defence industry there. The government has given Acceptance of Necessity (AoN) to 163 proposals worth 2,46,989.38 crores in different categories of Capital procurement.
Based on Rajnath Singh's recent announcement that the Indian defence industry will get orders worth more than US $100 billion (8,20,605 crores) in the next 5–10 years, the Indian government could increase the share of the defence capital procurement budget for the domestic sector by 14,000–20,000 crores per year.
Indian aerospace analyst Girish Linganna what the Indian government's main goals were so they could figure out what weapon systems or platforms could be bought with the $100 billion (8,20,605 crores) worth of orders planned for the local defence industry in the next 5 to 10 years.
"The current trend shows that the government gives priority to aircraft, UAVs, tanks, troop carriers, sub-systems, munitions, long-, medium-, and short-range missiles, and artillery. "During that time, submarines and ships could also be added to the list," Linganna said.
Linganna said that the planes could be Tejas Variants, Twin Engine Deck Based Fighters (TEDBF), Advanced Medium Combat Aircraft (AMCA), transport planes like the Dornier and TATA Airbus C295, trainers, and planes with two engines on the deck (TEDBF), among others.
He said that Unmanned Aerial Vehicles (UAVs) are a new type of technology that are easier to build and can be used more quickly.
Linganna said that munitions could include missiles with a range beyond what can be seen, anti-radiation missiles, anti-tank systems, anti-drone systems, guided bombs, and anti-airfield weapons. At the same time, he said that weapons designed for drones should be included, even though we don't think of them as a separate group.
With the short- and medium-range missiles, more Brahmos and Pralay could be made. Strategic missile purchases are out of the question, but Linganna pointed out that India will have to increase their number because China is growing.
During the five-day Aero India-2023 airshow held last month at Yelahanka Air Force Station in Bengaluru, Rajnath Singh also mentioned a "fifth positive indigenization list."
Singh said, "I can't say for sure that a new positive indigenization list won't come out soon. India is putting a lot of effort into being self-sufficient in the defence manufacturing sector."
Singh also said that India is trying to make the 4.5-generation Tejas Light Combat Aircraft (LCA) made by Hindustan Aeronautics Limited completely Indian (HAL).
"We are doing everything we can to make sure that everyone in Tejas is from there. "This is our ultimate goal," Singh said at the beginning of Aero India 2023.
100 Percent Indigenization Of Tejas LCA
The Indian-made Tejas LCA is powered by General Electric F414 engines. The US multinational conglomerate wants to make these engines in India, which could hurt the Indian government's long-overdue plan to make Tejas a fully Indian product.
The problem is that making an aero-engine technology for military use requires deep knowledge of many different fields, such as combustion, fluid dynamics, materials, and control theory, which must be applied, tested, and done over and over again for years.
The underlying technologies are not taught in school. Instead, they are closely guarded by a small number of companies like General Electric.
India also wants to join the small group of aviation powerhouses that have mastered aero-engine technology. However, it doesn't even have a fully functional wind tunnel, which is needed to study the aerodynamic properties of its designs.
Once the engines have been designed and put together, they need to be tested for hundreds of thousands of hours in wind tunnels and then on flying testbeds to find out how each part wears down over time.
This kind of facility can simulate and test an engine that is meant to work at 40,000 to 50,000 feet above the ground. It will also give designers the freedom to scale up or down and test and validate hundreds of components.
When asked about the government's long-overdue plan to increase the amount of local materials in the LCA Tejas, Singh said, "Work is being done on that, so don't worry." Give us a little more time. We're doing it."
When asked about Tejas LCA being 100 percent indigenized, Linganna said that the Indian government's indigenization means that all systems are made in India, even if they are made by foreign companies.
"If GE makes its engines in India, the benefits will be local jobs and sourcing as many parts as possible from India," Linganna said, adding that the LCA Tejas programme needs about 200 engines, so it makes sense for GE to put them together there.
Overall, Lingann thinks that the goal of making LCA 100 percent local is a long way off, since the engine, ejection systems, refuelling systems, and some line replaceable units are still brought in from other countries.
"It might not be possible from a financial point of view, but India can make sure that critical equipment will be available from future stocks. "It will be up to the private players to work with the GE suppliers to make subassemblies," Lingann said.
Facebook Comments