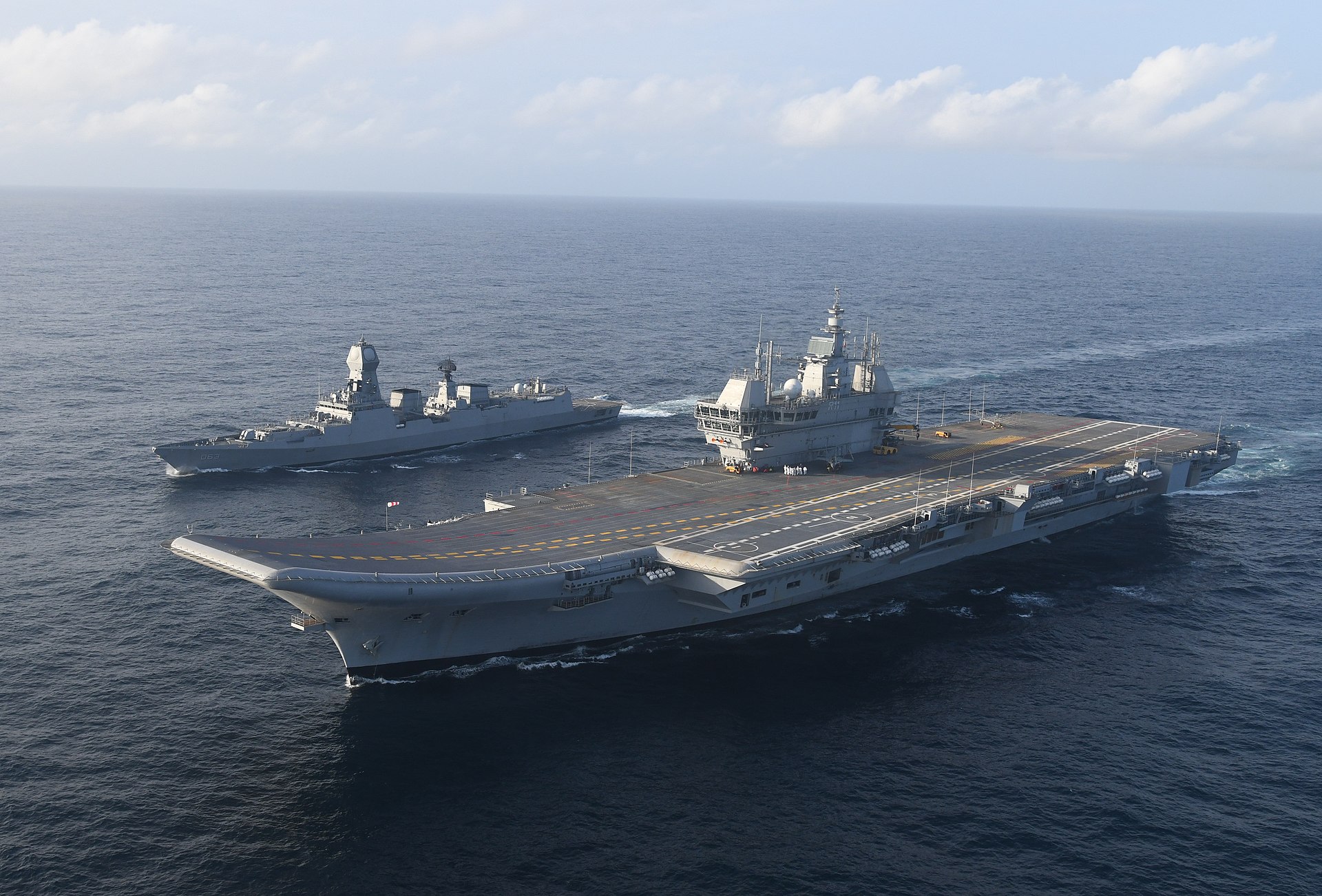 India is a firm believer in keeping relationships, and we will work to keep the sea links of communication open and make sure that all the facilities that lead to the seas are still available.
The warship will help keep peace and stability in the Indian Ocean and Indo-Pacific area.
Last September, India made headlines when Prime Minister Narendra Modi launched India's first cleverly built aircraft carrier, the INS Vikrant, in Kochi. The INS Vikrant is the largest ship India has ever built, and it was built by India.
Now that INS Vikrant is fully operational at sea, it strengthens the country's maritime security and is seen as a big step towards India being able to take care of its own defense needs. It also shows that India has strong naval power in the Indian subcontinent and continues to be the strongest country in the area and beyond.
Captain Vidhyadhar Harke, the Commanding Officer of INS Vikrant, answered a lot of questions about the aircraft carrier, India's position as a maritime power, and building Indo-Pacific and Indian Ocean sea lanes of communication during the ship's first visit to Mumbai harbor.
Excerpts from the interview.
How do you think the induction of INS Vikrant will enhance the capability of the Indian Navy?
With the INS Vikrant, India joined a small group of countries like the US, UK, Russia, China, and France that can design and build aircraft carriers on their own. This warship is a sign of how strong and powerful India is. Seventy-six percent of what it is made of comes from India, and it is built at the Cochin Shipyard.
The Indian Warship Design Bureau came up with the plan. It's not easy to build an aircraft carrier or keep it in good shape. India has the fifth largest economy in the world, and with the help of INS Vikrant, we will have a stronger position in the Indian Ocean. The country wants to make sure that all facilities are available and that all sea lanes of communication are open while keeping the freedom of navigation.
An aircraft carrier is an important part of making sure that this happens. This gave a boost to 500 supporting units and other industries. The technologies used to build these warships are used for more than just ships and defense. They are also used to build other kinds of infrastructure.
Ropes and steel made for the ship can also be used outside, and it is all made by the steel authorities of India. Building a ship is important, but it's also important for it to have a positive effect on the economy and other things.
What modernisation has taken place in this aircraft carrier compared to its earlier version?
The ship can run a Navy air wing with 30 planes, such as MiG-29K fighter jets, Advanced Light Helicopters (ALH), and Light Combat Aircraft (LCA). The fighter planes are launched using the Short Take-Off But Arrested Recovery (STOBAR) method. It also has a ski-jump and three "arrester wires" for bringing the planes back to the ship. The ship has 2,200 rooms, and its crew can number about 1,600 people.
Has INS Vikrant participated in the multi-national sea-born exercises? How do you see India-Sri Lanka maritime relations?
The US, Australia, and other countries have given the Indian Navy a lot of logistical jobs. Sri Lanka is a big neighbor, and we have always had good relationships with it.
We had a lot of training and practice, which will keep going. The Indian Navy has been doing bilateral and multilateral exercises with a lot of different countries for a long time.
The US, Japanese, and Australian navies will take part in the Malabar exercise for the first time off the coast of Sydney, Australia. It's an important exercise where people from many different countries can work together.
In how much time do you think INS Vikrant will be ready in a combatant role?
It takes a certain amount of time for an aircraft carrier to go from being built to being fully operational and ready for battle. Within five months, we were able to start flying planes. And this is only the beginning.
We will build on that and add it to the fleet. We will also add all the other aircraft that can be added. From this platform, pilots will also be taught how to fly. So many intense operations in the first five months after it was put into service shows that the Indian Navy knows how to run an aircraft carrier.
We will try to reach our full combat potential so that we can work as one credible platform that can do combat.
Do you think India needs to have more aircraft carrier?
In the blue economy, it's important to have safe ways to talk over the sea. After independence, a plan was made for the fleet. It called for four aircraft carriers to be built.
In 1950, it was suggested that we get three aircraft carriers. So, if we think this way, the Navy, which is built around the aircraft carrier, should need more aircraft carriers. If we can make our own airplane carriers, that will be a big step forward. More aircraft carriers are needed.
What role do you see of the Indian navy in the Indo-Pacific region?
India is a firm believer in keeping relationships, and we will work to keep the sea links of communication open and make sure that all the facilities that lead to the seas are still available. The warship will help keep peace and stability in the Indian Ocean and Indo-Pacific area.
Post operating on INS Vikrant have you had any user inputs with regard to its operational capability, habitability, and technical advancements?
It's a process that never ends. They are always getting feedback about what can be done and what can't. It's a design that changes over time, and we learn from each step. See, we started out with small boats in 1960. Then the Godavari class and the Delhi class came along, followed by the INS Visakhapatnam and now the INS Vikrant. It's a way to learn, and when we have to give feedback on the design, we do.
The Australian PM recently visited INS Vikrant…
I was happy that he came to my deck and sat in an aircraft that was made in my country. This shows the rest of the world that India is able to build and run both an airplane and an aircraft carrier.
Facebook Comments