Defence Industry
India To Cooperate With France And The UAE For Defence, Nuclear Energy, And Tech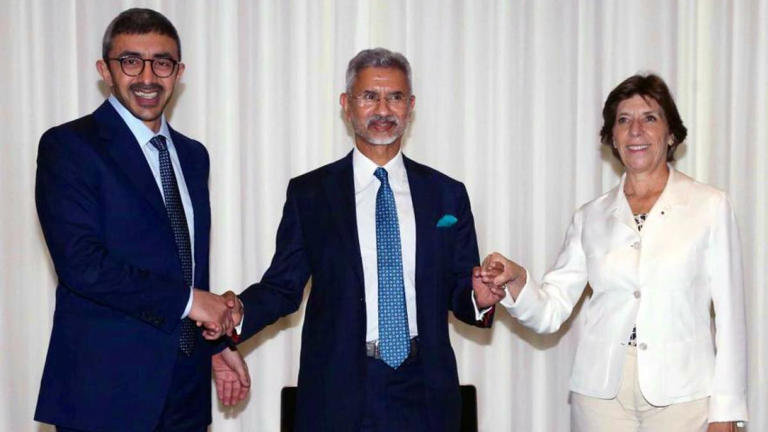 They decided to work together more on food security and the circular economy, and they promised to pay attention to important problems like pollution from single-use plastics
The three countries will try to find ways to work together on putting the "One Health" approach into action and help developing countries build their own capabilities in biomedical innovation
In a trilateral framework, India, France, and the UAE showed off on Saturday an ambitious plan for working together in defence, nuclear energy, and technology.
After their foreign ministers talked on the phone, the three countries said in a joint statement that the trilateral initiative will be a place to plan and carry out joint projects in the energy field, with a focus on solar and nuclear energy.
"It was agreed that defence is an area where the three countries work closely together. So, "efforts will be made to further promote compatibility, joint development, and co-production, and to look for ways for the defence forces of the three countries to work together and train together," the statement said.
The foreign ministers said that the trilateral initiative will be a place for their countries' development agencies to work together more on projects that are good for the environment.
Last year, on September 19, the three foreign ministers met for the first time as a group of three. They did this at the United Nations General Assembly in New York. During the meeting, they decided to set up a formal trilateral cooperation initiative so that they could work together more in areas where they all had an interest.
"This is why the three ministers talked on the phone today to agree on a plan for putting this initiative into action," it said. They decided to work together more on food security and the circular economy, and they promised to pay attention to important problems like pollution from single-use plastics and the spread of deserts.
"Further, the three countries will try to find ways to work together on putting the "One Health" approach into action and help developing countries build their own capabilities in biomedical innovation and production," the document said.
Facebook Comments