Industry News
News
Amid Russia-Ukraine Conflict, Why F-22 World's Best Fighter Jets Become The "Talk of the Town"?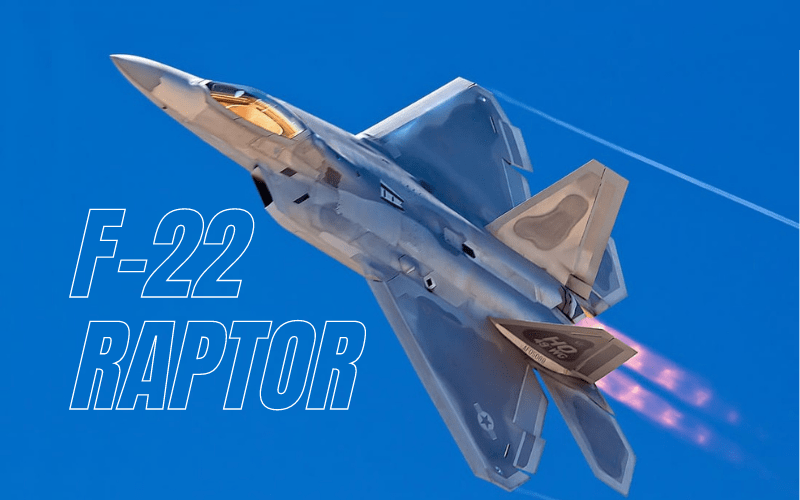 The US-led NATO has imposed a series of harsh penalties on Russia as a result of its invasion of Ukraine, even though the military alliance has stated unequivocally that it will not intervene in the fight.
Ukraine's request for a "no-fly zone" over the war-torn country was again rebuffed, but NATO vowed more sanctions against Russian President Vladimir Putin. "We are not part of this battle," said NATO Secretary-General Jens Stoltenberg, according to Reuters.
According to sources, the US Air Force flew its F-35 stealth fighter jet over Eastern Europe as part of a NATO air policing exercise in the region. Despite the fact that NATO does not want to confront Russia, it appears to be preparing for a possible spillover of the Ukraine crisis to the rest of Eastern Europe.
During this time, former President Donald Trump is said to have suggested that the F-22 Raptor be sent to the conflict zone. It's worth noting that the US Air Force has just dispatched F-22 Raptor stealth fighters to the UAE and Australia.
Trump joked that the US should "flag" F-22 fighter jets with the Chinese flag and "bomb the Hell" out of Russia. This was said by the former president at the Republican National Committee's New Orleans meeting. According to The Hill, Trump allegedly advised that America should blame China for "the offensive" and then watch as the two countries engage in a confrontation.
Last month, the US Air Force and the commander of CENTCOM revealed that a squadron of F-22 Raptors had been deployed to the UAE to foil Houthi rebel drone and missile assaults.
"F-22 Raptors arrived to Al Dhafra Air Base, in the UAE, today as part of a multidimensional demonstration of US support after a series of threats threatened US and Emirati armed forces stationed at the host post during January," the US Air Force's central office tweeted.
Prior to that, it was reported in November 2021 that the US will send additional fighter jets to Australia, including F-22 Raptors, F-35 Lightning II, and B2 stealth bombers, to counter probable Chinese military aggression and threats from North Korea.
Everyone in the audience burst out laughing at Trump's remarks. Former President Barack Obama had previously described Russian President Vladimir Putin as "clever" and "intelligent."
In a later appearance with Fox Business, he referred to the crisis in Ukraine as a "Holocaust" and predicted that China will invade Taiwan shortly. Interestingly, throughout Trump's presidency, Democrats accused him of illegally withholding military funding to Ukraine.
China and Russia have close ties.
Russia and China, contrary to Trump's assertion, have a tight connection based on mutual antipathy for and competitiveness with the US. So far, China has refrained from directly denouncing Russia and has abstained from voting against it in three UN resolutions. It's also taken advantage of the opportunity to blame NATO and the West for Europe's eastward expansion.
China has been balancing a tightrope between maintaining its relationship with Russia and being recognised as a country that respects sovereignty and adheres to the rules-based order, which Russia has flagrantly violated.
Before launching a full-scale invasion, President Putin visited China, where both sides reaffirmed their support for one another's positions on Ukraine and Taiwan, respectively. In a joint statement issued after the meeting, the two leaders promised a new era in relations that would "know no bounds" and be "superior to political and military alliances of the Cold War era."
Both Russia and China are still immersed in a heated struggle with the United States, which has fostered military, trade, space, and energy transfer cooperation, to name a few areas.
Last summer, Putin and Chinese President Xi Jinping attended a large-scale joint military exercise in China, which, coupled with alleged partnerships in aviation, submarine, and hypersonic weapons technology, indicate to a strengthening defence alliance.
A combined army training between Chinese and Japanese soldiers was held in the Ningxia Hui Autonomous Region of northwest China in August 2021. In October, their fleets joined up for the first time in the Pacific waters near Japan for combined operations.
Russian and Chinese strategic bombers carried out their third joint strategic air patrol over the Sea of Japan and the East China Sea in November, confirming their determination to operate together against the US-Japanese alliance.
Furthermore, Russia and China are collaborating in space, with plans to construct their own lunar base by the end of this decade. President Putin has spoken out against US pressure on China, and Chinese political officials have described the US's actions as a "cold war mindset." There are various points of convergence between the two states.
Despite a barrage of criticism over Ukraine, Foreign Minister Wang Yi stated on March 7 that China's relations with Russia remain "rock-solid," renewing calls for diplomacy to resolve the issue and accusing the US of establishing a "Indo-Pacific version of NATO."
However, China is concerned about the current Western sanctions against Russia. The China-backed Asian Infrastructure Investment Bank (AIIB) recently halted loans to Russia and Belarus, fueling suspicion that Russia's ejection from the SWIFT payment systems could potentially boost China's CIPS system, which is now only operational on a small scale.
Given that the Russian defence sector has also been sanctioned by the West, it is still unclear whether China would deal in weaponry with Russia. In February of this year, Russia agreed to a 30-year contract to supply gas to China through a new pipeline, with new gas sales to be settled in Euros, cementing an energy partnership with Beijing.
With German Chancellor Olaf Scholz freezing the grandiose Nord Stream 2 project indefinitely, gas delivery to China could be Moscow's saving grace, even if the economic benefits would pale in comparison to the proposed pipeline to Germany. Furthermore, President Putin has threatened to shut down the Nord Stream 1 pipeline, which provides gas to Europe.
Some observers feared that Russia's military move against Ukraine might inspire China to launch a similar military operation against Taiwan, something Trump also mused about during his Fox Business interview.
Given Russia's punishing sanctions, it's unlikely that Beijing will go on a similar adventure or misadventure in the world's most highly contested territory.
Facebook Comments