Defence
Industry News
News
Will Pak Navy's Indigenous "PNS Haibat" Be A Game Changer For Its Defense Industry Or Dragon's Pawn?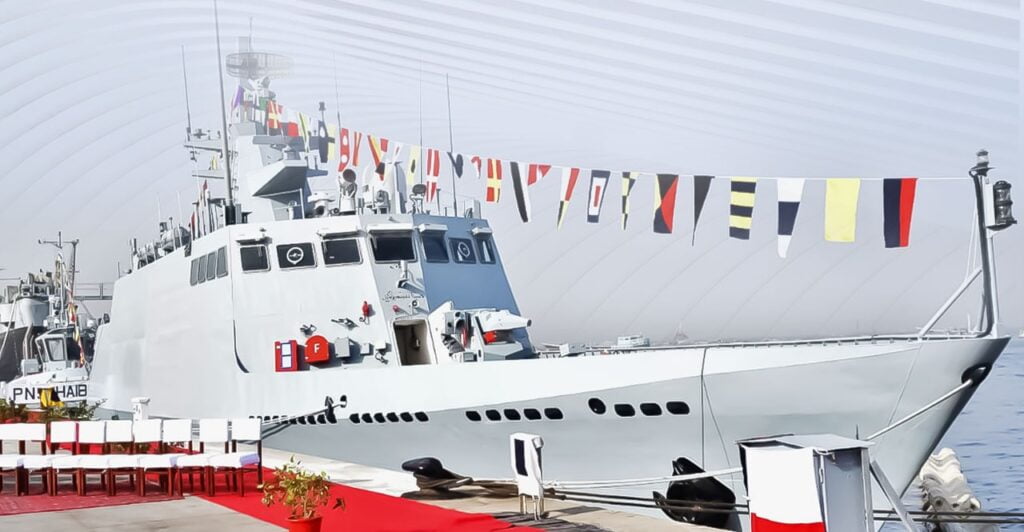 PNS Haibat is the first project developed by Maritime Technologies Complex and built by Karachi Shipyard & Engineering Works (KSEW) without the participation of any foreign technical experts."
So when you see JF-17 vs Tejas in the worldwide market, it's not Pakistan vs. India, but India vs. China– and China is way ahead."
PNS Haibat, Pakistan's first indigenous Fast Attack Craft Missile (FAC (M), was commissioned by the Pakistan Navy. In a statement, Pakistan's Inter Services Public Relations (ISPR) announced the commissioning of the country's indigenous vessel: "PNS Haibat is the first project developed by Maritime Technologies Complex and built by Karachi Shipyard & Engineering Works (KSEW) without the participation of any foreign technical experts."
The indigenous character of this development, as well as its regional and global implications, appears to be a contentious issue. Given that the weapon systems and electronics must be indigenous, Abhijit Iyer-Mitra, a senior fellow at the Institute of Peace and Conflict Studies, believes that commissioning PNS Haibat is not particularly geopolitically worthwhile.
"The cannons appear to be Turkish, the missile appears to be Chinese, and the propulsion appears to be Franco-German in this case." So, using a re-export licence to re-export or rather export-export from these three providers appears improbable," he said.
The involvement of China appears to have placed a gloomy shadow over the progress as well. Captain DK Sharma (Retd), a former Indian Navy Spokesperson, writes in a critical evaluation that "Pakistan on its own cannot make anything." As a result, it is now a proxy accretion of assets positioned by China; they are gradually and steadily increasing their force. They've been supplying them boats for a few years now, including the latest AIP submarines.
Four are being constructed in China, while four are being built in KS&EW. They've also handed them the most up-to-date frigates. Various J-10 series nomenclature are being added to the Pakistan Air Force (PAF)." Capt. Sharma feels that the construction of this vessel indicates Beijing's intention to establish a "colony," following the precedent set by its debt trap for Sri Lanka.
Analysts in Pakistan, on the other hand, have a different perspective on the situation.
"The ship will improve the Pakistan Navy's coastal defence capability." This Fast attack craft will play a role in coastal defence, armed with locally manufactured 'Harbah' Anti-Ship and Land Attack cruise missiles.
"This ship was entirely developed and built by the Pakistan Navy," said Umair Aslam, Founding Editor of Global Defence Insight (GDI), a strategic affairs think tank based in Rawalpindi. "Pakistan appears to be emphasising on its naval capabilities in the current geopolitical scenario. New frigates are being supplied by China. Turkey has also supplied corvettes of the Milgem class and other navy vessels.
The induction of the PNS Haibat is also one of Pakistan's navy modernization targets. This endeavour to indigenize the Pakistan Navy would allow it to pursue more advanced programmes in the future, such as frigates and corvettes," he said.
Syed Ali Abbas Bukhari, Co-Founding Editor of GDI, remarked that "the country is already working on it, having built state-of-the-art fighter jets like the JF-17, Super Mushak training jets, and Khalid Main Battle Tanks, to mention a few," when asked about indigenization of Pakistan's defence industry. Bukhari also stated that the Pakistan Navy has taken this important step by "demonstrating its trust in its own capacity" to carry out such missions.
Miguel Miranda, an independent analyst of the South Asian defence sector and the founder of 21st Century Asian Arms Race, an online resource for the business, agreed. "Pakistan's ability to build and deploy its own surface combatants is primarily a victory for the country's marine sector.
It's more confirmation that the'military-industrial sector,' as I call it, is thriving in many tiny but essential ways and is on the verge of great success this decade."
Iyer-Mitra also emphasised the importance of the advancement in terms of marine capabilities, stating that ship design and system integration are "quite a competence." "This demonstrates that Pakistan has progressed to the point where it can construct a more complicated system, such as a ship," he said. So, at the very least in the Pakistani psyche, and certainly in Pakistani industry, this is a huge milestone."
While he recognised that little is known about the craft's interior and level of systems and electronic integration, he nonetheless asserted that "it is a tremendous jump" in terms of morale, industrial capabilities, and defence capability. Why it's a major improvement in terms of defence capability is that these kinds of small rapid assault ships can be incredibly potent. A big fleet of these flying around at high speeds, easily avoiding missiles thrown at them due to their small size."
Aside from affecting in-battle capabilities, the FAC (M) is expected to have an impact on Pakistan's defence industry's capability.
"PNS Haibat permits baby steps to Pakistani warship building capability," said Joseph P Chacko, author of Warring Navies – India and Pakistan and Foxtrot to Arihant: The Story of the Indian Navy's Submarine Arm. Pakistan has also formed a partnership with Turkish shipyards to build higher-class warships in the nation. These lessons will help the country's shipbuilding industry in the future."
Aslam also discussed the defence industry's ties with this particular craft. "Pakistan has the infrastructure, resources, and political will to achieve its objectives in a realistic manner. KS&EW recently completed a programme of expansion for the production of modern warships and submarines.
Pakistan would produce sophisticated warships and submarines at home under Transfer of Technology (ToT) contracts with Turkey and China, he said.
Is PNS Haibat a Threat? 
Rear Admiral Vineet Bakhshi (Retd), a security journalist and expert, emphasised the Pakistani industry's collaboration with Beijing. The ship appears to be a continuation of the Azmat class with enhancements and changes, according to him.
"This would have been done by China Shipbuilding Corporation and Xingang Shipyard, the project's partners in Pakistan," he added, before adding that "this would have been done by China Shipbuilding Corporation and Xingang Shipyard, the project's partners in Pakistan." These are not Blue Water vessels, but rather inshore vessels."
Capt. Sharma also highlighted China, but from a very different perspective. Pakistan, he says, lacks an indigenous defence industry. "Take a look at the other indicators of the country's development—nothing!" So, how is the money being pumped there all of a sudden? This isn't their money; it's proxy money for which Pakistan will have to pay a high price, perhaps by relinquishing sovereignty at some point.
Defense is a big problem, and you can see our struggle with indigenization here. What happened to the money? What about the technology and the resources? He inquired, "Where is the ecosystem?"
The Indian side is also concerned about the craft's offensive capabilities. While Chacko does not expect any substantial technological advancements because the weaponry will be similar to those of previous ships in the class, Iyer-Mitra feels the platform has a fair possibility of delivering serious damage if deployed in a certain bulk. "You can see that Ukraine, for example, uses Russian weaponry and they're using them quite well against the Russians," he said, citing an example.
If you compare the technology levels of the two countries, where we largely use Russian weapons and the Pakistanis mostly use Chinese weapons, you'll see that the technology isn't all that different.
"The question is how you're going to use it." How you deploy is as important as, if not more important than, what you deploy."
RAdm. Bakhshi discussed the vessel's compactness as well as some of its ammunition details. "Because of its modest size and low draught, it can anchor in many of the creeks along Pakistan's southwestern coast." With a purported range of 450 kilometres, the Harbah can reach a number of key locations in Gujarat and possibly North Rajasthan. The Chinese Baidou Military GPS would almost certainly be used by these missiles."
Export 
A fresh addition to Pakistan's defence arsenal invariably generates concerns about India and its neighbour competing in the global market, and possibly on the battlefield as well. Iyer-Mitra doubts that India and Pakistan would compete for export markets. He stated, "India's defence prospects are quite restricted." "Wherever they are, they are working with Russia.
You watched what happened in Ecuador with our ALH. It was a one-time hit, and nothing happened after that. The other is that we have given Mauritius some ships. The sale of the BrahMos to the Philippines was the first significant step forward, and it was only possible because the Russians agreed to it. The missile is primarily Russian, and we've added a level of technological sophistication to it, but we can't export it without Russian approval. Pakistan, too, will be unable to do so without re-export licences from everyone, particularly China.
So when you see JF-17 vs Tejas in the worldwide market, it's not Pakistan vs. India, but India vs. China– and China is way ahead."
RAdm. Bakhshi is on board. He pointed out that the ships are Chinese-made, with a substantial component of armaments and sensors coming from China. "As a result, they are extremely unlikely to find an export market." The potential clients would prefer to buy the ships from China directly."
Other complex variables are also at play. Miranda discusses them and says, "It's not just about rolling out stuff." Diplomacy and reputation are also important considerations.
It is more important to have friends. India's rise as an arms exporter is only worth evaluating in comparison to China, whose arms exports are dwarfed by its massive capacity to mass-produce modern weapons and other military hardware."
Aside from the competition, both countries are confronting similar issues. In terms of exports, there are also some common tendencies. Bukhari points out that both industries have undergone certain modifications. "Pakistan, for example, has sent fighter jets to Nigeria as well as training jets to a number of countries. Dhruv Light Helicopters and BrahMos missiles from India have also been exported to Mauritius and the Philippines, respectively.
So, I believe both countries are attempting to sell their defence products, but both are experiencing difficulties, either technologically or in terms of establishing a presence in the international market."
Before signing off, he stressed that this new success should not be viewed in isolation, but rather as part of a wider endeavour that Pakistan has been engaged in for many years. "Assembling the capabilities and capacity for more local defence production is a healthy indicator for a country with a troubled economy," he said.
Facebook Comments