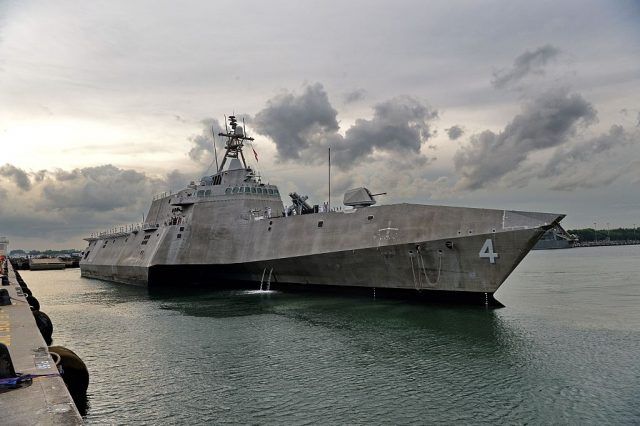 Taiwan's Deputy Defense Minister, Alex Poe, told Taiwan News that his country is considering obtaining LCS ships from the US Navy's withdrawn fleet. Taiwan's objective was not specified in the article, whether it was for Freedom or Independence ships.
The announcement came after MP Charles Chen was asked whether the country planned to buy departing US ships in 2022 or stick to its stance on domestic shipbuilding. Taiwan's strategy, according to Alex Poe, is flexible so that the country can respond quickly to any danger, and domestic shipbuilding is a strict policy.
He did say, though, that Taiwan was investigating whether leaving the LCS would help defend Taiwan. He did not dismiss the fact that the US Navy was decommissioning them owing to technological issues and expensive maintenance costs, but he stated that Taiwan valued them and that it was too early to say whether they would be acquired or not.
LCS-1 [Freedom class] and LCS-2 (Independence class) were withdrawn by the US Navy, while LCS-3, LCS-7, and LCS-9 [Freedom class] and LCS-4 [Independence class] were approved for removal [in 2022]. In addition, the US Navy has proposed withdrawing all nine LCS Freedom classes from an operation in the draught military budget for 2023.
The US Navy has scheduled nine Freedom ships for decommissioning in fiscal year 2023, which begins in October of this year, as we reported on April 4. This means that this ill-fated kind of ship will be scrapped entirely, with the monies saved going toward the Constellation-class frigate development.
The Americans planned to buy 16 Littoral Combat Vessel Freedom-class ships from Lockheed Martin and the same number of Independence-class ships from Austal shipyards in the trademark catamaran arrangement. A total of ten of these units have been completed to date, with the prototype Freedom being the first to be decommissioned. The US Navy appears to be getting rid of the remaining units as well.
LCSs, on the other hand, are relatively new units. The most recent was launched in the summer of 2020. Furthermore, the remaining six are in various phases of construction, with two of them nearing completion. It's difficult to determine what will happen to them in light of the intentions to phase out all varieties. It's possible that the solution is to use the EDA technique to export data.
The LCS-class ships were first introduced at the turn of the century and first saw service in 2008. Although they were recently upgraded with NSM anti-ship missiles, these units had various technical problems and a lack of finances for their job modules with armaments, as a result of which many of them never attained their full combat value and could not be deployed for non-patrol activities.
Raytheon towed sonars of the advanced AN / SQS-62 type were recently added to the Freedom type in an attempt to discover applications for it. However, it was discovered that when pulled by a vessel of this type, these towed devices are unstable. The recall of the Freedom in 2023, as well as other outdated units of various types, is estimated to save $3.6 billion.
Facebook Comments