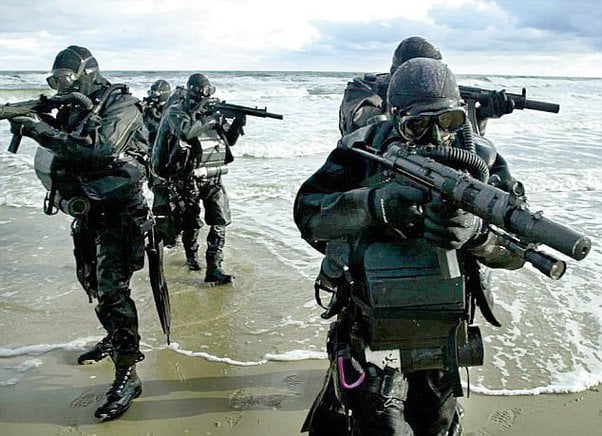 One of the world's swiftest response teams, Force One can be prepared for action in under 15 minutes.
216 of the best warriors were chosen from over 3000 applicants, and they underwent intensive training with the Israeli Special Forces.
The Special Forces were created when it became clear that there was a need for men with advanced training soon after the Second World War. While most of us are aware of the American Marines, Navy Seals, and other Special Forces thanks to Hollywood, we know very little about our own Indian Special Forces.
The most deadly special force in India is called MARCOS, or Marine Commandos. MARCOS commandos are top-notch at maritime warfare while having been trained to fight on any surface. More than 80% of applicants drop out of the initial, three-day physical fitness and aptitude test for MARCOS because the physical requirements are so brutal. Those who pass the test must go through a five-week regimen known as "hell's week," during which commandos must do the most demanding physical activities while being severely sleep deprived. With a reaction time of 0.27 seconds, these commandos can even fire while lying down, standing, sprinting at full speed, even backing up, and staring in a mirror.The "death crawl"—an 800-meter long, thigh-high mud crawl that is completed after carrying 25 kg of equipment—is one of the training's last exercises. It involves shooting a target from 25 metres distant while a guy is standing next to it.
One of the Indian Army's best-trained special forces is the para commandos. Only the most physically fit, psychologically strong, intellectual, and highly driven soldiers are inducted into the fleet due to the extraordinarily lethal nature of the operations they carry out. They are also kept at the highest level of operational efficiency and physical fitness. In addition to daily 20-kilometer runs with 60-kilometer loads and man-to-man assault drills, para commandos must also perform free falls from aggressive heights of up to 33,500 feet.They have also received extensive training in deep water diving and terrain and environmental warfare. The war with Pakistan in 1971, the conflict in Kargil in 1999, and the notorious Operation Bluestar in 1984 were among their most memorable and deadly actions.
The Indian Air Force's Garud Commando Force, which has around 2000 commandos, specialises in counterinsurgency, special operations combat search and rescue, airborne operations, air assault, and airfield seizure. Being a Garud commando requires such rigorous training that becoming a fully functional Garud can take up to three years. Additionally, Garud commandos are very skilled in advanced driving methods, anti-hijack and counter-insurgency training, jungle and snow survival techniques, and specialist weapon handling.
A special operations infantry platoon known as the Ghatak force leads man-to-man assaults ahead of a battalion and serves as shock troops. They are specialists at directing artillery and air attacks on targets deep inside enemy lines and specialise in raids on enemy artillery positions, airfields, supply dumps, and tactical headquarters. The Ghatak army, typically 20 men strong, only accepts the most physically and intellectually fit soldiers.They are taught to be unmatched at heliborne assault, rock climbing, mountain warfare, demolitions, advanced weapons training, close quarter battle, and infantry tactics because they engage the adversary face-to-face.
The NSG or Black Cats were founded in 1986 and are not a part of either the Central Armed Police Forces or the Paramilitary Forces of India. Instead, a "Director General" from the Indian Police Service commands a group of commandos drawn from both the Indian Army and the Central Armed Police Forces. The Special Action Group (SAG), which is made up primarily of Indian Army men, and the Special Ranger Groups (SRG), which perform anti-terrorist operations, make up the NSG, which is armed with some of the most cutting-edge weapons in the world.
The dropout rate is between 70 and 80 percent due to the tough selection process. The few who meet the requirements to become NSGs are then sent out to begin a further nine months of training to become Phantom NSG Commandos.
The only Indian elite force that has received guerilla warfare training expressly to combat the legendary Naxalite factions operating in the nation is likely the Commando Battalion for Resolute Action. The COBRA commandos, who are a part of the CRPF, are experts at concealment, jungle combat, parachute jumps, precision strikes, and ambushes. They also have one of the best sniper units in the Indian military.
The SFF, a paramilitary special force established on November 14th, 1962, specialises in covert operations, counterterrorism, unconventional warfare, and special reconnaissance. After a second Sino-Indian war, this specialist unit was established, and it works in tandem with RAW (Research and Analysis Wing). The commandos are very skilled at parachute jumps, mountain and jungle warfare, and guerrilla tactics.
Following the terrorist attacks in Mumbai, the Maharashtra government established Squad One, the newest and greatest commando force in India. This squad's main goal is to defend the Mumbai metropolitan area when it is threatened. One of the world's swiftest response teams, Force One can be prepared for action in under 15 minutes. 216 of the best warriors were chosen from over 3000 applicants, and they underwent intensive training with the Israeli Special Forces.
Facebook Comments