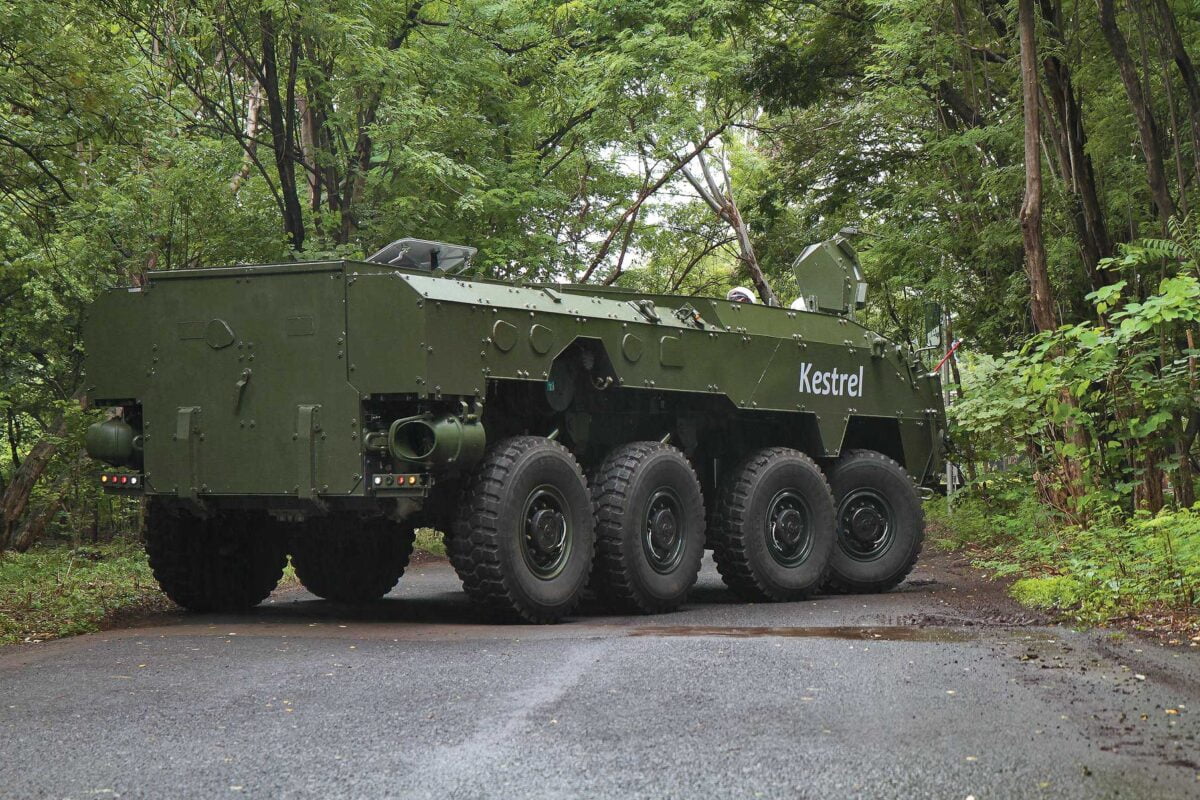 TATA has begun delivering the first batch of WhAP (Kestrel) 8 x 8 Armored vehicles to the Central Reserve Police Force, which is most likely the ITBP. TATA and DRDO jointly built WhAP (Wheeled Armored Amphibious Platform) Kestrel armoured vehicle roll out from TATA Pimpri, Pune Plant, according to viral video.
TATA's factory produces a total of three WhAP. The new vehicle appears to be for the ITBP (Indo-Tibetan Border Police) and could be used in the Ladakh region based on the camo.
The new vehicle has Casspir MPV firing ports, as well as an armoured driver's station. Remote weapon system with a small calibre. However, no Pump jets for amphibious operation have been discovered.
So this might be a COIN variant, despite the colour pattern indicating desert use and high altitude areas such as Ladakh.
The Humvee and the Stryker IFV are frequently likened to the Tata Kestrel, which could provide fodder for academic debate. The price, however, is a deal-breaker, and because the Kestrel/WhAP is built in India, costs will be far lower than competitors. According to a 2017 article, the cost is INR 23 crore per unit, while the Stryker costs INR 45 crore per unit.
1. Tata, DRDO, and UK-based military business Supacat collaborated on the Kestrel, which debuted at the 2014 Defexpo.
2. In the 2016 Defexpo, it was seen with a BMP-2 turret, and it was renamed to the WhAP (Wheeled Armored Platform)
3. It has 8×8, meaning 8-wheel drive, which is two four-wheel-drives glued together, to provide maximum mobility in tight surfaces.
4. The two front wheels are steerable, and all eight wheels are run-flats that can be inflated and deflated centrally, just like a current luxury SUV. The tyres can be deflated for tough terrain, but they can also be inflated up to standard air pressure for highway driving.
5. The suspension is a hydro pneumatic double-wishbone configuration, with the hydro pneumatic damper providing compression-rebound and the double-wishbone arrangement providing travel (up and down motion whenever it strikes a bump), which is popular in many large off-road vehicles.
6. The body is composed of high-strength steel, with composites and additional armour plate available as needed. For the time being, there is no explosive reactive armour that we are aware of.
7. The Kestrel weighs 25 tonnes and measures 7.80 metres (25.59 feet) in length, 2.95 metres (9.28 feet) in width, and 2.28 metres (7.48 feet) in height. By passenger automobile standards, these dimensions are enormous, but tanks are considerably bigger. In metropolitan areas, this makes them significantly more difficult to drive. The Kestrel, on the other hand, will have no such issues, as it is more vehicle than tank.
8. The Cummins ISX 600 engine produces 600 horsepower and 1250 pound-feet of torque and has a 10 lakh-kilometer reliability rating, as well as a variable geometry turbocharger and a Euro-III rating.
9. Using a commercially available power plant results in less smoke, more fuel consumption, and easier maintenance.
10. The power plant has a top speed of 100 kph and a range of 500 km, and it is currently being tested for high-altitude operation in Eastern Ladakh.
11. Internal combustion diesel engines perform better in cold weather and are less likely to break down than turbine engines.
12. Because it's a wheeled vehicle, the tyres and wheels won't need to be replaced for at least 10,000 kilometres of all-terrain usage. The metal tracks on tanks must be serviced every 400–500 kilometres.
13. Also worth noting is that, due to the wheeled system's longevity, the Army will no longer require tracked vehicle carriers, which happen to be Tatra 8-wheeled trucks, saving the army a significant amount of time, fuel, and money.
14. The Tata Kestrel/WhAp also has an amphibious drive mode, which allows it to cross streams at up to 10kph using on-board water jets.
15. The Kestrel/WhAp has a seating capacity of 12 passengers, two of which will be crew members and the others will be support soldiers, engineers, or observers.
16. The seats are said to be more comfortable than those seen in the BMP-2 and BTR armoured vehicle series.
17. The fuel tanks on the Kestrel/WhAP are located outside the crew cabin for increased safety.
18. Because most land mines will be discovered on the vehicle's path, the blast force will be greatest on the floor, the seats are linked to the roof for blast protection.
19. If the seats are secured to the roof, they have a better chance of being structurally sound in the event of a collision with another vehicle or an impediment.
20. Back-to-back seating is provided, with three gun ports and vision blocks for firing on each side, as well as two hatches for patrolling. Hydraulics operate the single rear-opening door.
21. The Kestrel/WhAp has all of the life-support equipment needed to operate in an NBC environment, including filtration systems, cabin pressurisation, and automatic climate control, all of which are standard features on today's armoured platforms.
22. The Kestrel's front end has a slanted armoured plate known as a glacis plate, which is a modern design feature found on most APCs today. In any armoured military vehicle, it is the strongest and most durable piece of armour.
23. Because it is sloping, it provides superior mine protection by increasing the distance that the shockwave must travel to produce any damage.
24. The main armament is a Kongsberg 30-mm cannon with a remote control system, but it could be modified to a home-made BHEL-DRDO system used on other weapons systems fairly soon.
25. The gun can fire armor-piercing incendiary (API), high-explosive incendiary (HEI), and armor-piercing fin-stabilized discarding sabot tracer (APFSDS-T) rounds with a 30-mm calibre. It has a 3,000-meter effective range.
26. 40-mm grenade launchers can be used as secondary weaponry. anti-tank missiles or a 12.7mm machine gun (probably the Nag ATGM in the case of the WhAP)
26. The WhAP can be equipped with a 30 mm 2A42 main gun, a Kalashnikov PKT 7.62 mm co-axial machine gun, and a roof-mounted launcher for the AT-4 Spigot anti-tank missile system thanks to the usage of a BMP-2 turret.
27. Because of the BMP-2 turret, earlier vehicles could be used for replacement parts, particularly armour plates and turrets, saving a lot of money.
The Tata Kestrel is a capable fire-and-move platform that should be on the shopping list of the Indian Army. With government incompetence, internal politics, and the MOD's preference for foreign over Indian purchases, the defence modernisation plan has been a slow uphill battle.
Tata's defence technology has established itself in worldwide markets, in case you didn't know. Security forces throughout the world are already using vehicles like the armoured Safari Storme.
(Input: Defence View)
Facebook Comments