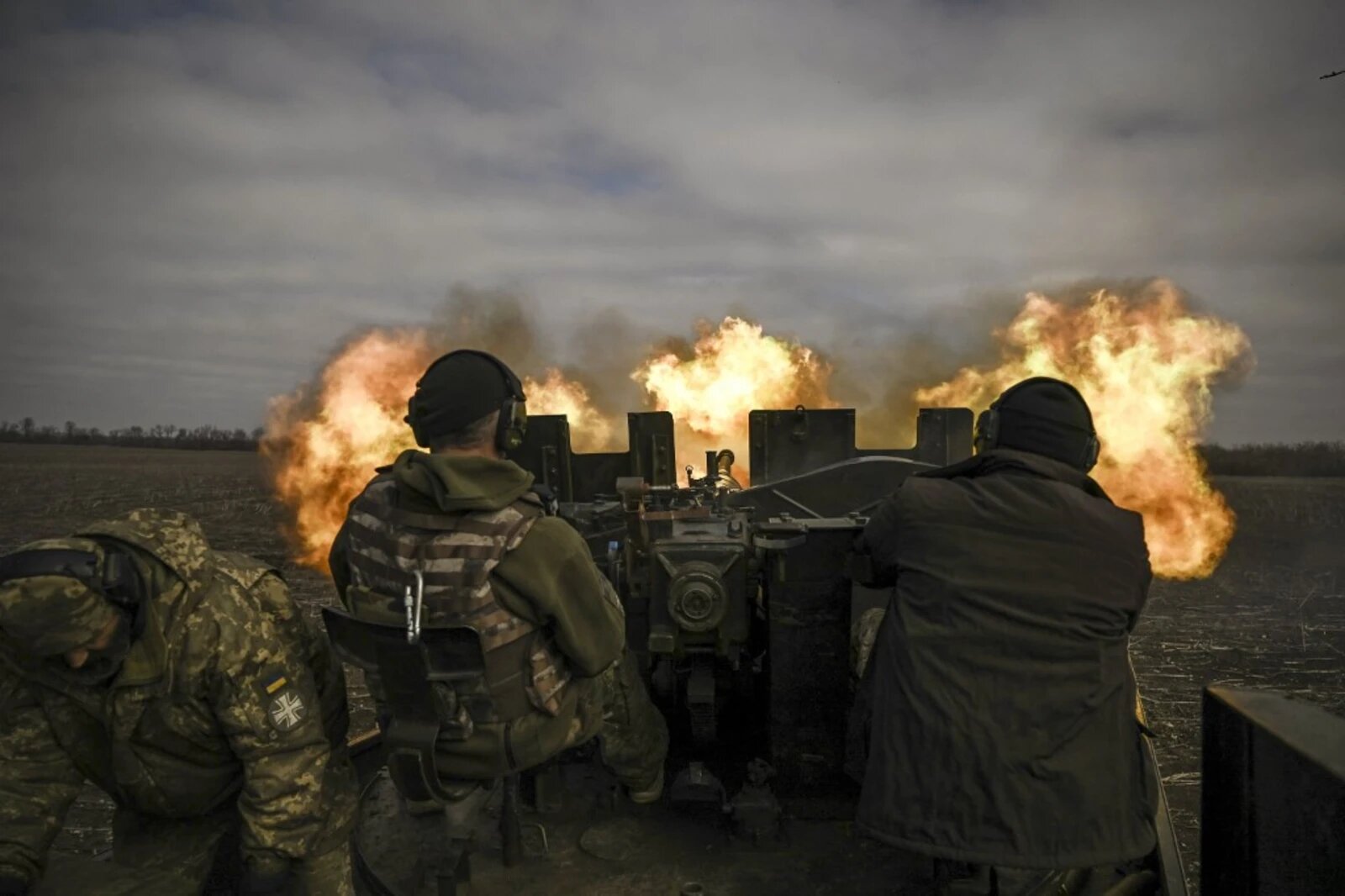 The Associated Press heard on Tuesday from a Ukrainian officer in Bakhmut that the Ukrainians had planned to trap the Russians.
Sergei Shoigu, who is in charge of Russia's defense, said in Moscow that if such attacks happen again, Russia will reply "quickly and very harshly."
The head of a Russian private army has again disagreed with the Kremlin's position on Ukraine. He said that the Kremlin's goal of demilitarizing the country has backfired. He also said that Russian troops have killed civilians and agreed with Western estimates that his Wagner Group has lost more than 20,000 men in the battle for Bakhmut.
Yevgeny Prigozhin said that about half of the people who died in the city in eastern Ukraine were Russian prisoners who had been forced to fight in the 15-month-old war. His numbers were very different from what Moscow said, which was that just over 6,000 of its troops had died in the war as of January. The stated number of Soviet troops killed in Afghanistan between 1979 and 1989 was 15,000.
Since Russia's full-scale invasion started in February 2022, Ukraine hasn't said how many of its troops have died.
White House officials said Wednesday that Prigozhin's words were in line with their own estimates that Russia's losses have gotten worse. This month, the White House said that since December, Russian troops had lost 100,000 people, including 20,000 people who were killed. John F. Kirby, a spokesman for the White House National Security Council at the time, said that about half of the people who died were from the Wagner troops.
Analysts think that many of the people who died in the nine-month battle for Bakhmut were Russian prisoners who didn't have much military training.
Prigozhin, who used to be in prison, has often said that Russian military leaders do not give his men enough ammunition. He has also questioned their tactics, commitment, and ability to lead, and he has said that they haven't given his troops enough credit for their successes on the ground.
He has talked about the sacrifices his troops have made, and on Saturday he said that the city of Bakhmut had been taken.
In an interview with pro-Kremlin political analyst Konstantin Dolgov that came out on Tuesday, Prigozhin said even more negative things about the war and questioned some of Russian President Vladimir Putin's reasons for it. Prigozhin said that Russia's goal of "demilitarizing" Ukraine has failed because Western weapons and training have made Kyiv's military stronger.
Putin also said that he invaded Ukraine because he wanted to make Russia safer and stop Ukraine from joining the North Atlantic Treaty Organization. But since the war started, Ukraine has asked to join NATO, and there have been more strikes from Ukraine into Russia.
Kirby made guesses about Prigozhin's goals on Wednesday in Washington.
"And it's possible that this is a morbid way for him to take credit for what they've been able to do in Bakhmut, while also trying to make the Ministry of Defense look bad by saying that Wagner paid for it with his blood and money, not the Russian military."
Prigozhin also questioned Moscow's claims that its troops had not killed civilians. He did this in the interview.
The Office of the United Nations High Commissioner for Human Rights says that from February 2022 to early April 2023, 8,490 civilians were killed and 14,244 were hurt in Ukraine. They say this is probably a low number.
Prigozhin is a rich businessman who has known Putin for a long time. He is known for his boasting, which is often filled with swear words, and he has made untrue claims in the past, some of which he later changed his mind about.
This month, his supporters released a video of him shouting, swearing, and pointing at about 30 uniformed bodies on the ground, saying that they were Wagner fighters who died in one day. He said that the Russian Defense Ministry had kept his men from getting enough ammo, and he threatened to stop fighting for Bakhmut.
Prigozhin has often warned about a counteroffensive that Ukrainian officials say they're planning. In an interview on Tuesday, he said that, with continued support from the West, Kyiv's forces might be able to push Russian fighters out of occupied Crimea and southern and eastern Ukraine.
"A pessimistic scenario: The Ukrainians are given missiles and prepare troops. Of course, they will keep up their offensive and try to counterattack," he said. "They will attack Crimea and try to blow up the bridge that connects Crimea to the rest of Russia. They will also try to cut off our supply lines. So, we need to get ready for a tough war."
The fact that Prigozhin said he had suffered heavy losses seems to show that Ukraine's plan worked. Officials from Ukraine have said that their goal in Bakhmut was to wear out and deplete Russian troops, keep them from protecting territory they already control elsewhere, and buy time for more weapons and ammunition to come from the West and for training to be finished.
The interview with Prigozhin was shared on a Telegram channel with only 50,000 followers. It wasn't picked up by Russia's biggest state-run or pro-Kremlin media, so it probably won't be seen by many people. It also didn't seem to be talked about by military bloggers, whose famous Telegram pages are important places for many Russians to learn about the war.
The general staff of the Ukrainian military said Wednesday that "heavy fighting" was still going on in Bakhmut, even though Russia said a few days ago that it had totally taken over the destroyed city.
Donetsk, where Bakhmut is, is one of four provinces that Russia illegally took over in the fall and only has partial control over.
Oleksandr Syrskyi, who is in charge of Ukraine's ground forces, said that Kyiv's troops "are continuing their defensive operation" in Bakhmut and have had "successes" on the city's edges that he did not explain. He didn't say anything else.
The Associated Press heard on Tuesday from a Ukrainian officer in Bakhmut that the Ukrainians had planned to trap the Russians.
Yevhen Mezhevikin said, "But now we don't need to fight in Bakhmut; we need to surround it from the sides and block it." "Then we need to'sweep' it. This is better, so that's what we're doing right now."
Aside from that, there were more strikes in a border area that Russian officials said was calm after one of the worst incursions since the war started. A local official said Wednesday that Russia shot down "a large number" of drones in the country's southern Belgorod region. This came a day after Moscow said that its forces stopped a raid from Ukraine across the border in the area.
Overnight, the drones were shot down over the province, Belgorod Gov. Vyacheslav Gladkov said in a Telegram post. On Wednesday, another drone was shot down just outside the city of Belgorod, which is the capital of the province. He said that no one was hurt, but that some administrative buildings, homes, and cars had been harmed.
The Ukrainian government didn't say anything right away.
Sergei Shoigu, who is in charge of Russia's defense, said in Moscow that if such attacks happen again, Russia will reply "quickly and very harshly."
Details about what happened in the rural area about 45 miles north of the city of Kharkiv in eastern Ukraine, far from the front lines, are not clear.
Moscow said that the Ukrainian military saboteurs were to blame for the invasion. Kyiv said that Russian supporters were rising up against the Kremlin. It was impossible to put the two stories together and know for sure who was behind the attack or what its goals were.
The area around Belgorod is a military hub for Russia. There are fuel and ammunition stores there. Like the nearby Bryansk region and other border places, it has seen war damage from time to time.
Facebook Comments