Global News
Russia Punishes Kyiv Patriot Battery With Fierce Kinzhal Attack; Aerospace War Heats Up In Ukraine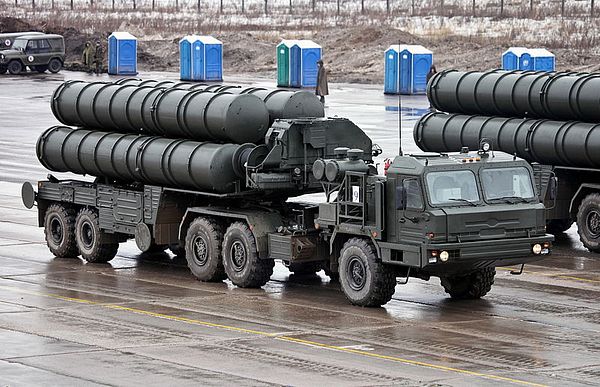 Recently, Russia's fight with the West through its proxy Ukraine has moved from fighting on the ground to fighting in the air.
Drones and glide bombs have recently been added to the Russian air force to give it more technology power.
Early in the morning of May 16, 2023, Russia showed Ukraine and its Western friends that it could stop the West from giving Ukraine high-tech weapons by attacking a Patriot battery in Kyiv that was made by the US.
The attack was caught on video, which is now all over the Internet.
The Russian Aerospace Force (RuAF) seems to have attacked the Patriot battery in a coordinated way, causing a reaction that was like a seizure brought on by anger.
The much-talked-about long-range Patriot air defense (AD) system, which is at the cutting edge of US anti-missile technology, fired more than 30 missiles, each of which cost $5 million, in about 2 minutes.
Based on where the missiles came from when they were fired, the Patriot fire in response came from several different sites. During the attack, the gun was hit several times. Some Patriot rockets seem to have hit what they were meant to hit.
But the places that were hit were at heights that cruise missiles usually fly at.
Kinzhal engagements can only be done successfully at very high altitudes when the missile just left its launcher and is still going faster than the speed of sound. Once the rocket speeds up to hypersonic speeds, it starts to move around to avoid being hit, making it very hard to hit.
30 US Patriot PAC-3 MSE launch at a cost of $5 million per missile. That's $150 million gone within 2 mins. At the end the Patriot launch platforms were destroyed by Russian missiles. Why would any military still want to buy Patriot after this failure? pic.twitter.com/JiNr06y0Rt

— Kim Dotcom (@KimDotcom) May 16, 2023
Shortly after the crazy flurry of missile launches stopped, the Patriot system seemed to fall into darkness, either because it had been defeated and was on its knees or because it had run out of ammunition. Then, a Russian missile hit the battery as a final blow.
Patriot Battery Arsenal of Missiles
A standard Patriot battery has six M901 launch stations on a two-axle trailer. Each of these launch stations has four canisters that can hold either three (PAC-3 MSE) or four (PAC-3 CRI) interceptor missiles.
Both the PAC-3 MSE and PAC-3 CRI interceptors have "hit-to-kill" technology, which would be needed to stop a ballistic missile like the Kinzhal. It's possible that the Patriot batteries in Ukraine have older PAC versions that have been tuned to stop targets that move through the air.
Part of a bigger attack: The Patriot Strike
Kyiv was attacked as part of a bigger attack. According to the Ukrainian Air Force, Russia launched 6 Kinzhal missiles from 6 MiG-31K planes, 9 Kalibr cruise missiles from the Black Sea, 3 S-400 or Iskander-M missiles, and 6 Shahed/Geran-2 drones overnight, and all of them were safely shot down.
The Ukrainian Air Force's claim that they intercepted 100% of the missiles goes against the video proof, which shows a number of flashes that look like explosions on the ground near the Patriot battery.
So far, Ukraine hasn't shown any proof to back up its claim that it shot down 6 Kinzhal missiles.
On May 5, 2023, Ukraine said that it had shot down a Russian Kinzhal missile that had been fired by a MiG-31K. The photos weren't enough to prove it. Based on what the Ukrainians said and any photos that could be shown, the Pentagon agreed with the story.
Russia said that a Patriot couldn't have shot down a Kinzhal because it's physically impossible.
Based on the explosions on the ground, it seems possible that the RuAF attack today was aimed at the Patriot battery. But it's possible that the attack was meant for places in Kyiv that the Patriot battery is supposed to protect, like underground bunkers for leadership and command and control.
For a Patriot battery to seem to fire all of its missiles in just two minutes, the danger level must have been very high, and the job of protecting the target was not done.
The fact that the missile fire hit several targets that the battery was protecting or the launchers of the battery itself suggests that the attack was successful.
Redemption in the Workplace
Whether it was meant to be or not, the success of the RuAF attack today was professional payback for the shocking loss of 4 Russian airplanes and 13 Russian aircrews on May 13, 2023.
In a well-planned ambush that day, Ukrainian forces killed the entire "special air group" of the RuAF as it was heading back to base after a successful glide bomb attack on Ukrainian forces.
The group was made up of one Su-34 fighter bomber that was going back to base after the glide bomb attack, one Su-35S fighter that was helping the Su-34 control the airspace, one Mi-8MTPR1 EW that was supposed to protect the group from a Ukrainian missile attack, and one Mi-8 that was supposed to do SAR (Search and Rescue).
All four planes were shot down by missiles, but we don't know yet what kind (surface-to-air or air-to-air) or type (S-300, NASAMS, etc.) of missiles were used.
All four Russian planes were shot down deep inside Russian territory, where the US/NATO AWACS, Patriot MIM-104 radar, and S-300 radar would not have been able to follow them.
Possible ways the attack was done are moving an S-300 missile battery close to the Russian border without anyone noticing and using an AIM-120 fired by a Ukrainian MiG-29.
Recently, the US sent electronic tools to Ukraine to help it connect its air defense network. Such merging would make it easier to send target tracking information from, say, a US/NATO AWACS to an S-300 missile guidance radar or from an S-300 tracking radar to a MiG-29 weapon system computer over a data link.
For the S-300 missile guidance radar to avoid being found and jammed by the Mi-8MTPR1, it could have been originally tipped off by a US/NATO AWACS, which could have been flying in Ukrainian airspace for accurate tracking during the short-lived ambush.
To avoid being seen by the Su-35S providing air dominance support, the MiG-29 could have used tracking data from an AWACS sent over a data link to launch the AIM-120 from outside the range of a Su-35S radar or an S-300 search radar. This would have kept the Su-35S from spotting it.
Conclusion
Recently, Russia's fight with the West through its proxy Ukraine has moved from fighting on the ground to fighting in the air. Even though the RuAF hasn't been able to gain air control over most of Ukraine, its air power is still much stronger than Ukraine's.
Drones and glide bombs have recently been added to the Russian air force to give it more technology power. For Ukraine's planned and much-talked-about counteroffensive to work, the West needs to weaken Russian air power, and the third dimension of the conflict is likely to heat up over the next few months.
Facebook Comments