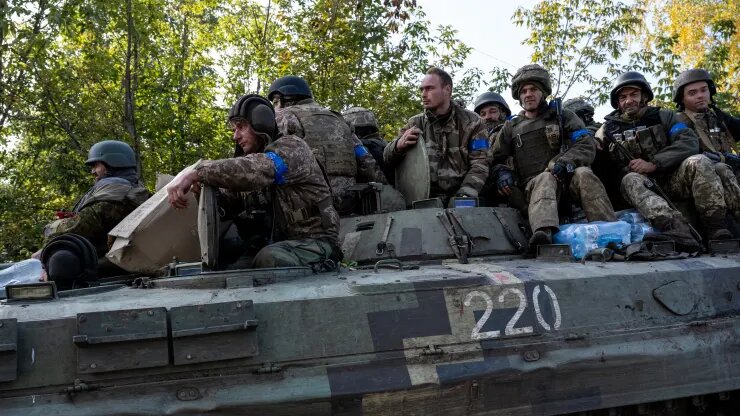 The number of troops that the Ukrainians think will be mobilised is higher than what they thought in September, which was very unpopular and led to protests all over Russia.
The Guardian spent New Year's Eve on the border in the north-eastern Sumy region of Ukraine, where the local defence forces said the same thing.
Ukraine's military intelligence says that Russia is planning to call up up to 500,000 more conscripts in January, on top of the 300,000 it called up in October. This seems to be another sign that Vladimir Putin has no plans to end the war.
Vadym Skibitsky, the deputy head of military intelligence for Ukraine, said that the country thought the conscripts would be part of a series of Russian offensives in the east and south of the country during the spring and summer.
Russia has denied that it is planning a second round of mobilisation. Last month, Putin said it was "pointless" to talk about a new call-up because only half of the people who had already been mobilised had been sent to Ukraine.
Putin and other Russian officials had denied plans to order mobilisation before a "partial mobilisation" was finally announced in September.
The warning from Ukraine about a new mobilisation comes at the same time that Russia says it kept to its unilateral ceasefire on Orthodox Christmas.
On Friday, the Russian Defense Ministry said that its troops had stopped fighting as of noon Moscow time "along the whole line of contact." Still, a fire station in the part of Kherson that is controlled by the Ukrainians was shelled, killing one firefighter and hurting four others, according to Kherson's regional administration.
At the same time, it looked like fighting was still going on across the contact line in the eastern Donetsk region.
Reuters said that artillery fire was coming from Russian positions on the city's outskirts after the truce was supposed to start. The reports came from people in Donetsk, the regional capital, which was occupied by Russia. The Ukrainian army shelled the city at noon, according to the Russian news agency Tass.
The Russian-appointed leader of Donetsk, Denis Pushilin, said Thursday night that Putin's order only covered offensive operations and that his forces would hit back if they were attacked.
Russian rockets hit a residential building in the eastern Ukrainian city of Kramatorsk hours before the ceasefire was supposed to start. The mayor said that 14 homes were damaged, but no one was hurt.
The number of troops that the Ukrainians think will be mobilised is higher than what they thought in September, which was very unpopular and led to protests all over Russia.
If the estimate is right, Russia will have almost doubled the size of its army from before the war in just a few months. The military intelligence of Ukraine said that there were currently 280,000 Russian troops on the ground in Ukraine.
Oleksii Danilov, who is in charge of Ukraine's national security, said in the summer that a million Ukrainians were getting combat experience, but it's likely that only a small number of these people are on active duty.
Skibitsky said that it would take Russia about two months to put together the military formations, and that how well the Russians are equipped and trained would determine how well they do on the battlefield. He also said that a lot will depend on how long Ukraine can keep getting weapons and ammunition from the West to equip its new reserve units.
"Putin will fall if Russia loses this time," said Skibitsky, calling the next six to eight months the last push.
He said that Ukraine expected to hear about the latest round of mobilisation on January 15, after Russia's winter break. "They are putting a lot of focus on how many people and tools they have and hope to overwhelm our side."
A retired Russian colonel general and member of the Duma, Andrey Gurulyov, said on Wednesday that Moscow has "no reasons or conditions" to announce a second mobilisation in the next six months.
Gurulyov told Russia's media, referring to the tens of thousands of conscripts in military training, that not everyone who was called up earlier has been sent to battle.
In contrast to what the government says, a number of influential pro-war nationalist bloggers have said that Russia has no choice but to announce a new mobilisation drive soon.
Igor Strelkov, a former Russian intelligence officer and ultranationalist commentator, said that Moscow would announce a mobilisation next month.
"There will be another round of organising. We will have to do the second wave, and maybe even the third. "We'll need to call up at least 500,000 more soldiers to win in Ukraine," Strelkov said, adding that the new call-up would happen at the end of February, on the anniversary of the start of the war.
"We think they will go on the offensive in Donetsk, Kharkiv, and maybe even Zaporizhzhia, but they will defend in Kherson and Crimea. "They will need this many men to do this job," said Skibitsky, explaining why they think 500,000 men will be called up.
In December, Oleksii Reznikov, Ukraine's minister of defence, and Valeriy Zaluzhnyi, the head of the army, said that Russia would attack from Belarus again in February. On the other hand, Ukraine's military intelligence said they didn't think there was much chance of an attack from Belarus.
Skibitsky says that Russia only has one division in Belarus, with about 15,000 people in it. Even though Ukraine wasn't ready, it had 45,000 people in February of last year and failed to take Kyiv.
Now, the defences in the north of Ukraine are strong, and Ukraine was ready, Skibitsky said. The Guardian spent New Year's Eve on the border in the north-eastern Sumy region of Ukraine, where the local defence forces said the same thing.
"Of course, if Belarus joins the war, this could change," said Skibitsky. Belarus has about 45,000 soldiers.
But even if Russia has the numbers, says US military expert Rob Lee, that doesn't mean that its units will be effective. The Russian army is having trouble right now with leadership, ammunition, and training.
Lee said that because there hasn't been a comparable war in recent years, it's still not clear how well Russia can integrate the newly mobilised forces.
"If you get 500,000 people together, those problems don't go away. You just have the same problems with more people," said Lee, adding that troops with less training were better at defending territory than going on the attack.
Russia has also hired tens of thousands of prisoners to fight as part of the private military group Wagner. This is to make up for the many soldiers who have died in battle over the past 10 months.
After fighting for six months in Ukraine for Wagner, the first prisoners who were freed as promised on Thursday.
Facebook Comments