Defence Industry
Military Cooperation Remains The Major Point Of India-Israel Relations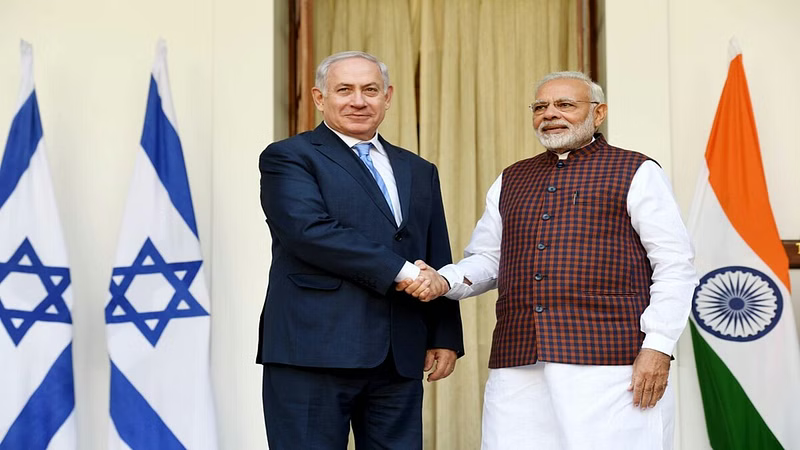 Cyient will use BlueBird's technology and manufacturing know-how at its production facilities in Hyderabad to design, make, and put together advanced UAV systems.
India had to walk a geopolitical tightrope to keep its relationships with Arabs and Israelis from getting out of hand.
As India and Israel celebrate the 31st anniversary of their diplomatic ties, it's a good time to think about how far they've come and what else needs to be done to build a strong strategic partnership between the two countries.
After 30 years of diplomatic ties, both countries have worked together on a wide range of issues, including defence, security, intelligence, counterterrorism, agriculture, and water. In the next 10 years, this relationship is likely to become more important from a strategic point of view on both a bilateral and a multilateral level.
Overview of defence cooperation
The relationship between these two countries, which began on January 29, 1992, looks very good when you look at how they work together now. In just 30 years, India and Israel went from having no ties to each other to having a strategic partnership.
In the short thirty years since the end of the Cold War, Israel has become a major supplier of defence equipment to India, sometimes coming in second only to Russia. According to information from the Indian Ministry of Defense (MoD), Israel signed more defence contracts with India than Russia in 2013–2014 and 2015–2016.
From 2000 to 2010, about $10 billion was thought to have been spent on defence trade between the two countries. A report by the Stockholm Peace Research Institute called "Trends in International Arms Transfer" showed that 42% of all Israeli arms exports went to India. This was the most of any country (SIPRI).
Both countries have worked together successfully in high-profile areas to make things like the Medium Range Surface to Air Missile (MRSAM) and the Long-Range Surface to Air Missile (LRSAM), which is called Barak-8.
They have also tried their hands at space. In 2008, India successfully launched an Israeli reconnaissance satellite called TecSAR-1 in exchange for an X-band Synthetic Aperture Radar (SAR) that was put on India's RISAT-2 (Radar Imaging Satellite with all-weather capability).
In 2018, both countries signed an agreement to work together on Electric Propulsion Systems (EPS) for small satellites, atomic clocks, and the GEO-LEO (Geosynchronous Earth Orbit-Low Earth Orbit) Optical Link. So, from the sale of weapons to the transfer of technology, from research and development to Joint Ventures (JVs), both countries have quickly taken their relationship to a strategic level, from sales of weapons to the transfer of technology.
Few minor challenges
Even though India and Israel work together a lot on defence and security, many analysts and scholars have thought in the past that this bilateral security cooperation is transactional, with India being the buyer and Israel being the seller.
At the heart of this "buyer-seller relationship" comparison is the idea that the defence relationship between India and Israel is temporary or ad hoc. Others have thought that this so-called "strategic partnership" is mostly one-sided in terms of benefits, since New Delhi keeps giving money and is left to do only the back-end work, with much less access to high-value and front-end work like dealing with target seeker and propulsion tech on MRSAM and LRSAM projects.
India's desire to be self-sufficient (Atma-nirbhar) in defence production is another thing that might hurt the so-called "buyer-seller dynamics." India's arms imports went down by 21% between 2012–16 and 2017–21.
This is because the country is putting more effort into building a strong military-industrial ecosystem, which includes research, domestic design and development, and public and private companies that make defence equipment. In a series of notifications, the Government of India (GoI) has made it harder to import multiple defence systems and subsystems since December 2021.
This is to encourage India to make more of its own. These rules apply to a wide range of weapons, including corvettes, airborne early warning systems, tank engines, radars, towed artillery guns, short-range surface-to-air missiles, cruise missiles, and offshore patrol vessels. These limits on the amount of defence equipment that can be brought in can also stop defence cooperation between India and Israel.
Way forward
So, how can these two countries improve their defence partnership as they move into their fourth decade of working together? Through military diplomacy, joint projects, and a number of exchange programmes, both countries' governments have, of course, played a big role in laying the groundwork for strong defence cooperation.
Both countries just agreed in October 2021 to set up a task force to find new ways to work together and make a 10-year plan to improve the chances of future defence cooperation between the two countries. Recently, many companies from India and Israel are working together to make important parts and defence platforms.
For example, Mahindra Defence and Israel's Aeronautics signed an MOU to work together on making Naval Shipborne UAV systems that can be launched and recovered from Indian warships. In the same way, Cyient Solutions and BlueBird Aero Systems, which is based in Israel, joined forces to offer UAV systems to the Indian military, police, and security forces. Cyient will use BlueBird's technology and manufacturing know-how at its production facilities in Hyderabad to design, make, and put together advanced UAV systems.
What needs to be done next is to make it easy for private companies from both countries to do business so they can work together and grow by making defence platforms that can be exported. When the Indian and Israeli defence industries work together, India will provide the main market and the money to develop high-tech weapons and military technology, and Israel will provide its design and development skills as well as the ability to make traditional military bulk goods.
This will meet the needs of both countries. A system like this will not only meet the needs of defence, but it could also be used as a hub for sending military equipment to countries in Asia, Africa, and Latin America.
Aside from the defence cooperation between the two countries, the recent formation of I2U2 and India and Israel's membership in this new quadrilateral group shows that this partnership is now moving from the bilateral to the mini-lateral level.
Even though the main goal of this geoeconomic grouping is economic cooperation, it could also be used by India and Israel as a geopolitical platform to exert geostrategic influence. This grouping gives Israel a chance to show how its diplomatic ties with an Arab country have improved.
It also gives Israel a chance to counter the BDS (Boycott, Divestment, and Sanctions) movement by giving its companies access to new markets in a quadrilateral framework. This grouping gives India more room to move strategically in West Asia. Arabs and Israelis used to hate each other, so India couldn't think of or join a project where Arabs and Israelis worked together. India had to walk a geopolitical tightrope to keep its relationships with Arabs and Israelis from getting out of hand.
So, the fourth decade of this two-way relationship brings both challenges and opportunities. If the two countries make the most of these opportunities, their two-way relationship will continue to grow and thrive in the decades to come.
Facebook Comments