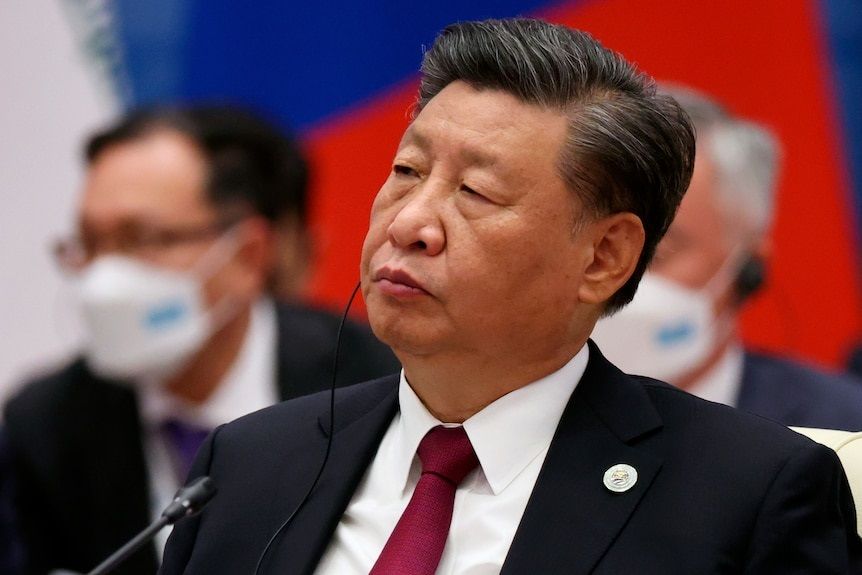 In the last few days, rumours of a Chinese coup have circulated in the wake of widespread flight delays at Beijing airport and a major military buildup in Beijing. Numerous sources assert that President Xi Jinping has been removed from office and placed under house arrest by the PLA. However, nothing has been confirmed as of yet, and the rumours are likely false.
Several Chinese social media accounts have claimed in recent days that Xi Jinping has been stripped of his military authority and placed under house arrest. The 'coup' allegedly occurred while the Chinese premier was in Samarkand, Uzbekistan, for the Shanghai Cooperation Organisation conference. Supposedly, while Jinping was in Samarkand, his detractors in the party urged the party's senior leadership to remove Jinping from his position as army commander.
There has been no official confirmation from the Chinese Communist Party or state media as of yet.
"An intriguing new rumour: Is Xi jingping under house arrest in Beijing? Recently, when Xi was in Samarkand, the leaders of the Chinese Communist Party were expected to remove Xi from his position as Party in-charge of the Army. Then, a house arrest ensued. Former Cabinet member and BJP leader Subramanian Swamy tweeted that the rumour was true.
New rumour to be checked out: Is Xi jingping under house arrest in Beijing ? When Xi was in Samarkand recently, the leaders of the Chinese Communist Party were supposed to have removed Xi from the Party's in-charge of Army. Then House arrest followed. So goes the rumour.

— Subramanian Swamy (@Swamy39) September 24, 2022
A number of Chinese Twitter users have also posted about Xi Jinping's apparent home detention. Many asserted that the PLA has assumed command of the army. Some have even hypothesised that Li Qiaoming has been appointed China's president.
According to News Highland Vision, former Chinese President Hu Jintao and former Chinese Premier Wen Jiabao urged former Politburo Standing Committee member Song Ping to assume control of the Central Guard Bureau (CGB) from President Jinping.
The Central Guard Bureau is a specialised organisation responsible for the protection of senior party members, such as Jinping, their families, and notable foreign dignitaries in China.
Supposedly, once Jinping lost control of the CGB, the Politburo Standing Committee removed Xi's military authorities.
When Xi Jinping learned of the development, he promptly went to Beijing, but according to rumours, he was arrested at the airport on September 16 and placed under house arrest at Zhongnanhai. Notable is the fact that Zhongnanhai in Beijing houses the central headquarters of the Chinese Communist Party, the State Council of China, and the office of the Chinese Premier, among other offices. It is also stated that former Chinese president Hu Jintao controls the current situation in China.
A video widely circulated on social media purported to show a significant detachment of the Chinese People's Liberation Army leaving for Beijing in an 80-kilometer-long convoy.
Among many others, Chinese activist Wanjun Xie published this claim along with the video. He stated that the front of the convoy had reached Huailai in Beijing and the rear had reached Zhangjiakou in Hebei Province, making the convoy 80 kilometres long.
However, the accompanying video is less than one minute long and shows few military vehicles on the road, thus the allegation of an 80-kilometer-long military convoy cannot be verified.
#PLA military vehicles heading to #Beijing on Sep 22. Starting from Huanlai County near Beijing & ending in Zhangjiakou City, Hebei Province, entire procession as long as 80 KM. Meanwhile, rumor has it that #XiJinping was under arrest after #CCP seniors removed him as head of PLA pic.twitter.com/hODcknQMhE

— Inconvenient Truths by Jennifer Zeng 曾錚真言 (@jenniferzeng97) September 23, 2022
Large-scale cancellations of flights at Beijing airport also contributed to the speculation. Approximately 6000 flights have reportedly been cancelled at the airport, with the assertion that flights over Beijing have been cancelled due to military actions in light of the coup. According to other sources, 6000 planes were cancelled instead of sixty percent.
While other claims are difficult to verify due to the difficulty of obtaining information from China, this claim is easy verifiable because flights can be traced on multiple websites. And we have determined that the cancellation claims are accurate. According to the flight tracking website flightradar24, Beijing Capital International Airport has nearly ground to a halt as comparatively few flights land at and depart from the airport.
The portal also indicates that a significant number of scheduled flights at the airport have either been cancelled or their status is unknown. However, the webpage indicates that other major airports in China, including Shanghai and Hong Kong, are working properly.
Facebook Comments