Defence
India's Remarkable Achievement: Successful Test Of Agni-Prime Ballistic Missile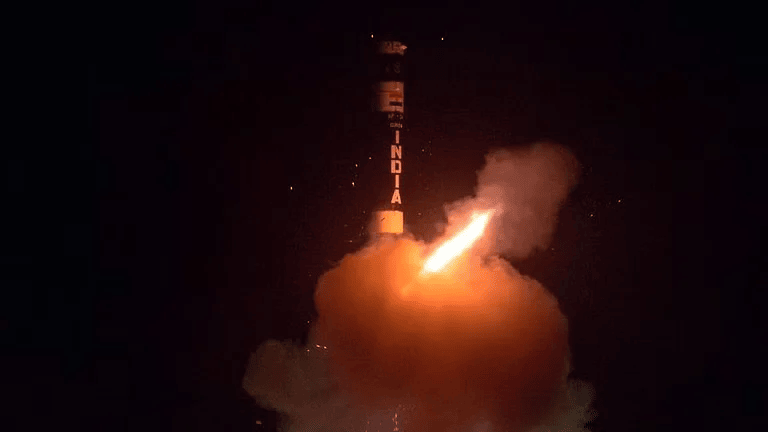 Agni-Prime has new propulsion systems, composite rocket motor casings, and more advanced navigation and guidance systems.
The Agni-Prime will gradually replace the Agni-I (700-km) missiles in SFC's arsenal, which also includes the Prithvi-II (350-km), Agni-II (2,000-km)
India successfully tested the new-generation nuclear-capable Agni-Prime ballistic missile from the Abdul Kalam Island off the coast of Odisha on Wednesday night. The missile has a strike range of 1,000 to 2,000 km and can be launched from 1,000 km away.
This was the "first pre-induction night launch" of the Agni-Prime. It was done by the tri-service Strategic Forces Command (SFC), which is in charge of the country's nuclear arsenal. A defence ministry source said on Thursday that the launch "validated the accuracy and reliability of the system."
"During the flight test, all goals were met. Range instruments like radar, telemetry, and electro-optical tracking systems were set up in different places, including on two ships at the end of the range, to track the vehicle's entire flight path, he said.
Rajnath Singh, who is in charge of defense, praised DRDO and the armed forces for the "copy-book performance" of the new-generation missile. Dr. Samir V. Kamat, who is in charge of DRDO, praised the work that went into the test launch.
Since June 2021, the two-stage Agni-Prime missile has been put through three successful tests to help it improve. Once it is put into service, the Agni-Prime, which uses solid propellant and is the smallest and lightest of the Agni line of ballistic missiles, will make India's strategic deterrence even stronger.
Agni-Prime has new propulsion systems, composite rocket motor casings, and more advanced navigation and guidance systems. Notably, it is also a canister-launch system, just like the country's first intercontinental ballistic missile (ICBM), the Agni-V, which can travel over 5,000 km and is currently being put into service by the SFC.
With a canister-launch missile, the warhead is already attached to the missile. This gives the military the operational flexibility they need to keep it for a long time, move it quickly by rail or road when needed, and fire it from wherever they want.
The Agni-Prime will gradually replace the Agni-I (700-km) missiles in SFC's arsenal, which also includes the Prithvi-II (350-km), Agni-II (2,000-km), Agni-III (3,000-km), and Agni-4 (4,000-km) ballistic missiles.
Facebook Comments