Indian Navy
Indian Navy's Cutting-Edge Stealth Frigate 'Mahendragiri' Successfully Launched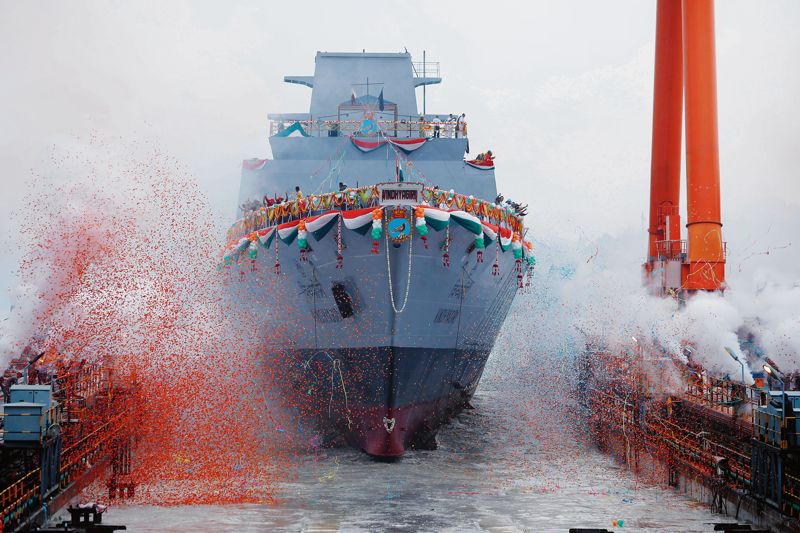 The Indian armed forces have made a lot of progress toward gender equality, with over 10,000 women serving in the army, navy, and air force
It is the last of the seven stealth frigates from the Nilgiri class that were made as part of Project 17A
Mazagon Dock Shipbuilders Limited (MDL) made the warship Mahendragiri for the Indian Navy. It was put into service on Friday in Mumbai.
The ceremony's most important guest was Vice President Jagdeep Dhankhar, whose wife Sudesh launched the warship. He said that it made sense for the launch to happen in a busy city like Mumbai.
This is the seventh ship in the Project 17A frigates line. It was named after a mountain peak in Odisha's Eastern Ghats, and it has advanced weapons, sensors, and platform management systems.
"Once it is put into service, I am sure that Mahendragiri will proudly fly the Tiranga (India's national flag) across the oceans as a representative of India's naval power," Vice President Dhankhar said.
"I have full faith in our force. "They will keep getting better for the safety of the whole world," he said.
"The Indian armed forces have made a lot of progress toward gender equality, with over 10,000 women serving in the army, navy, and air force," he said.
He said that the launch of Mahendragiri is an important moment in our maritime past. "It is the last of the seven stealth frigates from the Nilgiri class that were made as part of Project 17A," he said.
Facebook Comments