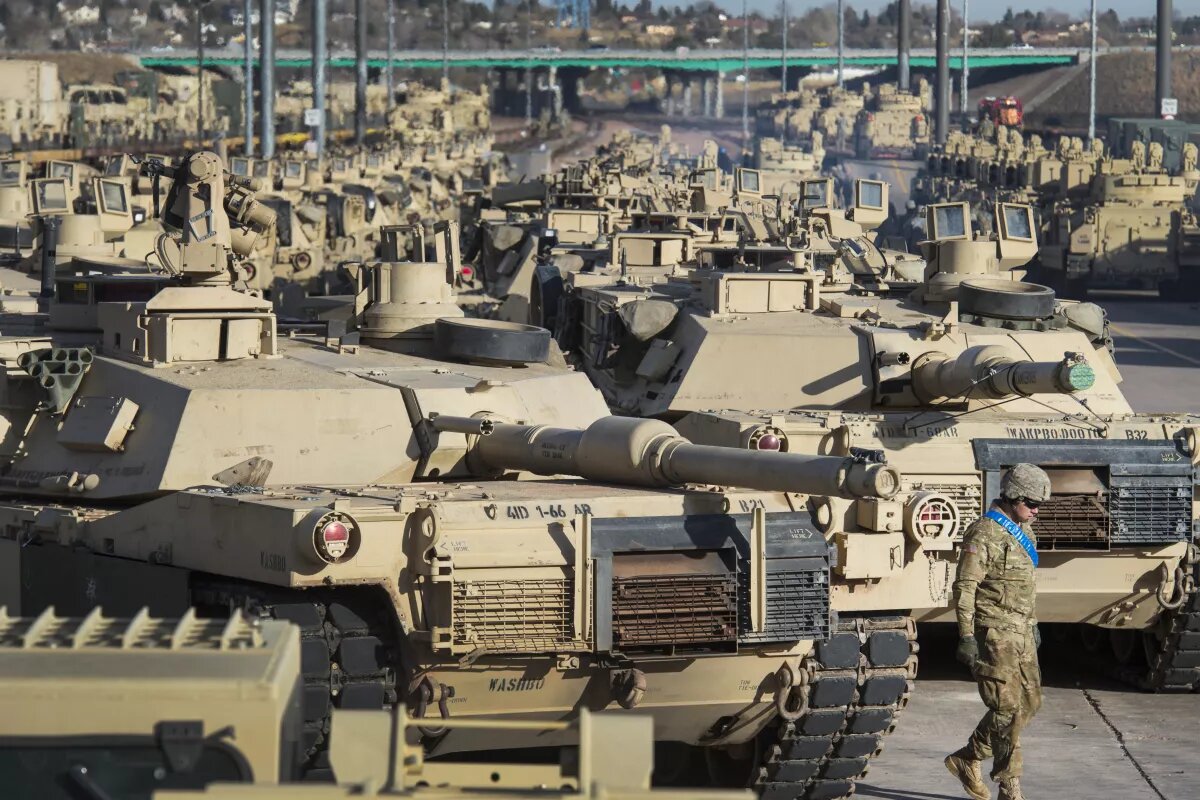 Officials said that the Ukraine Security Assistance Package, which helps pay for weapons for Ukraine, would pay for the Abrams tanks.
Defense officials have said that the lack of fuel was one reason why the administration didn't send the Abrams tanks to Kyiv more than once.
US officials said on Tuesday that the Biden administration plans to send M1 Abrams tanks to Ukraine. This would be a big step toward giving Kyiv the tools it needs to take back its territory from Russia.
Officials, who spoke on the condition of anonymity because the talks are sensitive, said that the White House could make a decision as early as Wednesday. One official said that there could be about 30 Abrams tanks.
Over the past month, Pentagon officials had expressed doubts about sending the Abrams. They were worried about how the advanced tanks, which need a lot of training and service, would be kept up by Ukraine. And officials said it could take them years to get to any battlefields in Ukraine.
But Defense Secretary Lloyd Austin has come around to the idea that Germany needs to follow suit with its wanted Leopard 2 tanks if the US is going to send tanks. Officials from the State Department and the White House said that the Defense Department's reluctance was not as important as giving Germany the political cover it wanted to send its own tanks.
The move to send the Abrams tanks was first reported by The Wall Street Journal. It comes after a heated argument last week at a meeting of NATO defence chiefs over Germany's chancellor Olaf Scholz's refusal to send the Leopards, which many military experts think could be a key weapon in Ukrainian hands.
German officials insisted behind closed doors that they would only send the tanks, which are some of the most advanced in the world, if the US agreed to send its own M1 Abrams tanks.
German news outlets said on Tuesday that Scholz had decided to send the tanks, so people were waiting for him to say something. Most of the attention was on what the chancellor was going to say to parliament on Wednesday.
Many European countries use German-made Leopards, and there are about 2,000 of them all over the continent. In recent weeks, Ukraine has asked for tanks, saying that it needs them to counter Russia's advantages in weapons and people.
Western tanks are the latest obstacle to fall as Ukraine's allies send it weapons systems they had previously refused to send. Earlier this month, while debates over the Leopard and the Abrams continued, Britain said it would give some of its Challenger 2 tanks.
On Tuesday, Poland's defence minister said that his country had officially asked Germany for permission to send Ukraine Leopard tanks from its own stock. Other countries have said they would do the same if Germany agreed.
At a news conference in Kyiv, Finland's President Sauli Niinisto told reporters that he and Ukraine's President Volodymyr Zelenskyy had talked about giving Ukraine tanks from the West.
It wasn't clear right away why the Biden administration changed its mind. Even as recently as Monday, a Pentagon official told reporters that it would be hard for Ukrainian forces to keep up with the Abrams tanks, in part because they run on jet fuel.
But the decision to send a small number of tanks and the expected delay in getting them there could make worries about the war getting worse less important while giving the administration political benefits.
Defense officials have said that the lack of fuel was one reason why the administration didn't send the Abrams tanks to Kyiv more than once. But experts on tanks say that the fact that the tanks have gas turbine engines that burn jet fuel is not the whole story. People say that Abrams tanks can run on any kind of fuel, even regular gasoline and diesel.
Brig. Gen. Patrick Ryder, the Pentagon's press secretary, would not say on Tuesday whether or not it was true that the government was about to give Ukraine M1 Abrams tanks. "We'll let you know when we have something to say," he said.
He said that the Abrams tank was "a very good platform for use on the battlefield."
Ryder said, "It's also a very complicated skill." "So, for everything we give the Ukraine, we want to make sure they can take care of it, keep it running, and train on it."
He didn't say anything about fuel.
At first, the administration thought that the British offer of Challenger tanks would be enough to convince the Germans to send their tanks, but US officials said that Scholz insisted on the Abrams.
Officials said that the Ukraine Security Assistance Package, which helps pay for weapons for Ukraine, would pay for the Abrams tanks.
A second defence official said that the long delay would give Ukrainian troops time to learn how to use the most advanced American tank.
Former US Army armour officer and four-star general Robert B. Abrams, who will retire in 2021, said that the task would be "herculean," but not impossible.
"How long would it take to get there? How long would it take to build up the supply stock, get the vehicles there, train the crews, train the mechanics, and get everything you'd need?" Abrams, who has a lot of experience with the M1 tank, said in an interview that the tank was named after his father, Gen. Creighton Abrams. "I don't know, but I can tell you it's not like 30 days."
After the Ukrainians won a number of battles last fall, the war has turned into a hard-fought battle of attrition. Most of the fighting is taking place in eastern Ukraine, near the city of Bakhmut, where both Russia and Ukraine have lost a lot of people as they prepare for spring offensives.
Officials in Ukraine say they need tanks to break through the new Russian defences and retake more land that Moscow took early in the war. They also need tanks to protect themselves from a Russian offensive that is expected in the spring. The US has started teaching hundreds of Ukrainian troops how to use combined arms tactics so that infantry, artillery, armoured vehicles, and air support, when possible, can work together well.
Boris Pistorius, Germany's new defence minister, said last week that his country would also start teaching Ukrainians how to use Leopard tanks, even though there was no agreement on whether to send them at the time.
"It's to get ready for a day that might come," he told reporters. "On that day, we would be able to act right away and send the help in a very short amount of time."
Allies of Ukraine have sent more and more advanced weapons to help Kyiv defend against Russia's invasion, but they haven't sent heavy offensive weapons because they don't want to anger Moscow.
Since Russia's full-scale invasion started 11 months ago, they have tried to carefully time their help, which has slowly grown to include howitzers, HIMARS rocket artillery systems, Patriot air defences, and, most recently, US military armoured fighting vehicles like the Stryker.
Ukraine has been asking for heavily armoured Western tanks for months. Officials say that the Soviet-style tanks the country already has are not enough to get rid of Russian forces. When Britain said last week that it would send 14 tanks, Ukrainian officials thanked the British government but said in a statement that the Challengers were "not enough to reach operational goals."
Facebook Comments