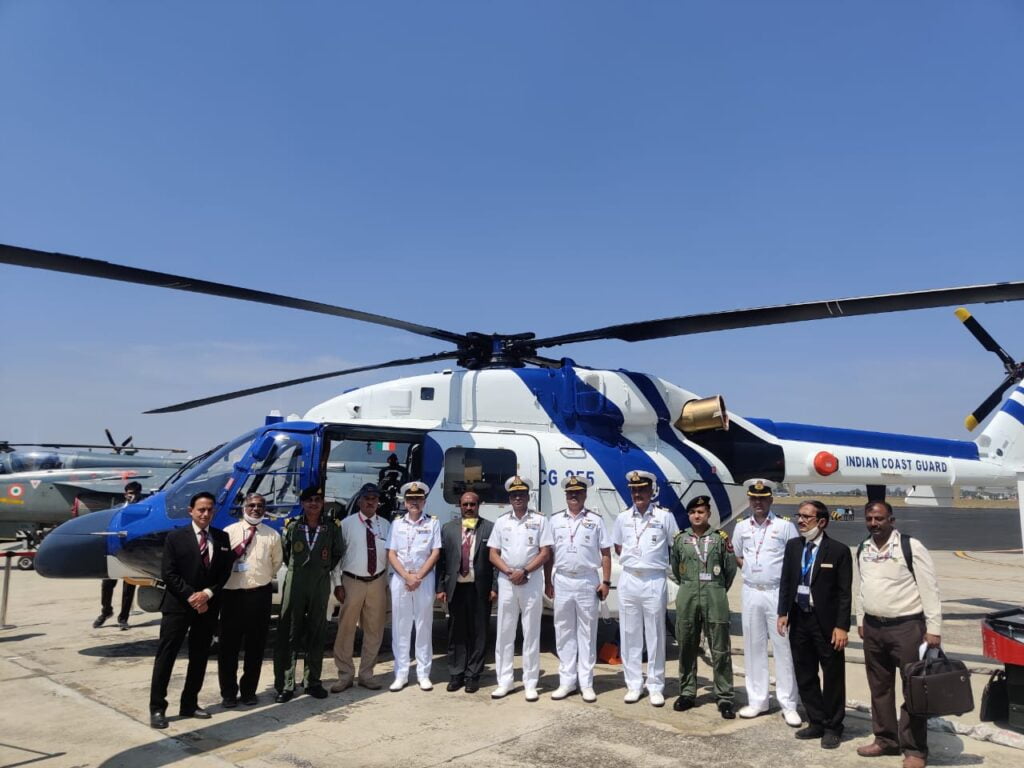 Meanwhile, the Indian Navy waits and watches, having been roundly chastised for various technical, performance, and design shortcomings in its prior Mark I and II editions.
Despite this, the 'helo' (as it is known in Indian Navy jargon) has its supporters and continues to serve as a symbol of a painstakingly created national defence aerospace project. According to ICG authorities, the most modern model of ALH will improve the force's maritime capabilities along the coasts of West Bengal, Odisha, and Kerala.
A nose-mounted Surveillance Radar, Electro-Optic Pod, Medical Intensive Care Unit, High-Intensity Search Light, Search and Rescue Homer, Loud Hailer, and a door-mount for medium/heavy machine gun are all included in this Maritime Reconnaissance and Coastal Security version manufactured by the state-run Hindustan Aeronautics Ltd.
On the 5.5-tonne weight class, the twin-engine, multi-role, multi-mission new generation helicopter is available in both skid and wheeled models.
The induction comes amid the Indian Navy's imminent procurement of the US-made MH-60R Romeo Multi-Role Helicopter (MRH) and ongoing Naval Utility Helicopter (NUH) programmes, which are both "type-certified" for military operations by the Centre for Military Airworthiness Certification (CEMILAC) and civil operations by the Directorate General of Civil Aviation (DGCA).
The former will replace the elderly Sea King 42 Alpha/42 Bravo, while the latter will replace the equally old but reliable Chetak (rechristened from the original French make as the Alouette III).
HAL Dhruv
HAL has already signed a $45.2 million agreement with Ecuador for Dhruv helicopters. This was seen as a significant achievement for India's military industry.
The Dhruv, an Indian utility helicopter, was marketed as a low-cost alternative to Western utility helicopters. After facing fierce competition from Elbit, Eurocopter, and Kazan, Ecuador purchased seven Dhruv helicopters from HAL.
The happiness was short-lived, however, as four of the seven Dhruv advanced light helicopters crashed in separate incidents, prompting Ecuador to suspend the remaining aircraft and abandon the agreement.
The Indian Navy began receiving the Dhruv Mk. 1 in 2003, after it was originally built for the army. "However, the helicopter was afflicted with a slew of difficulties, including an underpowered Turbomeca TM 333 2B2 turboshaft engine, a traditional cockpit, a cumbersome main rotor blade folding method, and other performance issues," claimed Commander KP Sanjeev Kumar (Retd), a former test pilot.
This prevented the navy from going in for more and allowed the Chetaks to continue flying. The helicopter was found deficient in terms of being able to operate from and fit onto warship decks, which is a basic navy need.
It currently has a 'Shakti' turboshaft engine (Safran Ardiden 1H1), a full glass Integrated Architecture Display System (IADS) glass cockpit, and a plethora of new systems installed by HAL's Bengaluru-based Rotary Wing Research and Design Center (RWRDC).
IN pilots have long chastised the HAL for shoddy workmanship, sloppy engineering, and inadequate maintenance hygiene, as well as outright denial of accountability. As a result, the ALH has become one of the many contentious topics between the services and HAL in particular, as well as DPSUs in general.
Other pilots defend the HAL, claiming that it made concessions due to its lack of experience with advanced defence aerospace projects and the lack of a high-tech manufacturing base, which has an impact on component quality.
The helicopter was created primarily for the Indian Army and Indian Air Force (IAF), and both are pleased with it, with the former utilising it in high-altitude advanced outposts in Ladakh for difficult medical evacuation and disaster relief operations.
The troublesome variations operated by the IN were the original Mark 1 Limited Series Production (LSP) batches, whose faults were rectified in the following Mark II, III, and IV (Rudra) variants, according to Wing Commander Anil Bhambhani (Retd), HAL test pilot.
"This was India's first helicopter; we as a nation had no skill set or experience, HAL had no history in designing helicopters, and it had taken Germany's MBB as a design partner… "We were just taking modest moves," Bhambhani continues.
The government appears to have agreed with this line of thinking, as it listed the NUH programme on its third positive indigenization list, which restricts importing or developing/manufacturing defence platforms in collaboration with foreign Strategic Partners (SP).
Facebook Comments