Global News
Hamas Confronts Israeli Forces In North Gaza Amidst Hostage Deal Hopes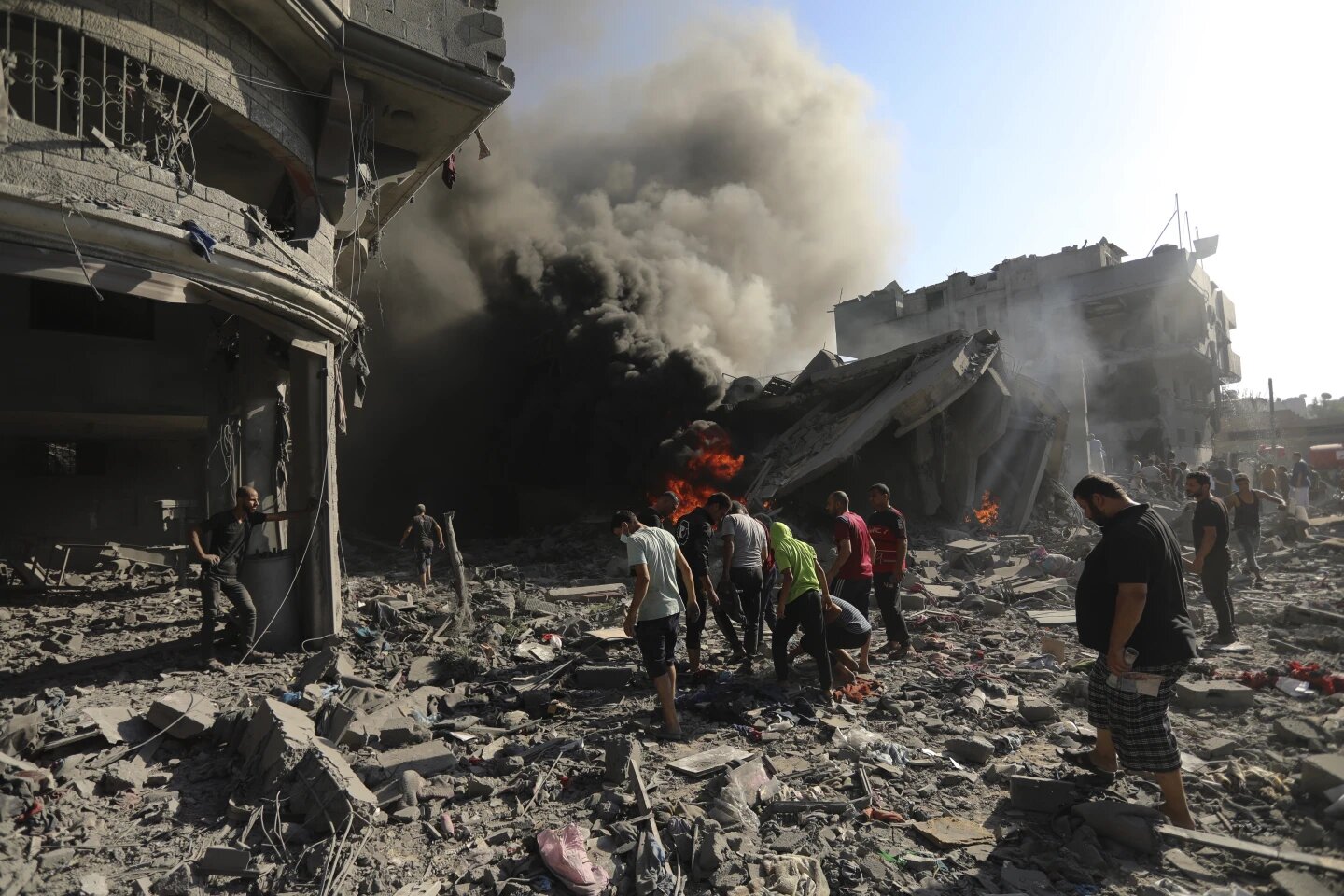 The military said seven Israeli troops were killed in the fighting on Saturday, but they did not give any more information.
According to the WHO team, there were gunshots, shelling, and a mass grave at the door to Al Shifa.
Israeli troops tried to push into Gaza's biggest refugee camp on Sunday, but Hamas gunmen fought back. Medics say that an Israeli air strike on a house killed at least 11 people as hopes rose for a deal to free some hostages in the region.
According to people familiar with the situation, the Washington Post reported on Sunday that Israel and Hamas were close to reaching an agreement that would free dozens of women and children held hostage in Gaza in exchange for a five-day ceasefire in their war. This would allow more emergency aid to reach Gazans.
The Washington Post said on Saturday that a possible deal had been reached, but U.S. and Israeli officials rejected this. A White House spokesperson said that talks to finalize a deal were still going on.
Speaking on ABC's "This Week" on Sunday, Israel's Ambassador to the US, Michael Herzog, said that Israel hoped Hamas would free a lot of prisoners "in the coming days."
During its deadly attack across the border into Israeli communities on October 7, Hamas took about 240 hostages. This caused Israel to blockade Gaza and enter the Palestinian territory to get rid of the Islamist group that was in charge there.
An official who was informed on the talks told Reuters on November 15 that Qatari mediators had been trying to get Israel and Hamas to agree to trade 50 hostages in exchange for a three-day ceasefire. The person said at the time that broad terms had been agreed upon, but Israel was still working out the specifics.
Qatari Prime Minister Sheikh Mohammed Bin Abdulrahman al-Thani told a press gathering in Doha on Sunday that the main problems that were stopping a deal to free the hostages were now "very minor" and had to do with practical and logistical issues.
The delicate hostage talks are happening at the same time that Israel is getting ready to launch an attack against Hamas in the heavily populated southern half of Gaza. This is being shown by more airstrikes on targets Israel sees as hiding places for armed militants.
After an intense airstrike in reaction to Hamas's shocking attack on October 7, Israeli tanks and troops stormed into Gaza at the end of last month. They say they now control large parts of the north, northwest, and east around Gaza City.
But like a guerrilla According to Hamas and locals, the resistance from Hamas is still strong in parts of the highly urbanized north, such as in parts of Gaza City and the huge Jabalia and Beach refugee camps.
HEAVY FIGHTING
Heavy fighting happened overnight between Hamas gunmen and Israeli ground forces trying to move into Jabalia, the biggest camp in the enclave, which is home to almost 100,000 people.
Multiple Israeli bombings of Jabalia have killed many civilians, according to Palestinian doctors. Israel says the strikes killed a lot of terrorists who were hiding there.
Sunday, Israel's military told people in several Jabalia neighborhoods to leave for south Gaza "to preserve your safety" through Arabic-language social media. To do this, it said it would stop military action from 10 a.m. to 2 p.m.
Israeli airstrikes on a house in Jabalia killed 11 Palestinians after the "pause" time ended, according to the health ministry of the enclave.
Israelis had asked most of the people who lived in Jabalia to leave the narrow coastal area to the south, but they refused.
Israeli bombs have also hit the south many times, making Israeli safety claims seem silly, say the Palestinians.
Since 2007, Israel has been at war with Hamas several times, but none of them ended in victory. After the attack on October 7, which killed about 1,200 Israelis, mostly civilians, it was the deadliest day in the country's 75-year history.
The Health Ministry of Gaza said that 12,300 people, including 5,000 children, have died because of the constant Israeli bombing.
AIR STRIKES IN CENTRAL GAZA
Palestinian doctors in the middle of the small coastal enclave said that 31 people were killed, including two local reporters, when Israeli planes hit several homes in the Bureij and Nusseirat refugee camps late Saturday night. Residents of Khan Younis, the largest city in the south, say that another air strike killed a woman and her child overnight.
Many Palestinians marched from Nasser Hospital in Khan Younis to the funeral for 15 people who died Saturday when Israel attacked an apartment building. Dear Heydaya Asfour, a relative of some of the dead, "Our youth are dying, women and children are dying, where are the Arab presidents?"
The Israeli military says that Hamas hides command centers, weapons stores, rocket launch pads, and a huge network of underground tunnels in homes and other civilian buildings. Islamists say that using people as shields to fight is not okay.
Al Qassam Brigades, the armed branch of Hamas, said that militants killed six troops close up in the village of Juhr al-Dik, which is just east of Gaza City. The militants attacked them with an anti-personnel missile and then closed in on them with machine guns.
The military said seven Israeli troops were killed in the fighting on Saturday, but they did not give any more information. Armies say that a total of 62 troops have died in battle.
'DEATH ZONE' AT GAZA'S BIGGEST HOSPITAL
When the World Health Organization led a group to visit Al Shifa, Gaza's largest hospital, they called it a "death zone." This was just days after Israeli forces moved in to take out what they thought was an underground Hamas command center.
According to the WHO team, there were gunshots, shelling, and a mass grave at the door to Al Shifa. They also said they were making plans to evacuate right away 291 patients, including those who had been hurt in the war, and 25 staff.
On Sunday, the U.N. and the Palestinian Red Crescent worked together to evacuate 31 premature babies from Al Shifa. They would be taken over the southern Rafah border crossing to Egypt to be treated there, according to Gaza's health minister.
It was said that eight premature babies had died at Al Shifa because they didn't have enough power or medicines that were needed for care.
Another hundreds of patients, workers, and displaced people who were staying in Al Shifa left on Saturday. Palestinian health officials said they were ejected by Israeli troops in a cruel way, but the military said the people who left were choosing to do so.
Since the war started, Gaza's traumatized people have been moving around, taking refuge in hospitals or going from the north to the south and sometimes back again to avoid being hit.
Facebook Comments