Defence Industry
Destabilizing Maldives – Interests Of Countries Eyeing Control Over The Indian Ocean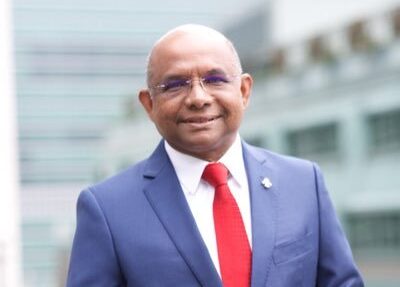 Maldives is also a part of the Colombo Security discussion (CSC), which is a discussion between the National Security Advisors of Sri Lanka and Maldives.
India is also helping to build the Gulhifalhu Port and fix up the Hanimaadhoo international airport in the Maldives.
Abdulla Shahid, Maldives' Foreign Minister, says that countries that want to gain "control" over this important strategic area may want to destabilize Maldives' democracy system. This could hurt the entire Indian Ocean region.
During his recent two-day trip to India, "democratic and stable" Maldives, which will hold an important Presidential election in September, will give the world confidence in the island nation's ability to make good decisions.
"It would be in the best interest of countries that might want to take over the Indian Ocean to make Maldives unstable. Maldives is in the middle of the Indian Ocean because of its vital location, said Shahid, who will be the President of the UN General Assembly in 2021.
Shahid said, "Only a democratic and stable Maldives could give the international community the assurance that the country's decisions are trustworthy and reflect what the people want."
'India Out Campaign Activity Of Fringe Group'
As Maldives' Presidential elections get near, there are more and more worries that former President Abdullah Yameen's party, the Progressive Party of Maldives (PPM), could win again.
Yameen has stirred up anti-Indian feelings in that country, so he is currently in jail and can't run for office. Local news sources, however, say that he may put forward a new candidate to run against President Solih.
Several of Yameen's party members have been running a "India Out" campaign since last year, which is adding to New Delhi's worries.
"Ex-President Yameen and his team are in charge of the India Out movement, which is a fringe group. They do this because they don't have anything else to sell to the people. They don't have any real environmental or social policies, so they try to make people hate each other and be very nationalistic. "This has never caught on in the Maldives, even though they have tried for three years and are still on the edge," Shahid said.
He also said, "Most PPM members don't believe this, which is why they only have a few people with them when they go out on the street." Every now and then, they try to stir up trouble, but it doesn't last long because the people of the two countries have become much closer.
Political Turmoil In Maldives
Before Presidential elections in Malé, one of the most important members of the ruling Maldivian Democratic Party (MDP), former President Mohamed Nasheed, left the party. This was a big loss for the party and its leader, President Ibrahim Mohamed Solih. Some Maldives-based news sources say that Nasheed might be working with Yameen.
"No one in the MDP is happy that President Nasheed is going. Shahid said, "It is unbelievable and unthinkable that President Nasheed would join forces with President Yameen, who not only put him in jail but also put every other political leader in jail."
He also said, "So many radicals were themselves locked up… Yameen is the one who broke the Constitution by arresting the Chief Justice and Justice of the Supreme Court. He also stopped Parliamentarians like us from going into the Parliament. Since Yameen has done so much to destroy the democratic gains that MDP has made, it is unthinkable for MDP to join forces with him. There are talks going on all the time."
Nasheed left the MDP and started a new party called The Democrats. There are rumors that he may join forces with Yameen to form a sort of alliance to run against Solih.
During Yameen's rule, the Maldives let the Chinese invest in many important building projects. This has left Malé with a huge debt.
He is sure the Maldivian people will vote for President Solih again and bring him back to power for a second time because of all the good work that has been done under the current government.
"The people have been given so much. I have been to many of the Maldives' faraway islands, where a number of projects have been done. "Water and sewage have been brought to almost all of the islands," said Shahid.
The Maldivian Foreign Minister added, "In 2023, we shouldn't be talking about water and sewage in a country like Maldives, which has a GDP of more than 12,000 pounds. But the past governments haven't been able to do it, so we're doing it. It's liked by the people in the islands."
He also said that higher education in the Maldives has gotten a boost from Solih. Since he took office in 2018, more than 17,000 Maldivians have graduated from college.
"Electricity is being brought to the islands, and harbors are being built so that people can come and go safely. Land has also been taken back for housing, and there have been a lot of housing schemes. "There are so many things going on," he said.
'Solid & Outstanding Relationship With India'
Since taking power in 2018, the current Solih government has been following a clear "India First" strategy while also trying to find a balance with China. India sees Maldives as a partner and is very involved in the development of the island country. This is because Maldives is strategically important and China is there.
Shahid said, "We've been able to have a great relationship for the past four years, which has given people in both countries hope."
He also said, "Our defense and economic cooperation will continue to grow. Even as we speak, more than 100 Maldivians are getting military training in India." That says everything."
In the area of defense and security, India and Maldives work together. New Delhi has given the Solih government several defense platforms to help improve their country's security.
In May, Defense Minister Rajnath Singh went to the Maldives and gave the Maldives National Defense Forces (MNDF) a Fast Patrol Vessel and a Landing Craft Assault ship.
President Solih went to India in August 2022 to strengthen links. During that time, India stated that it would build a new ship to replace the CGS Huravee, which was a Trinkat-class patrol ship made in India and given to the Maldives National Defense Force (MNDF) in 2006. India has also given the Maldives 24 utility cars.
Maldives is also a part of the Colombo Security discussion (CSC), which is a discussion between the National Security Advisors of Sri Lanka and Maldives. Bangladesh and Mauritius will soon become part of the three-way deal.
Maldives held the seventh Deputy NSA level CSC on July 12. The Deputy NSA Vikram Mistri led the Indian team, which focused on maritime safety and security, countering terrorism and radicalization, fighting trafficking and transnational organized crime, and cyber security, among other things.
Along with grants, concessional loans, budgetary support, skill building, and training, the $500 million Greater Male Connectivity Project was one of India's most important projects in Maldives. With help from India, water and sewage projects have been built on 34 islands in the Maldives.
India is also helping to build the Gulhifalhu Port and fix up the Hanimaadhoo international airport in the Maldives.
Facebook Comments