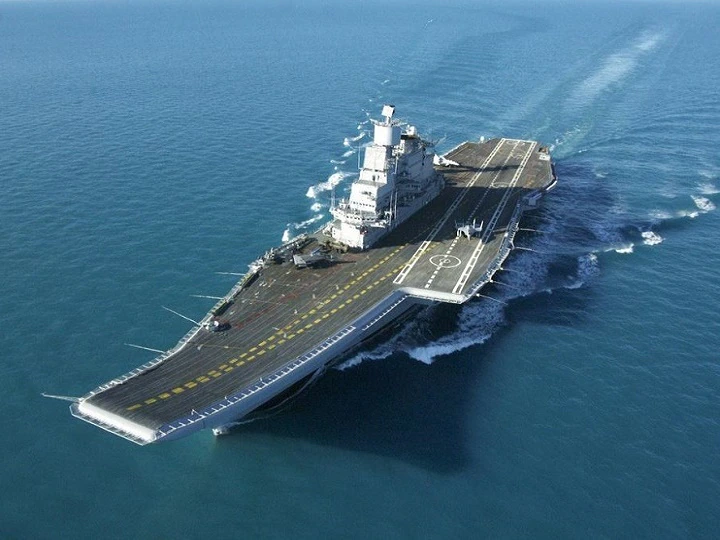 The Indian Navy may only be able to field one aircraft carrier, a small number of destroyers and frigates, and perhaps four or five submarines, according to Samaddar.
The Indian Navy intended to have a fleet of 200 ships, three of which would be aircraft carriers, as per the capabilities roadmap.
The fourth stage of the IAC's sea trials, which included integrated tests of the bulk of the ship's systems and equipment, including those from the Aviation Facilities Complex, was successfully finished on July 10. The ship is expected to be delivered by the end of July, and will then be commissioned on August 22.
The dispute about the third aircraft carrier started to gain steam even though the IAC's maiden sea trials were successfully finished on August 21. The main topic of discussion is India's need to create the necessary maritime strength in light of the Indian Ocean region's strategic importance.
Only one conventional aircraft carrier, INS Vikramaditya, a modified Kiev-class carrier, is currently operational in India. The second aircraft carrier for India, INS Vikrant, has been undergoing sea trials since August 2021 and is scheduled to be commissioned this year. After one year of infrastructure completion, this will be deployed on India's eastern seaboard alongside INS Vikramaditya on the country's western coast.
While INS Vikramaditya was imported from Russia for US$ 2.35 billion in 2004, INS Vikrant was developed locally (IAC-1) and is thought to have cost US$ 3.1–3.5 billion. But INS Vikramaditya ultimately cost India between $10 and $12 billion. A nuclear-powered carrier that can accommodate the space and size requirements of IAC-2 is the object of the search for the third aircraft carrier.
In the country's ambition to create warships of this size and scale with more than 76 percent domestic content, the indigenous design and construction of the Aircraft Carrier by the Indian Navy and Cochin Shipyard Ltd. is a shining example. Due to the expansion of domestic design and building capabilities as well as the emergence of numerous auxiliary businesses, over 2000 CSL employees as well as around 12000 workers in ancillary industries now have employment options.
The Specification of 3rd Aircraft Carrier
However, if one examines the specifications set forth by the Indian Navy in the letter of request it sent to international shipbuilders in 2015, it was suggested that the IAC-2's displacement be 300 metres (38 metres longer than IAC-1's displacement of 262 metres), its weight be 65,000 tonnes (as opposed to IAC-1's weight of 45,000 tonnes), and its intended speed be greater than 30 knots or 56 km/h (as opposed to IAC-1's intended speed of 28 knots In this situation, the level of technological complexity and expenditure needed to construct IAC-2 will inevitably have to be much higher than the current state of local capabilities.
INS Vikrant is a 37,500-ton vessel that is 260 metres long and 60 metres wide. With a range of 7,500 nautical miles at a speed of 18 knots, the ship's maximum speed is declared to be 28 knots. 160 officers and 1,400 sailors will make up the big personnel complement assigned to INS Vikrant. Up to 30 fighters and helicopters, including Mig-29K fighter jets and Ka-31 helicopters, will fit on the STOBAR aircraft carrier.
Why India needed a third Next-Generation Aircraft Carrier
For India, "Air power at sea is essential now and now," as former Indian Chief of Naval Staff Admiral Karambir Singh put it. Two important official texts that address the topic of maritime security in India are Ensuring Secure Seas: Indian Maritime Security Strategy and the Indian Maritime Doctrine. The concept of strategic outreach is well-established despite being in flux.
There needs to be a third aircraft carrier if you want one aircraft carrier to be available at all times. For the maintenance, refit, or significant overhaul, only one strike group is left in the chain.
The carrier is frequently argued against on the grounds that modern combat does not call for such enormous warships, which also come at a hefty price tag of USD 4-5 billion. Instead, IN can increase the number of warships by building several destroyers and frigates.
It is crucial that discussion of such a significant national topic is organised clearly while weighing the various points of contention. What direction is the discussion going in regards to the enormous size of the battleship in the age of unconventional warfare?
Admiral Arun Prakash was the Chairman of the Chiefs of Staff and the Naval Chief. He was a pilot by training, and throughout the course of his 40-year career, he oversaw four vessels, including the aircraft carrier INS Viraat, a naval air station, and a carrier-borne fighter unit.
Admiral Arun mentions the fundamental change in the projection and the manner we have outlined our behaviour about national security and sovereignty in his conversation with the author. Diplomats will attest that India is not a desirable partner for the USA or the Quad states because of its 4000 tanks or 29 combat aircraft squadrons in the Indian Air Force. With the help of maritime air power, the Indian Navy is able to exert influence and power in remote areas of the Indo-Pacific.
As a result, the age of the sea has arrived, and India's geography provides strong justification for the growth and connections of the sea. The trend we're referring to in this context, where marine dominates the conversation about geopolitics, is all too obvious. The strength of economic power today forms the basis of foreign policies in their entirety.
The US Navy slogan, advertising its carriers as, "4.5 acres of sovereign territory," is an indicator of the value that a carrier brings to situations that require, "presence," "show of force," or humanitarian assistance and disaster relief," (HADR), according to Admiral Arun Prakash, who makes reference to the world's maritime powers.
He says, "Countries, like China, that have elected to pursue ambitious aircraft-carrier building programmes have, obviously, taken account of their economic cost and weighed their wartime risks against peacetime benefits, and concluded that the benefits far outweigh the risks or penalties." Closer to home, where it matters, he adds.
The combat capability and maritime influence represented by an aircraft carrier in this context cannot be disputed, regardless of the cost disparity between destroyers, frigates, or attack submarines.
The case of maritime industry 4.0
Nine major coastal states make up India's 7,517 kilometres of coastline, which is home to more than 2 billion tonnes of cargo each year. The understanding that maritime offers such a chance for the economies of the countries has assumed centre stage.
The discussion based on trade, commerce, infrastructure, environment, and security is at the heart of India's marine outlook. Naturally, it receives more emphasis in the context of the Indo-Pacific strategy and India's primary marine projects, which are referred to as SAGAR (Security and Growth for All in The Region). Technology, industry, and skill development are all equally important to the maritime sector in making a strong case for economic activity.
Therefore, to prevent, project, or confront transnational and other security issues, India's maritime strategy demands for marine infrastructure and capabilities for a maritime security framework throughout the wide expanse of oceans. How should we view this argument in the context of safety?
A former Navy chief examines the necessity for aircraft carriers from the perspective of industrial activity size in addition to the discussion based on security that is frequently cited.
"India's lagging industrialization has already benefited significantly from the country's warship and submarine manufacturing industry. The serial building of complex ships like aircraft carriers has the potential to provide our heavy and medium industries a significant boost and will give rise to a complex of ancillaries in the MSME sector, according to Admiral Arun.
Prior to INS Vikramaditya's commission in 2013, he actually oversaw the Indian Navy's flagship aircraft carrier, INS Viraat. In 1987, the HMS Hermes of the Royal Navy, now known as INS Viraat, was sold to India after serving for nearly 30 years. He discusses the potential maritime industries for the third aircraft carrier.
"It will also go a long way toward educating our children and generating thousands of job possibilities. Additionally, it will enhance the Indian Navy's industrial support base, according to him.
When examining the enormous scope of industrial production and related activities, let's look at the case of IAC-1. Over 76% of the components and machinery on board IAC-1, including "21,500 tonnes of special grade steel created indigenously and deployed in Indian Naval Ships for the first time," are indigenous, according to Ministry of Defence (MoD) officials.
The Indian Navy has elaborated that over 50 Indian manufacturers were directly involved in the project, which was the result of the labour of more than 40,000 people who were employed directly or indirectly in its construction, according to a report that actually talks about the scale of economic gains in taking such an exercise for an emerging maritime power like India.
More than three-fourths of the $23,000 crore overall project cost, or 85% of the carrier's project cost, has been reinvested in the Indian economy, according to reports. Additionally, the airline directly employs 2,000 individuals daily on average.
In addition, only five or six countries have the technology and expertise necessary to successfully plan and construct an aircraft carrier. The third aircraft carrier will solidify India's position as a blue-water maritime power with innately superior shipbuilding capabilities.
N- Powered Indian Aircraft Carrier
Why don't we consider nuclear aircraft carriers as a third choice? If we consider the future of combat, particularly in IOR and beyond, what is the best fit?
By implementing a renewable, long-lasting, and self-sustaining source of energy to keep the carrier moving for over 10–20 years, with a lifespan of 50 years overall, aircraft carriers powered by nuclear energy and assisted by logistical escort vessels can truly transform the narrative of establishing a blue water navy.
Nuclear-powered (N-powered) aircraft carriers may still dock at a port simply to replenish their refrigerators and avoid the time-consuming Refueling and Complex Overhaul (RCOH) procedures necessary for aircraft carriers fuelled by aviation fuel. N-powered carriers only require RCOH once, during the midpoint of their lifespan (at up to 25 years after being commissioned).
Admiral Prakash presents a strong argument in favour of it. For the navy's sea control and power projection responsibilities in the Indo-Pacific, he adds, a nuclear-powered aircraft carrier would be the perfect solution.
It is true that we must develop our advanced talents while utilising the knowledge we have already accumulated throughout the years. For instance, the essential propulsion system that we developed while working on submarines must be tested when creating the aircraft carrier of the future.
In fact, the pursuit of accomplishing such persistent efforts is what indigenous capability development in advanced fields is all about. If not, our technological prowess would be restricted to the areas that have been tested, particularly in defence. Many of the current technologies will really be completely ineffective in the new arenas of modern warfare.
The third aircraft will offer an excellent chance to build next-generation propulsion equipment, electrical and electronic systems, deck equipment, lifesaving devices, ship's navigation and communication systems, among other crucial systems and sub-systems.
Admiral Prakash said it best when he said, "While our scientists have built nuclear propulsion plants for submarines with Soviet/Russian assistance, it is unclear whether internal capability exists for the design and construction of nuclear reactor(s) that could propel a carrier of 70,000–80,000 tonnes displacement. Before tackling a nuclear-powered carrier, it would be best to design and construct a smaller nuclear-powered vessel, such as a tanker or auxiliary vessel.
China as a factor
Should China be considered in our evaluation of the third IAC? Despite the fact that we are aware of the economic gap with China? Despite being contrasted against China's $17.7 trillion and India's $3.1 trillion, it is important to evaluate both countries fairly.
China considers its domestically constructed aircraft carriers to be a crucial part of its military modernisation drive. More specifically, it prioritises aviation in both its military and national security goals. As part of its maritime policy, China has already developed naval facilities and a significant naval presence in the Indian Ocean.
This year, China has already launched Fujian (18), its third aircraft carrier. And this is the best strategy for enhancing capabilities using already-available technologies. The 80,000-ton carrier advances as China constructs its first flat deck carrier and switches from the ski jump of its previous two carriers to catapults powered by the Electromagnetic Aircraft Launch System (EMALS). The EMALS system has a substantially faster launch time and can launch larger aircraft.
By 2030, the PLAN can deploy two 80000 DWT carriers with 100 fighters, 40 multirole helicopters, and dozens of UCAVs, supported by 60–70 frigates, destroyers, and assault ships, six nuclear submarines, and 30 conventional submarines for sea control in the IOR after having reserved twice this number for sea denial of their own sea areas, according to Commodore Sujeet Samaddar, founder of SAMDeS and former adviser to Niti Aa The SLOCs and the national economy, which compete for ever-rarer resources and goods, are sufficiently disrupted.
By 2027, the Indian Navy intended to have a fleet of 200 ships, three of which would be aircraft carriers, as per the capabilities roadmap. There are currently 137 boats in the fleet, however there is only one active aircraft carrier. China has already surpassed the US navy in size with a fleet of 355 ships.
We lack the economic and technological capacity to compete with China in a naval and weapons competition, according to Admiral Prakash's honest assessment. However, when deciding how to deploy our forces, we must consider both (a) our critical national interests and (b) the dangers we face. China will undoubtedly be taken into account in this calculation.
Can we agree to China stationing a carrier task force in the Indian Ocean? – Former naval commander poses important query. "With only two carriers, the navy will only ever have one available. If we want to discourage the PLA Navy in the IOR, a third carrier is unquestionably necessary, he responds.
The Indian Navy may only be able to field one aircraft carrier, a small number of destroyers and frigates, and perhaps four or five submarines, according to Samaddar. The issue is now not why, but rather when can we build 3 additional carriers.
The answer, according to S. Samaddar, is to simply order three more vessels of the Vikrant class from private shipyards on CSL with worksharing to ensure that they are delivered by 2030 in mission mode at a cost of 150,000 crores. In order to support the atma nirbhar raksha utpadan of fighter UAVs and MRH, the air element must be aggregated simultaneously.
It is aptly said that "whoever rules the waves, rules the globe" today. India's maritime strategy needs to take action.
Facebook Comments