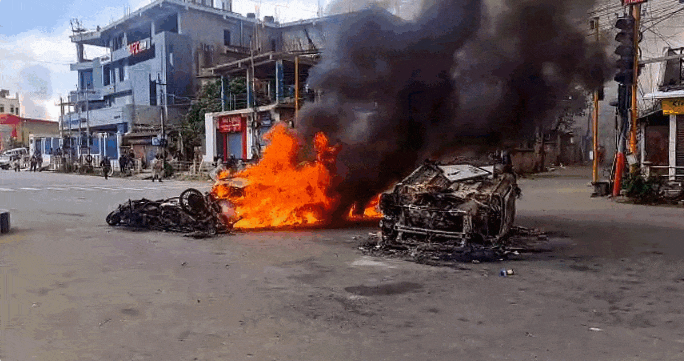 The deployment of additional troops in Manipur has helped the army restore order in the region.
Tribal groups held protests in several districts of Manipur, which made the law and order situation worse.
After fighting broke out in some parts of Manipur, the Indian Army said that the situation in the Moreh and Kangpokpi areas is calm and under control.
The Indian Army also said that they are doing everything they can to get things back to normal in the Imphal and Churachandpur area.
"The situation in Moreh and Kangpokpi is calm and under control. Normal life is being tried to be brought back to Imphal and Churachandpur. Indian Army sources said, "The precautionary build-up of more troops in Manipur went on."
They also said that more columns were moved from Nagaland.
"Also, the Indian Air Force will start flying operations tonight from Guwahati and Tezpur to bring in more Indian Army columns," the Indian Army said.
Army and paramilitary forces have been sent to Manipur, and flag marches are being held to control the situation after violence broke out on May 3 at a rally organized by the All Tribals Students Union (ATSU) Manipur to protest the demand to include Meitei/Meetei in the Scheduled Tribe category.
Earlier on Thursday, Conrad Sangma, the chief minister of Meghalaya, called an emergency meeting to make sure that students from Meghalaya would be safe in Manipur, where there had been reports of unrest.
At the meeting, which was attended by high-level government officials, the CM stressed that all children must be kept safe. He also told the officials to come up with a plan for getting kids out of the school if they need to.
Mr. Sangma said that more than 200 people from Meghalaya are going to school in Manipur and that the government is setting up a number that students or their families can call in case of an emergency.
People were warned by the Army not to believe fake films.
"Fake Videos on the security situation in Manipur, including a video of an attack on an Assam Rifles post, are being spread by anti-Indian elements for their own gain," the Spear Corps of the Indian Army said in a tweet. "Indian Army requests all to rely on content only from official and verified sources."
Violence broke out on May 3 at the "Tribal Solidarity March," which was organized by the All Tribal Student Union Manipur (ATSUM) in the Torbung area of Churachandpur district to protest the demand for Scheduled Tribe (ST) status by the Meiteis, who live mostly in the Imphal Valley.
Tribal groups held protests in several districts of Manipur, which made the law and order situation worse. To fix this, the state government shut down mobile internet for five days. Along with a ban on big gatherings, several districts of the state have also put in place a curfew at night.
Facebook Comments