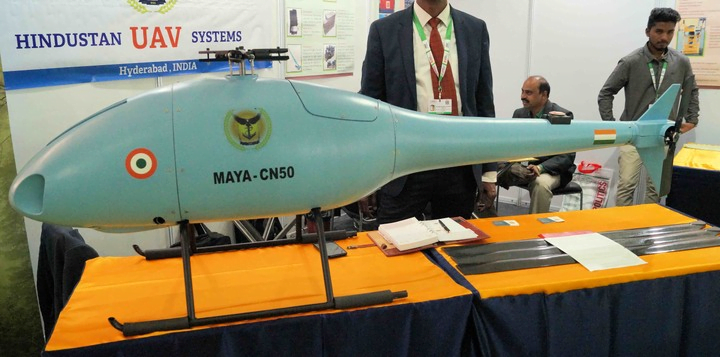 A Hyderabad-based start-up claims that its rotary-wing unmanned aerial vehicles (UAVs) can fly unimpeded in most adverse areas to a height of 18,000 feet above sea level for surveillance and combat needs over the Himalayas.
Ramdas M Kumbala, 42, of Hindustan UAV Systems, which has been developing UAVs since 2015, claimed his three designs were suitable for the Indian armed forces confronting threats from enemies at the highest altitudes along the Line of Control (LOC) and the Line of Actual Control (LAC).
Two of Kumbala's prototypes were on show at an event hosted by the Military College of Electronics and Mechanical Engineering (MCEME) in Secunderabad on Tuesday. His prototypes resembled small helicopters and, according to him, have a variety of applications depending on the applications.
"My latest rotary-winged UAV can take off from any hazardous environment and fly for 6 hours at above 18,000 feet with a payload of 60 kilogrammes despite strong winds and snow." The CXS-250 can be utilised at any time of day or night. "If the government funds me, I can turn my idea into a prototype ready for a flight test in nine months," Kumbala added. On Tuesday, though, the model was not on exhibit.
His first product, the CN-50, has a cargo of 10 kg and can fly for 2 hours straight at a height of 9000 feet, covering 50 kilometres. The model was created in India, with the exception of the engine, which was imported from Europe. "We're at level 9 of test readiness, and lab tests on the rig are presently underway." It can carry a missile with a range of 4 kilometres."
The CX-80, his second aircraft on show, he claimed, was even superior since it had a coaxial rotary-wing design (one rotor on top of another on a single axis and rotating them in opposite directions). "At 16,400 feet above sea level, this UAV can fly for four hours with a cargo of 20 kg. My drones can operate in areas where GPS is not available since they use inertial navigation systems.
It features a three-hour floating system and a landing deck finder, as well as a camera with a 15-kilometer visual range," Kumbala noted, detailing the benefits of his device.
'The Iron Curtains have been removed. Send a proposal to be evaluated via WhatsApp or email.
Lieutenant General TSA Narayanan, Commandant of MCEME and Colonel Commandant, Corps of EME, told indianexpress.com that the iron curtain has been lifted and the Indian Army is ready to assist entrepreneurs. "It's as simple as sending a suggestion to the Army Design Bureau via Whatsapp or email," he explained.
The seminar was organised by MCEME in partnership with the Administrative Staff College of India and was titled 'Encouraging Defence Startups Towards Development of the Military-Industrial Complex (MIC) in Telangana State' (ASCI). The Indian Army will work with the state government of Telangana to support more defence entrepreneurs at T-Hub, the state's innovation ecosystem enabler.
Maj Gen KV Jauhar, the Additional Director General of Army Design Bureau, Innovation for Defence Excellence (iDEX), agreed to post his contact information on the internet for startups to contact him after hearing their concerns at the seminar. "All of the Army's problem statements are available on the internet. Send him a proposal via WhatsApp or email (ADG-ADB).
Lt Gen Narayanan stated, "He will have a video conference with the startup, and if they (ADB) find it attractive, they will be called to Delhi for subsequent steps."
The conference was attended by a number of industry specialists as well as defence start-ups. All participating startups have been urged to submit proposals by the ADB. Kumbala now hopes that the government will provide him with assistance from here on out. "I'm reaching the end of my patience." I've put all of my earnings into my projects. "I can only last six more months like this," he added.
Facebook Comments