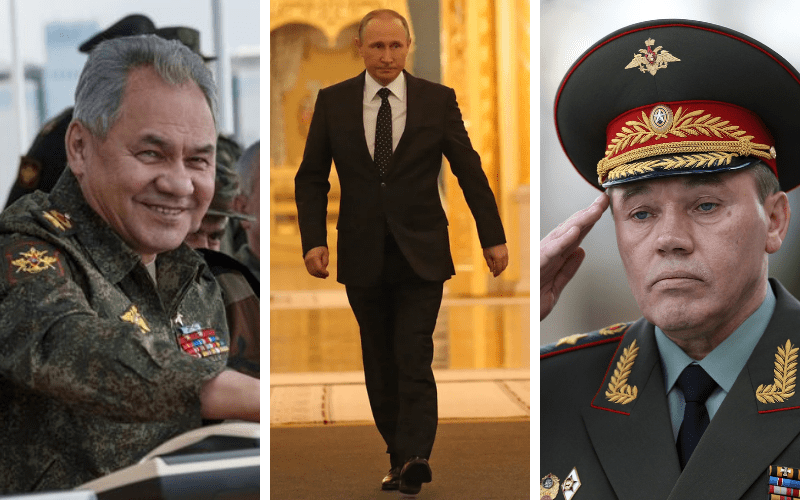 Putin's attack against Ukraine is intensifying. Russia's president put his country's nuclear forces on high alert on Sunday. Strategic Missile Units, Northern and Pacific Fleets, and long-range aircraft forces have all strengthened their war readiness. Putin has repeatedly threatened the West in his speeches, claiming that Russia was a nuclear power with a large arsenal of nuclear weapons.
Major General Boris Solovyov told the Russian daily Komsomolskaya Pravda that increased combat preparedness is the second level before full combat readiness. The weapons would then be armed, with missiles, for example, being loaded with nuclear warheads. The "red button" can therefore be pressed at any time.
However, because Russia does not have a red nuclear button, this is merely symbolic. Instead, the atomic bags and the codes they contain are officially in the possession of three people. This gives them the authority to order strategic missiles, long-range bombers, and even nuclear submarines. Last weekend, President Putin, Chief of Staff Valery Gerasimov, and Defense Minister General Sergei Shoigu met with their luggage. All three are sanctioned by the United States.
Putin is unable to explode nuclear weapons on his own.
The president of Russia cannot order the use of nuclear weapons on his own. Putin is reliant on one of the two generals because this requires the codes from two nuclear bags.
Solovyov told Russian media that "this technology serves as a protection against a severe blunder in the use of nuclear weapons." However, this is only reassuring on the surface because all three individuals are close confidants, and it is unclear how nuclear weapons are authorised.
Who are the three persons in charge of nuclear weapons?
President Vladimir Putin 
On Twitter, Defense Committee chairperson Marie-Agnes Strack-Zimmermann described Putin as "crazy" and a "war criminal." Experts believe that as a last option, Putin may use an atomic bomb to achieve his objectives. Marina Henke, Professor of International Relations at the Hertie School of Governance, indicated in an interview with the editorial network Germany that nuclear weapons are not Putin's first, second, or third choice.
He may, however, deploy a tiny tactical nuclear weapon to send a strong message to the West that he is willing to go to extremes. This is plausible if Russia loses the battle, there are significant casualties, and Putin blames Western help — for example, through arms supply.
General Sergei Shoigu, Minister of Defense
Shoigu has served as a Russian minister since 1991, initially as the head of civil protection and then as a hero. In 2012, Putin appointed him to the position of Defense Minister. The Putin confidant, who has spent more than 30 years in the Kremlin, is well-connected and plays a key role in the battle on Ukraine.
The general oversaw the invasion of Crimea in 2014, has always defended Putin's commands, and is reported to have dispatched Russian special forces to eastern Ukraine in the summer to aid Kremlin-backed separatists. Shoigu has deep links to Putin and is regarded as the president's best friend in private. He has already travelled with Putin on several occasions.
Schoigu's homeland of Chadan has already paid Putin a visit, as seen by holiday photos of the two of them fishing and trekking. Putin's right-hand man has been mentioned several times as a prospective presidential successor.
Valery Gerasimov, Chief of Staff
The Russian army has a strong impact on the first deputy defence minister. He began his military career in the Soviet Army, rising through the ranks to become the head of staff of a tank battalion before being named Chief of Staff of the Russian Armed Forces in 2012. He commands the army in the absence of the Secretary of Defense. After the invasion of Crimea in 2014, the EU added Gerasimov to its sanctions list.
He won the Hero of the Russian Federation award in 2015 for organising the Syrian campaign. Gerasimov is now a member of the Russian Security Council. In the summer, he stated at the Moscow Conference on International Security that if the Russian state's existence was challenged, Russia would use nuclear weapons.
Putin is given decision-making authority by the Russian constitution and military doctrine. However, in the event of a nuclear attack, the armed services would have to cooperate and follow orders. However, it is questionable whether they do so.
Europe's nuclear weapons
According to the Sipri peace research institute, Europe has approximately 13,000 nuclear weapons, with approximately 12,000 in the hands of the United States and Russia. The Russians have a total of 6,255 nuclear weapons. That's a drop in the bucket compared to the Cold War.
Nuclear weapons, on the other hand, are far more potent and have a lot longer range nowadays. Long-range Russian bombers can reach every target on the planet, while ICBMs can go over 10,000 kilometres and Sarmat ICBMs can travel over 18,000 kilometres. All of these missiles can carry nuclear warheads and have been tested numerous times by Russia.
Warning of nuclear war 
On Thursday, Dmitry Muratov, the Russian Nobel Peace Prize winner, warned of a nuclear war. "Of course, that would be a nightmare," he told the European Parliament, "but I don't rule out the possibility that there would be incentives to click the nuclear button at some point."
These and other warnings were disregarded by Russia as scaremongering. "Everyone understands that a third world war can only be nuclear," Russian Foreign Minister Sergey Lavrov remarked. However, only Western politicians, not Russian politicians, are concerned about a nuclear war.
Facebook Comments