Defence
Key Terror Launch Commander Eliminated In Foiled Infiltration Bid In Uri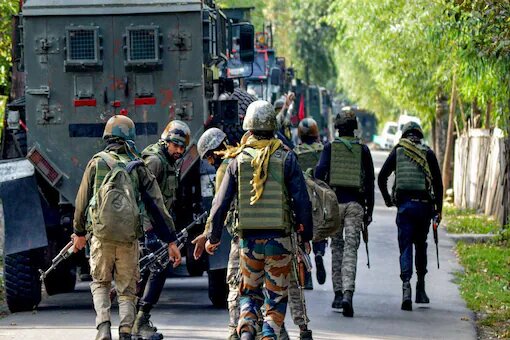 Based on the intelligence own counter intelligence and surveillance grids in this area was strengthened and own ambush were deployed
The other recoveries included war-like stores encompassing two AK series rifles, two pistols, four Chinese hand grenades, ammunition along with medicines, eatables
The army said Thursday that Bashir Ahmad Malik, a key launch commander, was killed in an operation to stop people from sneaking into Pakistan-occupied Kashmir. This was a big blow to the terror infrastructure and people who support terrorism in the area. Malik and another terrorist were killed by the army and the Jammu and Kashmir Police on Wednesday in an operation along the Line of Control. The operation was called Op Kali.
"The most important part of this operation was stopping Bashir Ahmed Malik, one of the two terrorists who were killed." He played a big role in the cross-border attacks that Pakistan allowed to happen in Jammu and Kashmir. An army source said, "He was a key terrorist launch commander for terror tanzeems (groups) from Leepa in the north to the areas in PoJ&K, across from Rajouri in the south."
As a person who worked for the government for 30 years, the source said Malik had helped terrorists get into the country and kill many Indians, both security forces members and civilians.
"His neutralisation is a major blow dealt by us to the terror infrastructure across the line of control and its sympathisers and supporters," the official stated.
He said that the enemy's repeated attempts to get into the Kashmir valley through the same area in the Uri sector of Baramulla district showed how desperate they were to bring more terrorists into the valley and disturb the peace and quiet that was already there.
"We are very alert and have a strong line of control security grid." "The Indian Army is well-equipped to stop any attempts at infiltration, and we will not let the enemy carry out his sneaky plans," he said.
Officials say that the joint operation began early on November 15 based on specific information from "own sources and SB, Srinagar" about how likely it was that terrorists would cross the Line of Control into the Uri area.
It was the second attempt to get into the area in the past few days. The first bid was also turned down.
"Based on the intelligence own counter intelligence and surveillance grids in this area was strengthened and own ambush were deployed," said the official.
His words showed that the weather during the action was bad and the terrain in the area was dangerous.
"Through this operation, two terrorists were neutralized and their bodies have been found." On the other hand, there may be more enemy deaths on the other side of the Line of Control. We did not go past the Line of No Return.
"The other recoveries included war-like stores encompassing two AK series rifles, two pistols, four Chinese hand grenades, ammunition along with medicines, eatables, Rupees 2630 in Pakistan currency and Pakistan National identity Card," the official said.
Facebook Comments