Defence
Israeli Strikes Target Hamas In Lebanon And Gaza After Rocket Attack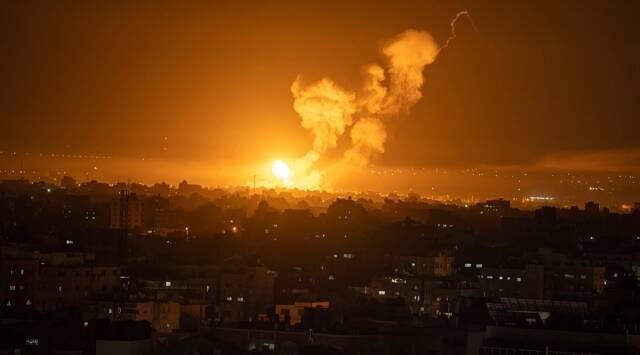 Mohammad Al-Braim, a spokeswoman for the Palestinian Popular Resistance Committees, spoke from Gaza and praised the rocket attacks from Lebanon
Thursday's attack came after Gaza fired a number of rockets at Israel, most of which were stopped. Israel reacted to the rocket launches by bombing Hamas sites
Israel's military attacked sites in Lebanon and Gaza early on Friday in response to rocket attacks it said were caused by the Islamist group Hamas. The attacks came as tensions grew after police raids on the Al-Aqsa mosque in Jerusalem this week.
Israel said its jets hit tunnels and places where Hamas makes weapons, which rules the blockaded southern coastal strip, as well as a heavy machine gun used to shoot down airplanes. This caused loud explosions in different parts of Gaza.
As dawn was coming, the military said it had also hit Hamas targets in southern Lebanon, where three loud explosions were heard near the Rashidiyeh refugee camp.
Two Lebanese security officials said that the strike hit a small building on a farm near where the rockets had been fired earlier. No one had died, as far as they knew.
Hamas was blamed by Israeli officials for rocket attacks from Lebanon into northern Israel. This is why the strikes happened. The military said that 34 rockets were fired from Lebanon and that air defense systems stopped 25 of them. It was the biggest attack of this kind since Israel and the heavily armed Hezbollah movement went to war in 2006.
After a security cabinet meeting, Prime Minister Benjamin Netanyahu said, "Israel's response tonight and later will cost our enemies a lot."
As the Israeli jets hit Gaza, salvos of rockets were fired back, and sirens went off in Israeli towns and cities near the border, but no major injuries were reported.
Israeli police raids at the Al-Aqsa mosque site in Jerusalem during the Muslim holy month of Ramadan, which this year falls during the Jewish holiday of Passover, have caused tensions to rise.
Hamas said in a statement, "We hold the Zionist occupation fully responsible for the grave escalation and flagrant aggression against the Gaza Strip, as well as for the effects this will have on the region."
Israel blamed Hamas for Thursday's attack, which happened while Hamas leader Ismail Haniyeh was in Lebanon. However, security experts said Hezbollah, a powerful Shi'ite group that helps Israel's main enemy, Iran, spread its power across the area, must have given its permission.
Former head of Israeli military intelligence Tamir Hayman said on Twitter, "It's not Hezbollah shooting, but it's hard to believe that Hezbollah didn't know about it."
Lebanon's Prime Minister Najib Mikati said that any military actions from Lebanon that threatened stability were wrong, but Hezbollah did not respond right away. Before the rockets were fired on Thursday, a top Hezbollah official named Hashem Safieddine said that any attack on Al-Aqsa "will set the whole region on fire."
UNIFIL, the UN mission in Lebanon to keep the peace, said it had talked to both groups and that both had said they did not want war, but that the situation could get worse.
"We ask everyone to stop doing anything across the Blue Line right now," it said, referring to the line that marks the border between the two countries.
In the past, Palestinian groups in Lebanon that have a presence in the refugee camps have occasionally fired on Israel. But since the war with Hezbollah in 2006, the border area has been mostly calm.
The US State Department said Israel had the right to defend itself after rockets were fired from Lebanon and earlier attacks came from Gaza.
But it was also worried about what was happening in the Al-Aqsa mosque, where Israeli police were seen beating worshippers during raids that officials said were meant to get young men out of the mosque who had locked themselves inside.
The Al-Aqsa complex in Jerusalem's Old City is the third holiest place in Islam, and during Ramadan, hundreds of thousands of people pray there. Jews call it Temple Mount because it was where the two Jewish buildings in the Bible stood. It is also the holiest place in Judaism, but only Muslims are allowed to pray there.
It has been a source of trouble for a long time. In 2021, fighting there led to a 10-day war between Israel and Gaza.
The police activities have made a lot of Palestinians in the occupied West Bank and Gaza very angry, and they have also been criticized by people all over the Arab world.
Late on Thursday, police said there were also problems in Umm el-Fahem, Sakhnin, and Nazareth, three Arab towns inside Israel.
The worsening security situation is another problem for Netanyahu's religious-nationalist government, which has already had to deal with mass protests over plans to limit the powers of the Supreme Court, which have now been put on hold.
But Yair Lapid, the leader of the opposition party, said that the government could count on backing from all parties after the rocket attack, and Netanyahu said that Israelis stood behind the security forces.
"Israel's disagreements among themselves won't stop us from taking action against them whenever and wherever it's needed. "Every single one of us agrees on this," Netanyahu said.
After the rocket attack on Thursday, TV video showed big clouds of smoke rising above the northern Israeli border town of Shlomi, where cars were broken down in the streets. Israel Airports Authority said that Haifa and Rosh Pina airports in the north had been closed.
Liat Berkovitch Kravitz told Israel's Channel 12 news, "I'm shaking, I'm in shock." She said this from a safe room in her house in Shlomi. "I heard a boom, and it sounded like something blew up in the room."
Mortar shells were also fired across the border, the Israeli military said.
Fearing that the conflict could get worse after a year of increasing violence between Israelis and Palestinians, the UN Security Council met behind closed doors to talk about the situation.
Robert Wood, the US Deputy Ambassador to the United Nations, told media on his way into the meeting, "It will be important for everyone to do what they can to calm tensions."
Thursday's attack came after Gaza fired a number of rockets at Israel, most of which were stopped. Israel reacted to the rocket launches by bombing Hamas sites, since it believes that Hamas is behind any attacks from the blockaded coastal strip.
Mohammad Al-Braim, a spokeswoman for the Palestinian Popular Resistance Committees, spoke from Gaza and praised the rocket attacks from Lebanon, which he said were related to the Al-Aqsa attacks but for which he did not take credit.
He said, "No Arab and no Muslim would stay quiet while (Al-Aqsa) is attacked in such a brutal and cruel way and the enemy doesn't pay the price for its aggression."
Facebook Comments