Global News
Abrams to Rumble Into Ukraine: United States Joins Germany In Vowing To Send Tanks To Kyiv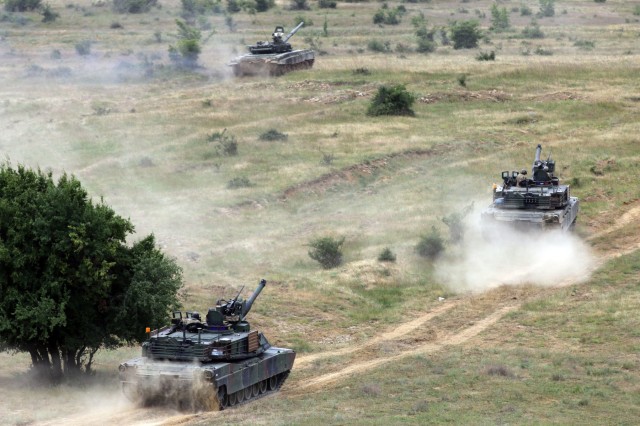 The senior administration official stated, "This has been a recurrent dialogue with the Germans."
The United States is providing Ukraine with eight M88 Recovery Vehicles in case the Abrams tanks break down or become mired in mud and need to be transported to a repair facility
US President Joe Biden announced today that 31 American M1 Abrams main battle tanks will eventually make their way to Kyiv to aid in the war against Russia, just hours after Germany announced that it, too, would release Leopards for the conflict. However, the Pentagon is still debating which variant of the M1 Abrams to supply and when.
Biden made the announcement at noon local time, stating that 31 M1 Abrams, enough for one Ukrainian battalion, will be sent to the Eastern European nation to "defend and secure Ukrainian land."
Biden, flanked by Secretary of State Lloyd Austin and Secretary of State Antony Blinken, stated, "Today's declaration builds on the hard work and dedication of nations throughout the world… to help Ukraine maintain its sovereignty and territorial integrity." This is the issue at hand…this is not an offensive threat to Russia.
Biden stated that the purpose of deploying the tanks and all other security equipment to Kiev was to push Russian soldiers back into Russian territory. If Russian forces were to return home, the war would end "tomorrow."
Just prior to Vice President Biden's address, multiple administration officials briefed reporters on the announcement. These officials declined to disclose which type of the Abrams tank will be transferred to Ukraine, but stated that the United States will not draw these tanks from current units or stocks, instead utilising the Ukraine Security Assistance Initiative. According to a DoD fact sheet, they would be a part of a $400 million USAI package.
"Although the delivery will take some time, as this is a purchase, the United States will immediately begin developing a comprehensive training programme for their use," a senior administration official explained. "These tanks are sophisticated systems that require a significant amount of training and maintenance, therefore [the Department of Defense] is currently working through the procedures to provide Ukraine with the fuel and equipment necessary to operate and maintain the Abrams."
This officer declined to specify when the Abrams tanks will enter the nation, but stated that it will take "months rather than weeks." Once there, they will assist Ukraine with combined arms manoeuvre operations to "defend and retake their territory," according to a government official.
According to Douglas Bush, Assistant Secretary of the US Army for Acquisition, Logistics, and Technology, part of the reason why inquiries about the Abrams variant and delivery date went unaddressed is because the administration has not agreed on a clear way forward.
Bush told reporters following the announcement that the Army is compiling a comprehensive list of options for Pentagon authorities to evaluate before deciding on a course of action.
He continued, "There are numerous routes of action, and it's not only tanks." "We must be able to send tanks, support equipment, ammunition, gasoline, and training… It's a much larger picture."
It is probable that senior Pentagon officials would confront a variety of challenging concerns, such as questions regarding classified technology and the geopolitical ramifications of their decisions.
The M1A2 System Enhancement Program version 3 (SEPv3) Abrams tank, for instance, can integrate with Israeli manufacturer Rafael's Trophy active defence system to engage incoming threats such as anti-tank guided missiles and rocket-propelled grenades. However, the Israeli government does not wish to sell arms to Ukraine.
Today's announcement is a dramatic departure from the administration's previous public reluctance to send the Abrams, having argued it is simply not the right tank for Ukraine due to a multitude of logistical challenges, including fuel, maintenance, and the tank's sheer size and weight on European roads and bridges.
Even as recently as Tuesday, Pentagon Press Secretary Pat Ryder reaffirmed that these tanks are difficult to maintain, stating, "This was true yesterday. It is valid now. It will eventually be real."
The senior administration official did not detail a comprehensive plan to overcome these obstacles, but reaffirmed that the delay between now and the delivery dates will give the Pentagon time to address some of these issues, including fuel, as well as train Ukrainians on how to operate and maintain the M1 Abrams tank battalion.
As for the about-face, senior administration officials did not specify what altered their calculus over the past few days, but they did note that ongoing discussions with NATO allies, including Germany, have played a role, particularly at a time when there is concern over precisely which weapons may provoke Russian hostility.
The senior administration official stated, "This has been a recurrent dialogue with the Germans." "We'll defer to the German government for comment on the timing and substance of their own decision, but we've coordinated our security assistance with allies and partners, including Germany, throughout the crisis."
In addition, the United States is providing Ukraine with eight M88 Recovery Vehicles in case the Abrams tanks break down or become mired in mud and need to be transported to a repair facility, possibly a sign of the logistical and practical obstacles that must be surmounted.
Facebook Comments