Defence
Indian Army
Indian Army Sikh Soldiers To Get Special Ballistic Helmets From The Defense Ministry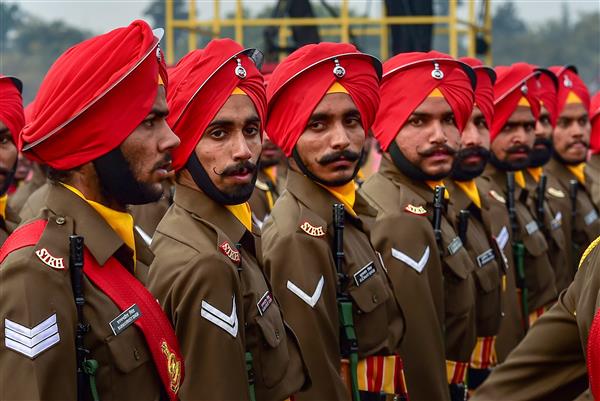 Punjab has more soldiers in the Army than any other state or Union Territory in the country. About 90,000 people in the Army come from Punjab.
The helmet is also fully compatible with the Multi Accessory Connector System (MACS), which lets soldiers use the latest head-mounted sensors, cameras, torches, communication equipment, and night vision
Soon, the Indian Army will make special ballistic helmets for Sikh soldiers. Army officials say that this is the first time the Defense Ministry has ordered something like this, even though a company made these helmets for Sikh soldiers last year.
According to the Request for Proposals put out by the Defense Ministry, it plans to buy 12,730 ballistic helmets for its Sikh troops through emergency procurement and the fast track mode.
A government document says that the ministry will buy two types of helmets: 8,911 large helmets and 3,819 extra-large helmets. Most of the design must come from within the country.
An official said that since India has the most Sikh soldiers, this would be the first time in the world that a purchase was made to meet their needs and make them more comfortable and ready for battle.
The helmets that are used now aren't very good at protecting and comforting Sikh soldiers who wear turbans and can't cut or trim their hair because of their religion. This is hard, especially on rough terrain.
After figuring out what was wrong with the current helmets, the latest order to buy was sent out. The document says that the new helmets should have a center-bulge design and be able to fit the size of Sikh soldiers' heads. It should also be easy to use radio handsets, night vision devices already in use, personal glasses, and respirators or chemical hoods.
Sources said that since more than 10% of Indian Army soldiers are Sikh, the government will soon buy more helmets after analysing and reviewing the situation. Sikh soldiers serve in many Army regiments, including the Sikh, Jakli, Para, and Punjab regiments.
Punjab has more soldiers in the Army than any other state or Union Territory in the country. About 90,000 people in the Army come from Punjab.
Last year, a company made helmets just for Sikh soldiers. Reports say that the helmet is the first of its kind in the world. Until now, Sikh soldiers haven't been able to use helmets that fit comfortably over their turbans. This put them at risk of getting hurt, which in some cases led to their death.
The helmet is also fully compatible with the Multi Accessory Connector System (MACS), which lets soldiers use the latest head-mounted sensors, cameras, torches, communication equipment, and night vision devices in their operations.
Facebook Comments