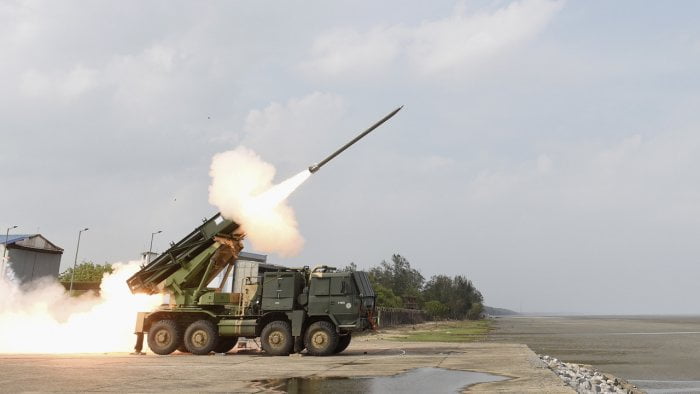 The Defense Research and Development Organization (DRDO) successfully tested a version of the "Pinaka" rocket with a longer range at the Integrated Test Range (ITR) in Chandipur, Odisha.
India is continuously increasing its military capability in view of the activities of its trickster neighbours. The strength of the army is constantly being increased to defeat the enemy on every front. From missile systems to aircraft carriers, helicopters and modern drones are being deployed. DRDO and the Indian Army have successfully test-fired the Enhanced Range Pinaka Missile System at Balasore in Odisha and Pokhran in Rajasthan in the last few days.
Pinaka Rocket Launcher has been developed with modern technology to meet the needs of the country. This rocket launcher is capable of eliminating enemies sitting at a distance of 7 km to 90 km.
The ability to fire rockets at the enemy every 4 seconds
During the test of the rocket system, Pinaka completely destroyed the target, successfully exceeding the set standards. This indigenous rocket Pinaka is named after 'Pinaka', the bow of Lord Shiva. Through the new version of Pinaka, there is the ability to attack the soldiers of enemy countries at a speed of 1.63 kilometers in a second. It has the ability to fire rockets at enemies every 4 seconds.
How many variants of Rocket Launcher System?
Pinaka Rocket Launcher is considered very dangerous. These are available in three variants. Pinaka MK-1 has a range of 45 km. At the same time, the Pinaka MK-2 variant has a firepower of up to 90 km. Apart from this, there is also another variant of Pinaka, MK-3. Pinaka Rocket Launcher Mk-3 has a range of 120 km.
Features of Pinaka Rocket Launcher?
• 7km to 90km range
• Power to launch 12 missiles in 44 seconds
• Rocket launcher length from 16 feet 3 inches to 23 feet 7 inches
• Attack enemies at a speed of more than 5757 km/h
• Ability to fire rockets at enemies every 4 seconds
• The Pinaka Rocket can be fitted with cluster bombs, anti-tank, and lethal weapons such as landmines
• Capable of firing in all weather
Facebook Comments